Breastfeeding in North America: The Real Deal with Ashley Robinson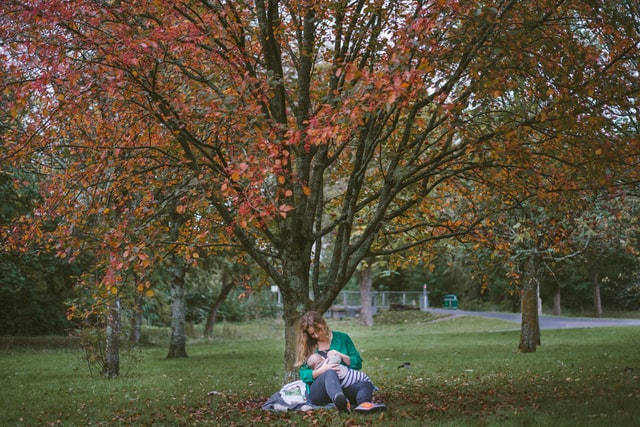 Interested in breastfeeding in North America? Ashley Robinson shares her tips from her travels in Illinois, Missouri, California and Mexico.
Tell us about yourself! What do you do when you're not traveling the world? Where are you from? Where do you currently live?
When not traveling with family and friends, I work as a Marketing and Publicity Coordinator for a non-profit publisher of children's and educational books. We currently live just outside the Twin Cities in Minnesota, but have friends and family spread across the country. Writing and exploring is a passion so I also maintain a food and travel blog called The Nomad Momma that came about after having our daughter in 2012. She encourages me everyday to see the world with fresh eyes and never stop asking questions.
Where did you travel while nursing? What was the purpose of the trip? How old was your child at the time?
When Olivia was still nursing we travelled to several places and never let having a little one in tow slow us down. When she was only a few months old, we took trips to visit family in Illinois and Missouri. We spent her first Christmas enjoying San Diego when she was eight months old. When she was just over a year old, we took her on her first international trip to a resort in Mexico.
In your destination, were there particular nursing areas that you recommend/don't recommend?
I was very nervous about breastfeeding in public, but I also vowed that I would not let myself be delegated to the bathroom to feed my child. With a cover-up in my bag I was able to comfortably feed wherever we were. That being said, when nursing in airports I recommend picking chairs against the wall and towards a corner. I found I had to move my feet and body less for other people when I positioned us out of the main walkway.
What sort of reactions did you get about your nursing? Did you feel comfortable/uncomfortable nursing there?
During our trip to Mexico, we stayed at the Barcelo all-inclusive resort in Riviera Maya. This was the best experience I had nursing while traveling. The staff was friendly and the other guests seemed to care even less than those we encountered while traveling domestically.
We did have a few situations in the US where people would get up and move away from us or make a comment under their breath. Overall though no one seemed to notice or say anything to us. It always made my day though when someone would compliment me on making the decision to breastfeed.
Is there any nursing/pumping gear that you recommend for traveling?
Nursing is a totally natural thing, but I did find having a cover-up helped make it easier for everyone. Sometimes we would be in a restaurant or store and Olivia would get hungry. Having the cover-up meant we weren't making anyone uncomfortable during their meal or forcing parents to explain anything to their children. We tried several cover-ups and found the Udder Covers worked the best for us.
If carrying a pump while traveling, we found the backpack with the pump battery built in to be very helpful. I also highly recommend the cleaning wipes for those times you can't get to a sink to clean the pump parts off. Also, a power adapter that can be plugged into the car was invaluable for our road trips.
If you were traveling with your child, what were some kid-friendly highlights? What were some of the challenges in traveling with your child?
Lessons learned traveling with a small child have been eye-opening. First, we can no longer go non-stop for the full day. Make sure you build in some down time or make things flexible so if they decide to take a nap, throw a fit, or change their minds (which they will definitely do) you can move things around a little.
Local parks were a highlight everywhere we went and we met many locals who could give us recommendations on less touristy places to take kids. If you are in San Diego around the holidays, you should check out the Hotel Del Coronado. The holiday decorations are gorgeous and the little ones are sure to be impressed by the sand sculptures on the beach. In St. Louis, MO you have to check out the zoo for lots of family fun.
Are there any tips you'd give someone else who is considering nursing in your destination?
Number one tip for nursing while traveling: don't be scared to nurse where you have to. Most people won't even notice.
Photo by Unsplash.