7 Reasons You'll Want to Visit the Algarve, Portugal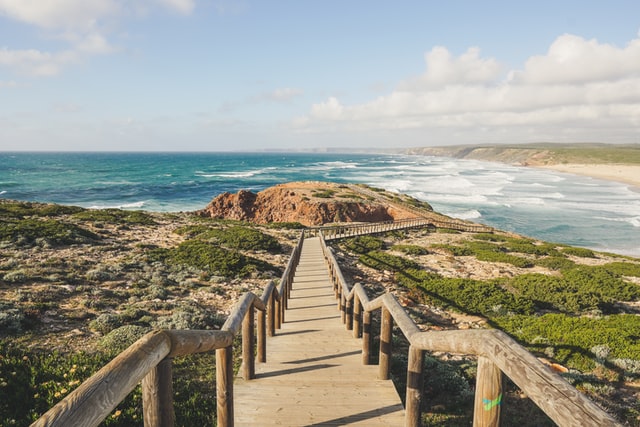 Thinking about a Mediterranean holiday in 2016 but not sure where to go? Let me share a secret with you – you should consider a trip to Portugal.
I booked a holiday villa in Albufeira for a fortnight-long stay last year, and it was one of my best trips of 2015. The whole experience was incredible from start to finish, and I hope other people get to share my delight in future. So sit back and read my 7 reasons why the Algarve is the complete holiday destination.
7 Reasons You'll Want to Visit the Algarve, Portugal
1. The beaches
Portugal is blessed with stunning beaches along the Atlantic coast and the Mediterranean. Albufeira has among the best beaches in the country – a relaxed and charming beach with local cafes and restaurants, and a great spot for some early morning yoga!
During one of our many day trips, I also found Praia de Marinha to be as stunning as travel legends foretold! The Golden Beach has stunning cliffs and turquoise waters. My only reservation was how busy it can get at peak times, so make sure to get a good spot nice and early. You'll thank me later!
2. The weather
The Algarve is hot and sunny – very sunny. It receives 3,000 hours of sunshine each year, which amounts to 300 days. Despite all this sunshine, the climate remains pleasant and manageable. Neither typically too hot nor too humid, the Mediterranean sea breeze helps to keep things fresh.
Since last summer, I've been reliably informed by friends that the weather in autumn and winter is still lovely, with verdant greenery and surprisingly mild weather. The friends in question are avid hikers and birdwatchers, and had themselves a very enjoyable break in November 2015.
3. Stunning countryside
As I just hinted, The Algarve is a superb spot for walking and basking in nature. The Ria Formosa Natural Park, just along the coast from Faro, is a wetland area of great beauty with lagoons and sand dunes.
Then there's the Via Algarviana. I simply loved walking along part of this huge 300km hiking trail. Running from the western coastline through hilly central regions, this country trail took us through rustic tree groves and quaint orchards of orange and lemon trees!
4. Faro
The regional capital of the Algarve, Faro has a lot to offer any visitor. As well as the beaches and wetlands on its doorstep, the city also has a fascinating collage of architecture including Moorish and Roman elements.
I was also delighted to discover that Faro also boasts several museums, including the Museu do Maritimo (maritime history), the Museu Arqueologico (archaeology), and the Jewish Heritage Centre of Faro. That was almost enough relics and history to keep me satisfied for a day.
5. The wildlife
Nature lovers will enjoy an embarrassment of riches if they want to go spotting wildlife in The Algarve. Over 200 species of birdlife inhabit the Ria Formosa Natural Park, and birds often make The Algarve a lengthy stop off point on their migratory journeys. I'm told flamingos inhabit parts of the River Arade and the Ria Formosa from October through until April!
Then there's the marine life – I simply adored my afternoon's cruising and dolphin watching off the coast of Albufeira. I've always been fascinated by dolphins, and catching a glimpse of their playfulness and intelligence was something I'll never forget.
6. The people
The Portuguese people are incredibly welcoming and helpful. The people of the Algarve are no different. I found them to be warm and pleasant whenever we needed directions or advice – it must be something to do with the weather!
7. The sweet treats
I discovered a new favourite on my trip to the Algarve – pasteis de nata. They're sweet custard pies made with flaky pastry and dusted with cinnamon. Delightful!
If you also have a sweet tooth, I highly recommend doce fino – small hand crafted almond sweets that are made to look like fruit, fish, flowers and more! A lovely shop assistant told me that they a traditional gift offering with Moorish origins, and they were certainly a hit with all my friends and family.
So, if you need any excuses to visit the Algarve, then hopefully I've provided enough to convince you. At least one holiday to this beautiful area of Portugal should be on everyone's wish list, in my humble opinion.
Have you travelled to to Algarve, Portugal? We want to hear about your experience. Email [email protected] for details. Photo for 7 Reasons to Visit the Algarve, Portugal by Unsplash.