Climbing Mt Kilimanjaro: A Conversation with Pamela Wagner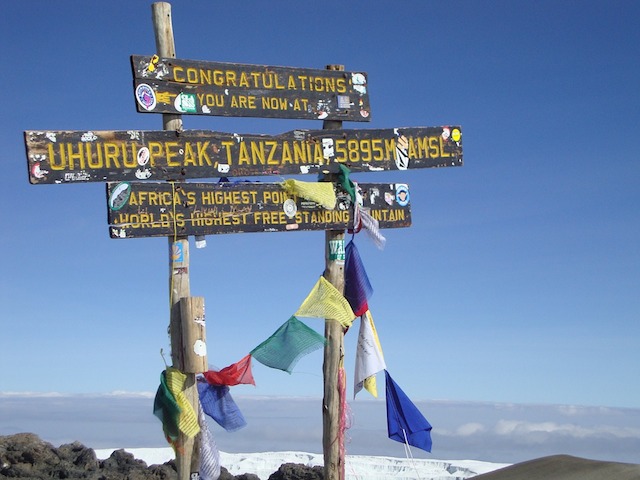 This month we're interviewing women from all over the world and asking them about their experiences traveling to Tanzania. We had the privilege of speaking with Pamela Wagner about her experience climbing Mt Kilimanjaro. Here's a glimpse into our conversation.
Tell us about yourself! What do you do when you're not traveling the world? Where do you live? What made you decide to climb Mt Kilimanjaro?
I'm a digital marketer and focus mostly on expanding my clients' digital presence with Google AdWords and Google Analytics. Whether that is from the hustle and bustle of New York City, a beach café in Senegal, or the vibrant surroundings of Dubai – I work with my clients (which span 21 time zones!) from wherever I want to be.
I'm originally Austrian, and I go back from time to time, but mostly I spend my time on planes and discovering new places (I live out of my suitcase). In January I spent 2.5 weeks in Senegal, then had less than 24 hours in Vienna to pick up a dress, and flew on to Ireland for a few days for a wedding. Next will be Switzerland in early March, and then Nigeria.
However, if we focus on Tanzania and climbing Mt Kilimanjaro, then I went because I wanted to challenge myself, spend a week offline, and simply do something I hardly knew anything about and look forward to the outcome.
How long did you go for? How did you spend your time?
I spent nine days in Arusha/Moshi, and a good five days afterwards in Zanzibar. The nine days in Arusha and Moshi were mostly because of the climb.
How did I spend my time? Day 0 is arrival and getting to your accommodation. Day 1 is when you get into the jeep and drive to the gate to the national park of Kilimanjaro, from where you start the climb. The gate is at about 1700 metres, so you'll already notice it's a bit cooler, but still at a good 23°C. Days 1 to 5 are spent walking and climbing, getting acclimatized. At around 11pm on Day 5 you start your last ascent, which leads you another 1000 metres up to the top of Mt Kilimajaro.
You reach Uhuru Peak at around 7am on the morning of Day 6, welcomed by a beautiful sunrise. After staying only a few minutes at the top because of the thin air, you start your descent, which you continue on Day 7, until you're back at about 1700 metres.
What were your most memorable experiences? What were the biggest disappointments?
Most memorable: standing on top of Mama Africa. It's very hard to beat that. Knowing you've achieved something you've prepared for quite a while, and not in the easiest conditions, is just an unbelievable feeling. It is something you'll remember for a lifetime, and just gets you motivated to kick ass much more than before. There weren't really any disappointments.
What do you wish you knew before you went?
I feel like I was really well prepared and didn't encounter any major surprises.
Is there anything that women specifically should know before they travel to your destination?
No, all was good and safe. But, consider that you have to live a week without a shower or proper opportunities to clean any part of the body!
Photo credit by Pixabay.com.