How to Visit Venice and Avoid the Crowds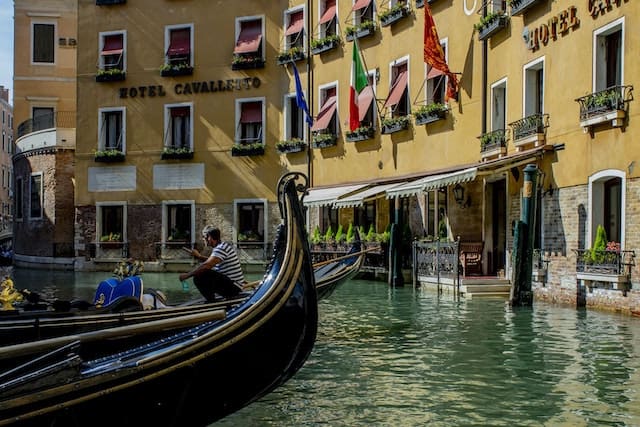 Let's get one thing straight: Venice is a city of tourism. No sugar coating that. It is almost like a beautiful stage set, existing more as an illusion than an actual tangible, old-world metropolis. But it is real, and is astoundingly beautiful, with a long and fascinating history. If you visit Venice in summer, it is nearly impossible to escape the human congestion. Crowded bridges, waterbuses, and flowing alleyways are likely. But for an experienced, open-minded traveler, Venice in the summer doesn't have to be overwhelming. There are ways to look beyond the crowds (while maneuvering around them!)
As a Studio Arts graduate and lover of history (especially art history), Venice seemed like an ideal destination. I booked my week-long trip for August and researched restaurants, historical sights, places to stay and activities. I was a little bit scared and overwhelmed, and at one point almost regretted deciding to go to Venice. I read stories of expensive, tasteless food, incredible masses of people. But, I decided I would be fearless.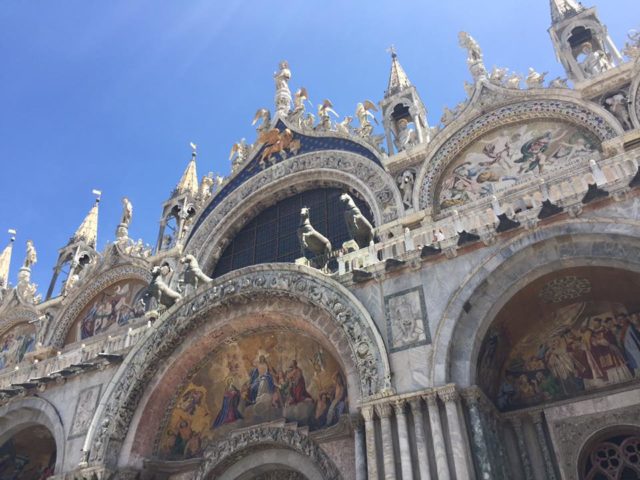 Avoid the mid-afternoon heat
There are certain must-see attractions in Venice. But going to see the important sights a little later in the day is a smart decision. It is much more pleasant to walk around while witnessing the colors of the sunset than during the hot afternoons. Despite being located on a lagoon, the summer sun is strong and will leave you sweating. Later in the day means cooler temperatures and thinner crowds.
Skip the gondola rides
Most people have an idea that gondola rides are a must-do attraction in Venice. Apart from being pricey, the people I saw riding gondolas looked like they could've easily skipped it. Gondola ride prices start at around 80 Euros, and although you will get your own gondola, you will not be alone. The canals were always full of gondolas, and the driver seemed stressed. I don't regret my decision not to ride a gondola down the main canal. The view is much better walking around, anyways.
Venture beyond Venice
The Piazza San Marco, Rialto bridge, Grand Canal, and Doge's Palace are must-see spots. However, to get a nicely rounded visit to the region with the benefit of getting you away from the masses, visit somewhere outside of Venice. Padua or Verona are a few hours away, so good for a day trip. Or you could even take a boat ride to the lagoon islands like Burano or Murano. If you are staying on the main island, I highly suggest venturing out to the other islands, especially Lido. With summer homes, local grocery stores, and fewer hotels, Lido offers a more laid back, neighborhood feel. I stayed there, and I loved the villa window shopping, grabbing a gelato, swimming at the local beach and just drinking a "Venetian Spritz" on the main street while people watching.
Visit the Dorsoduro neighbourhood
If you must wander close to the main attractions, check out the district of Dorsoduro. It's not far from all the commotion, but it still has lighter foot traffic and less noise. With galleries and universities within a small area, Dorsoduro has a young, artsy atmosphere.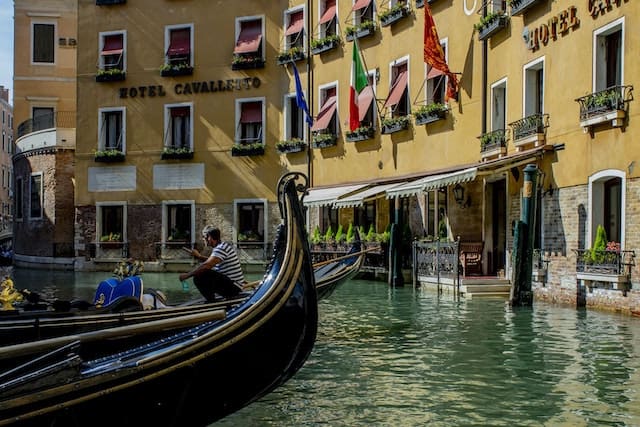 Stay away from the tourist areas at mealtimes
All this wandering through Venice will make you hungry. But if you happen to be near any popular sights when your stomach starts grumbling, this is where the Venice vacation nightmare kicks in. I strongly advise you to eat as far away from the tourist sites as you can. Around popular monuments and structures the prices of the food will be high but the quality will not be. When in Italy, who wants to eat overpriced, sub-par pasta? The more Italian you hear spoken at a restaurant, the better.
One of my favorite discoveries was in Dorsoduro, a place called Osteria al Squero. It is a wine bar that serves small bites. It is a stop-and go place where you order a glass, maybe three or four snacks, sip, eat and ciao! If you wish to sit you can find a small spot inside, or just eat on the ledge by the canal like most people do. More Italian was spoken here, it was charming, delicious and there was no fuss.
Stay on the mainland or on a smaller island
Staying on the mainland or another island besides Venice's main island can help you stay away from the crowds. Lido is a great option. It's a short waterbus to the Piazza San Marco, and offers a more tranquil environment. I also mixed with more locals than tourists there, and witnessed a more Italian lifestyle.
Shop at local grocery stories
Shopping at local grocery stores saved my money, sanity, and palette. In the US, authentic Italian products are not something I buy everyday, and you can just imagine how amazing simple things can taste in the land where they are produced. If you have a mini fridge in your room, or a great hotel that lets you borrow a knife or ice when needed (as I did), delight your tastebuds and try some local products. Making or buying your own food also saves you the headache of searching for a place to eat in the winding walkways of Venice.
Maneuvering around the crowds is the trick to having a great time when you visit Venice. Enjoy the fact that you're on a floating city that is centuries old.
How to Visit Venice and Avoid the Crowds
Have you traveled to Venice, Italy? How was your trip? Email us at [email protected] for information about sharing you experience and advice with the Pink Pangea community. We can't wait to hear from you!
Photo credits for How to Visit Venice and Avoid the Crowds by Unsplash.