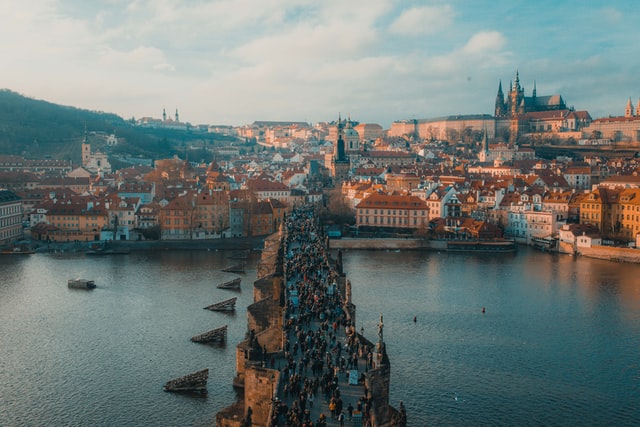 Prague is my favorite city. While it is where I studied abroad and first discovered my love of exploring new cultures, it is easy to become enchanted by Prague with its vibrant culture and fairytale architecture around every winding bend. At the practical level, Prague is also a wonderful city for a quick weekend getaway. It is very walkable, has a highly efficient public transportation system (buy a 1 or 3-day pass and the trams will be your 24-hour friend) and the majority of its most famous sights are free to view. Although 48 hours is a doable amount of time to conquer the city's basic sights, it's also enough to draw you back for more. If you only have 48 hours in Prague, here's the itinerary that I recommend:
Friday
1pm: Nové & Staré Mesto (New and Old Town)
I always start off any trip to Prague with a friend or family member by doing the basic walking tour of the city. Start in Wenceslas Square to take in where Czechs peacefully brought about the Velvet Revolution alongside the statue of St. Wenceslas and National Museum (sadly closed until 2018). Walk down Melantrichová until you arrive in Old Town Square. Stop to admire the Astronomical Clock, Tyn Church, and Jan Hus Statue, but watch your bag for pickpockets. Exit the square on Karlová and follow this street until you reach the Charles Bridge over the Vltava.
4pm: Malá Strana (Lesser Town)
To the left, enjoy Kampa Island's plaza and park where you can see an up-close version of David Cerný's barcode-faced babies that climb up the Žižkov TV Tower. The Kampa Museum displays modern art and stays open until 6pm. Another option is to head right off the bridge to find the Kafka Museum and another David Cerný sculpture, Streams. In addition, visit Prague's most famous street art on the Lennon Wall that faces the French Embassy. Don't forget to bring a marker or some paint!
6pm: Czech Dinner
The best reward for a long day of exploring Prague is some hearty Czech cuisine. Known for its meat, potatoes, sauces, and knedliky or dumplings, Czech food will definitely fill you up. Try Lokal U Bílé Kuželky for a hip, fresh take on Czech cuisine and some well-deserved pivo or beer. Otherwise, duck into any Czech pub for some typical dishes like the "national dish" of pork, cabbage and dumplings or svícková, tenderloin with dumplings in a vegetable sauce.
Evening Out
Continue your orientation of Prague by descending into one of the city's many cave-like pubs. The Czech Republic is still a smoking-friendly country so take caution that most bars will be pretty hazy. Two of my favorites back in the Old and New Town neighborhoods are U Sudu on Vodicková or Popocafepetl on Michalská. If you're feeling adventurous, try a B-52 shot of Bailey's, Kahlua and absinth that can be lit on fire!
Saturday
10am: Jirího z Podebrad
Take the metro or a tram to the Jirího z Podebrad and don't bother trying to say the name, you can abbreviate as JZP! Stop at Antonínovo Pekarství for a typical Czech pastry of kolácek. Then spend some time exploring the farmer's market in the main square in front of the church. Heading away from the center, check out Žižkov, a new hip neighborhood with a lot of local shops to explore.
12:30pm: Café Louvre
Take the tram #22 from JZP to Narodní to have a stylish lunch at the famous Café Louvre. Open since 1902, you can enjoy both Czech and international cuisine, where both Kafka and Einstein used to frequent. Consider the daily menu, a typical order for Czechs that features a soup, along with various main courses. Finally, satisfy your sweet tooth with their amazing hot chocolate or one of their cakes.
3pm: Prague Castle
Continue on the #22 up to the Pražský Hrad stop, or Prague Castle. Be sure to take notice of the view on the right side as you ride up the hill. Prague Castle is not a traditional castle, but rather a complex of buildings. To walk around the grounds is free, but a ticket to see the inside of St. Vitus Cathedral in the middle is worth it!
5:30pm: Malý Buddha (Small Buddha)
Once you've wandered the castle grounds, exit at the main gate to take in a beautiful view of the city to your left. Up the hill, enjoy a cozy Vietnamese dinner at Malý Buddha, a favorite of the country's most famous president, Vaclav Havel. With nightfall as you exit, stop to view the breathtaking spectacle of Prague and all its lights.
Evening Out
Check out the theater line-up at Prague's National Theater or spend the night dancing away amidst Prague's awesome nightlife. Explore the several floors of Chapeau Rouge, past Prague's Old Town Square for a grungier scene or instead pay the cover in New Town at Lucerna for their weekly 80's and 90's night. End the night with a stop in Wenceslas Square for a Czech staple, the fried cheese sandwich, or a smažený sýr. If you're up super late, watch the sunrise on the Charles Bridge for one of the most breathtaking experiences.
48 Hours in Prague.
Sunday
10am: Mama Coffee
Take some time for pohoda–the Czech concept of contentment and relaxation–with a morning coffee at Mama Coffee on Vodicková. Enjoy the natural light of the upstairs room with a book, a yummy latte and some homemade pastries and quiches.
11am: Choose Your Adventure
With your last afternoon in Prague, decide whether to return back into the city center for some more somber history at the Jewish Museum's multiple synagogues or enjoy the peace of Vyšehrad, Prague's original castle fortress and current park. Either way, Prague will continue to show off its beauty and depth with every new place to discover.
1pm: Medovník
No trip to the Czech Republic is complete for me without a bite of my favorite cake. Found around the city at many cafés and bakeries, medovník, or a honey walnut cake, is a unique treat to this region. My favorite spot is at Ovocný Svetozor near Wenceslas Square.
Prague has always had a unique mystique that has compelled some of the world's most famous artists, writers, scientists and thinkers. Whether visiting for 48 hours, months or years, come enjoy the magic and beauty of one of Europe's best secrets.