6 Awesome Signs You've Survived a Trip to Prague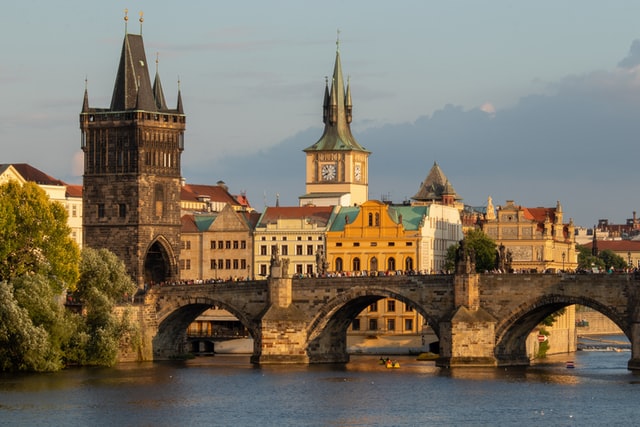 Falling in love with Prague was the easiest thing I've ever done; it lured me in with summer nights on the river, nights dancing in Old Town, and days spent wandering old forts from the 10th century.
To anyone who will listen, I say Prague is the New Paris, the New Berlin, and the New Rome all rolled into one. With its incredible music scene, charming cafes and intriguing history, it's got everything I look for in a travel destination. And like all of my favorite haunts, it's left its own battle scars on me, and I haven't looked back since.
Have you spent a sleepless night in the Golden City? Walked the ramparts of the City of a Hundred Spires? If not, check out this essential list for your trip to Prague.
1. You're a beer snob.
Once I had a Pilsner, I just knew there was no going back to domestic brews from home. No thanks Pabst, I've moved on. Between Kozel, Gambrinus and Staropramen, I've had the taste of great Czech beer and other hops just aren't going to cut it for me anymore.
Between my two favorite beer gardens, Naplavka and Letna, I've taste tested the best the Czech breweries have to offer and there's no way I'm going back.
2. Your party night is Monday night.
Prague's infamous party scene is non-stop and everlasting every day of the week, and it's not just because of the tourists. The locals get in on it too. From the three-floor music club Chapeau Rouge with its two-stage deejay party on Monday nights to the incredibly designed Cross Club with its punk rock and steampunk atmosphere, there's no night of the week in the Golden City when it's okay to stay in. Even if clubs aren't your scene, the neverending pubs like Usudu have lots of foosball tables and plenty of bar space to have a nice night out with friends. So go out, drink, and be merry!
3. You're cool with getting lost.
On my third day in Prague, I went out with just my camera—no wallet, no map—and thought I could handle the labyrinth of stone-paved streets on my own. I was absolutely wrong and found myself lost in the city within the hour. But rather than be scared, I let my camera lead the way and I discovered parts of Prague (like Vysehrad, the 10th century fort embankment with a killer view, picturesque cathedral, and spooky cemetery) that would have normally taken me local knowledge to discover.
No longer does the threat of not finding my way back bother me—though I'm smart enough not to venture out without money now. It's just a promise of a new adventure.
4. You think everything is better after dark.
I have wandered all over Prague and in my humble opinion, it just gets better after dark. It's true that you can't go on the traditional tours, but like the nightlife aforementioned, the city comes alive in more ways than one once the sun goes down. Take a walk along the Vltava, head up the hundreds of steps to the Prague Castle, check out the view from the tower in the astronomical clock, and have a beer at Lokal in Mala Strana and sit on the curb, taking in the local atmosphere and lively culture. For anyone who says it's better in the day, remind them that there's a reason the street food stays open until 5:00am—you're supposed to be out late enough to enjoy it!

5. You've left a trail of SIM cards in your wake.
The smartest thing I ever did when I got to Prague was ditch my global cell phone plan and get a local SIM card. For around 400 czk (about $16 USD), I got the card, two weeks worth of calls, texts, and data and it meant never having to sweat it when going out for dinner or drinks with my friends or uploading my Instagram pics and worrying about spending my entire vacation budget.
6. Your idea of old has been permanently skewed.
For me, anything that has survived half of a century is old. But that's just the American in me talking, and in Prague, 50 years is pretty much equivalent to a millisecond. With the world's largest, and one of the oldest, castles in the world (Prazsky Hrad was built in the late 9th century) and the Saint Charles Bridge, the city is teeming with buildings, statues, paintings, and architectural phenomena that defy what the word "vintage" means.
Maybe I've been ruined for my future visits—Prague certainly is one of a kind—but at least the memories are going to stick with me for a really long time. Have your own battle scars to share? Tell your story in the comments, I'd love to add to my Prague to-do list; it gives me an excuse to keep going back!