Paris: My 12 Year old, My Mother and Me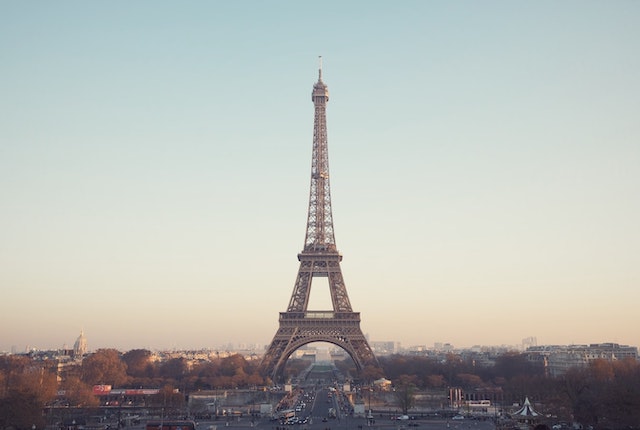 As an adjunct to my Divine Living Coaching conference, I "dragged" my 12-year-old daughter and 66-year-old mom along for the "JoyVenture" or joyful adventure of a lifetime. I jumped in full tilt and began researching where to stay, what to do, where to go, and where to eat. I was certain this JoyVenture would reign supreme to our last girls outing to Hawaii.
My daughter is fascinated with NYC and Paris and has been for a while. I was training to be a life coach, my daughter wanted to hit Disneyland and my mom is always up for a free nanny trip to anywhere. So off we went. We landed in London for a five-day jaunt all over. And then the "fun" began.
Get lost, figure it out, have a laugh and see what you find along the way.
I'd be willing to bet most of you assume the 12 year old was the difficult one, but in reality it was the juggling of desires that proved tricky. The young one wanted to go to "cool" places, the mom wanted to go to museums and castles and I found myself totally beholden to jet lag.
We landed in London first and wanted to take the train to Paris, because what's cooler than a train under an ocean? No luck, it was sold out. So, we flew over with Air France and now my daughter is a fan. What's not to love?? Good food, good wine, good security. Everything was great–until we landed. We nearly weren't allowed into France. My daughter's last name is different from mine and suddenly the customs agent in France cared! I always carry a digital copy and a hard copy of my kids' birth certificates just in case, and after a lot of scrutiny, we were finally allowed in.
We had rented a one bedroom, one bathroom apartment through Airbnb with a view of the Eiffel tower, and a Starbucks, a great cafe and a McDonalds all below. We dropped off our luggage, checked out the WiFi and headed out to get the exploration started. Our first adventure was navigating the Underground. Now I adore a challenge, and this was perfect. My French is limited to "Merci" so we spent a few trips heading to places unintended. For me that's part of the fun. Get lost, figure it out, have a laugh and see what you find along the way. My daughter was not impressed with being lost at all.
We resurfaced from the metro and within a short walk stumbled upon the lover's bridge, where, over the years, lovers have put various types of locks onto the supports and handrails of the bridge. Luckily, we had the opportunity to see this before the officials in Paris were forced to cut the locks off to save the integrity of the bridge. My daughter was curious about why people started doing this, so upon arrival at our next café, we googled it.
We explored Notre Dame Cathedral, stopped for coffee and pastries (and of course WiFi) and several cool stores. My daughter is quite the fashionista so she loved seeing the difference in the way people dressed in Paris. In our final store of the day, she thought she bought me a key chain when in reality, the shopkeeper loved her style and put the key chain in the bag for free.
We had a lovely dinner at "our" street side cafe where the waiter was intent on practicing his English. He was a very French young man and paid the utmost of attention to my daughter. She was thrilled and smitten with his accent. It didn't hurt that she thought he was cute. The waiter was endearing and answered the most important question of the day, "How do I connect to the WiFi?"
Paris: My 12 Year old, My Mother and Me.
We had a beautiful view of the Arc de Triomphe and the Eiffel Tower. As the sun set, the tower began its display of flashing lights. We were all mesmerized and quickly made the decision to hop into a pedi-cab to get our up-close-and-personal view. The ride was a terrifying and fascinating way to see the streets and experience the traffic of Paris first hand. I will never understand how they don't crash while driving around the Arc. As we approached the tower, we all quieted down as the Eiffel Tower loomed ahead of us, bright, flashing and huge. The sheer number of people milling about at 10:30 pm on a Wednesday was overwhelming.
We got in line to get our tickets to take the elevator up to see the view, and I realized how cold it was after dark. The view from the middle section is breathtaking, especially after dark when the fountain below is lit up too. The three of us thought we would come to the Eiffel Tower again but we never made it for a second visit.
The shopping and the Holocaust museum took center stage on our next to last day. I admit we stuck to shopping mostly but the museum is quite extensive and the way it is guarded is telling of the undercurrents in French culture today. Near our apartment was one style of stores and several blocks away, there were higher end stores such as Hermes, Coach, and Louis Vuitton. We even shopped in the Underground.
While we spent time seeing castles in England, churches and lovers' locks on the bridges of Paris, my daughter's all-time favorite experience of the trip was Disneyland Paris. I know, I know, I can hear the groans already! But, we had so much fun there. It was crowded but not as badly as the Disneyland in Los Angeles. We were able to ride every ride we wanted (except for Space Mountain, which was closed for cleaning). We marveled at the entry to the Pirates of the Caribbean (it was so dark you couldn't see your hand in front of your face and had a steep decline), and were fascinated at the differences in our much loved rides and the differences in food options; the crepes were the best!
The waiter was endearing and answered the most important question of the day, "How do I connect to the WiFi?"
Overall, traveling to Paris with a 12 year old had its ups and downs. Some of the challenges of the trip included sleep deprivation from jet lag, a limited amount of time, our different desires, and the language barrier. Exploring what lights someone else up, being open to "slog" through boring old churches to get to shopping or Disneyland provided an atmosphere for a kid (and me) to practice patience, problem solving, cooperation, and negotiating skills.
My mom, my daughter and I all came away closer and with a better understanding of one another. My daughter still says if she ever sees an old church, cathedral or castle again, it will be to soon. My mother is fine if she never sees Disneyland again no matter what country it's in. I can't wait to do it all again with my girl when she is 15 or 16 and see how different it is or if it is different at all. Maybe the top question of an American 16 year old will still be, "How do I connect to the WiFi?"
Top Photo By Unsplash.