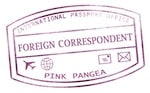 When looking ahead to my semester abroad in Paris, I had planned to take advantage of all that the French culture has to offer – the history, the language, the fashion, the food, and, of course, the romance. I mean, what single girl doesn't head off to "the City of Love" with the secret goal of finding her true heart's desire and living happily ever after?
Amazingly enough, my ambitious dream has actually come true. I had barely stepped off the plane when my fairytale began, and by day 10, I found myself head over heels in love. Now, this might not be the typical Parisian romance you're imagining. No, this story doesn't include a dark, mysterious, well-dressed "garcon," romantic picnics in the gardens or long walks along the Seine River. Nonetheless, it was true love that I had found…
Once upon a time, in a land called Paris, a shy, nervous American girl ordered her first ever nutella-banana crêpe. As the warm, sweet aroma entered my nose, and the rich, chocolaty goodness filled my mouth, I knew instantly that this was a relationship I would fight to hold onto for the rest of my life. I'd found my soul crêpe.
The first date.
The very next day, I waited anxiously at the front door of a modern, white house, my heart still fluttering from the previous day's magical encounter. When the front door finally opened, I was overcome with happiness. I peered into the open doorway to see an absolutely adorable Parisian four year-old, followed close behind by her one-year-old sister, and her warm, welcoming parents. I entered the house and sat down at the table with my new family of the next four months, and my love only continued to grow. That night, when I enjoyed the first of many gourmet home-cooked meals (yes, my host dad is a food photographer, cookbook author, and incredible chef), and played Disney princesses with my new little sisters, I knew it was meant to be.
Night out on the town.
My first weekend evening in Paris happened to be an important evening for the rest of the city as well, as it was Vogue's "Fashion's Night Out." The event took place on Avenue Montaigne and the Champs Élysées, two of the most famous streets in Paris and home to every designer brand you can imagine. Just one glimpse of the illuminated store windows in the distance and I was smitten. My friends and I spent the rest of the night store hopping, window-shopping and walking the streets amongst the best-dressed women and men I have ever seen.
Getting to know each other.
A few nights later, in search of a fun but not too wild evening activity, a few of my friends and I wandered down to Pont Neuf to sit along the banks of the Seine River. We were surprised to find that the place was packed with young locals. After a little while, a young French guitar player and a group of his friends joined our circle, and we all sang along to Jack Johnson, Counting Crows, and of course, the Beatles. As I watched the lit up boats floating down the river, and listened as my new friends belted the chorus to "Let it Be" in a mélange of accents, I felt myself wondering if this could actually be real life.
It's official.
On night ten in Paris, I found myself standing wide-eyed, mouth hanging open as I watched the Eiffel Tower sparkle for the first time. The beautiful structure lights up as soon as the sun starts to set each night, but the light show only takes place for five minutes every hour. This was the monument I had learned about over and over in French class, and admired on postcards and magnets for years, and now, there it was glittering like a diamond ring a mere football field ahead of me. After that, I knew I was in it for the long run.
So, there you have it, the story of my undying love for Paris, its culture, its streets and its people. I know I kind of rushed into it, but I've got a feeling this relationship's going to last a while!