Making Room for Holiday Romance with the Husband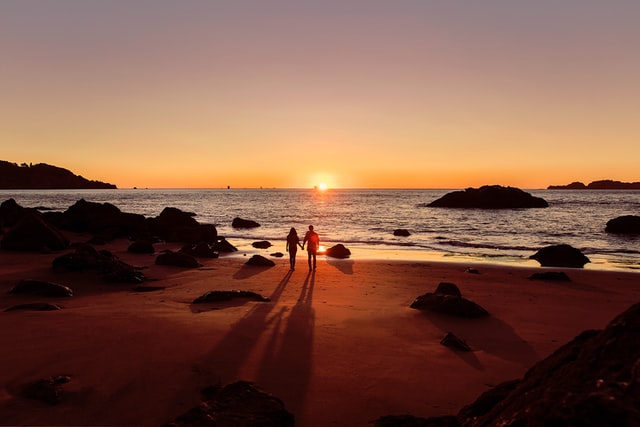 My husband travels light in every respect but one. I have to suppress a giggle when I watch him pack his toiletries. Five condoms for an eight-day family adventure in Costa Rica? Who does he plan on meeting there, I always wonder. I have to appreciate his optimism and the power of selective memory, because vacation after vacation, his packing ritual is more or less the same. Our family vacations are probably not very different from anyone else's, in terms of my husband and I getting time alone.
Since we tend to lean towards adventure travel and away from all-inclusive type vacations, most of our alone time is 'stolen'. On our vacations we create hilarious stories and cautionary tales as well as cherished moments, as a family and as a couple. My husband, three children and I have soared through jungle canopies, bounced over dirt roads and drifted through mangroves together. We have learned to surf and ski together.
If our travels have taught us anything it's that we should pack more snacks, first-aid supplies and sunscreen than contraceptives and lingerie. But a couple can dream, can't they?
Some days beat the crap out of us and leave us collapsed and fully-clothed beside whatever kid we've put to bed, but there's also something so exhilarating about taking on a new frontier together. Traveling with kids is the ultimate uncertainty. It's when you discover that one of your kids is prone to swimmer's ear and the other is deathly afraid of caterpillars (inevitably, you will discover this while visiting a tropical country abundant with caterpillars). Or that one of them hates sand. But it is also how you discover that your kid is an amazing skier, loves escargot and is more resilient that you thought. Sharing such experiences with your family is an incredible rush! And finding time alone with your partner in the midst of that rush can be truly magical.
Making Room for Holiday Romance with the Husband.
My husband travels light in every respect but one. I have to suppress a giggle when I watch him pack his toiletries. Five condoms for an eight-day family adventure in Costa Rica?
My husband was seriously crushing on me the first time I got up on a surfboard (at age 40). I couldn't stop laughing. The fear and exhilaration… the fun and silliness… it was such a fun moment to share with him and my children. Later, when the kids were asleep, we both felt that 'newness' and 'intrigue' that drew together in the first place. Those moments are sparks that reignite our old romance.
When vacationing with the kids, you have to leap at every opportunity to spend time alone with your spouse.
It makes sense to put romantic expectations aside during family vacations for a different kind of togetherness. But it is possible to experience both kinds of intimacy. Here are a few things I've learned:
Get a room. Literally.
Separate bedrooms for parents and kids are ideal, but when that's not possible, seek out alternatives. A patio or balcony can often provide a nice reprieve and a space to enjoy a glass of wine after the kids go to sleep. Beachfront properties? Awesome! A good baby monitor will give you a wider perimeter and some peace of mind in louder settings—you'd be surprised how loud a tropical rainstorm can be, and how romantic.
Check out Pink Pangea's Writing, Yoga, and Meditation Retreats.
Consider the layout of your accommodation.
Sometimes it makes more sense to bypass luxurious rooms with elevated views in favor of something on the ground level, off the sundeck or by the pool. Explore the layout of resorts and rental properties, and bear in mind that safety codes (railings, etc.) vary from country to country. Easy pool or outdoor access can give you the space to 'get away' when kids are chilling out or napping inside. Depending on the ages of your kids, access can also give them the freedom to explore a little on their own. No wi-fi? Give them walkie-talkies and a set of parameters. At smaller, family-friendly resorts, my husband and I have lounged in a hammock on the deck of our two bedroom villa while our kids played in the pool, or took an evening dip while the kids watched a DVD inside.
Accessorize.
Keep an umbrella or stroller handy. Carry headphones or maybe even a nylon hammock. Some of my favorite moments with my husband were spent dining in beautiful outdoor settings with sleeping children in strollers beside us. There is something delicious about seizing those stolen moments, but you have to be prepared for them!
Text sweet nothings.
Remember passing notes in school? Enough said.
Perhaps more important than any of these things is an open mind. On some vacations, my husband's optimism comes in handy. Other times, we barely make a dent in his supplies. His ritual is just one piece of our collective effort to be open to possibility. We're learning to seize the moments that are available and savour all of our experiences, romantic or not. Sometimes it's not about us and there are other memories to be made. In that case, there's always comfort in knowing that privacy and babysitters are available back home.
Photo by Unsplash.