Love is in the Air: Meeting the Man of My Dreams on a Flight to Peru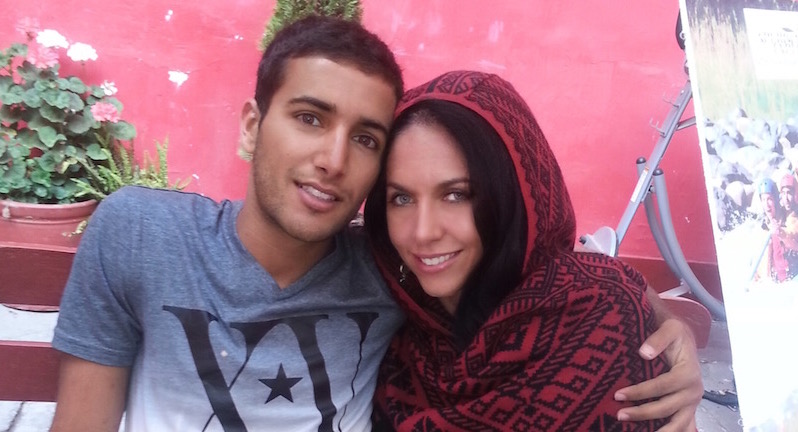 Rushing from my taxi to catch the bus headed to Baltra Airport, I barely noticed him. I was given the last empty seat and he the floor next to the door. As we were winding away from paradise, I began to eat my breakfast of fruit salad. After accidentally squirting pineapple juice on the older gentleman next to me, I offered him some fruit. He offered me a place to stay next time I visited in the Galápagos Islands. After a short boat ride and another bus, I said goodbye to my travel companion and waited in line for my airline ticket.
"Do you have the time?"
These words forever etched into my mind. It was the same man racing to catch the bus. I gave him the time but instantly realized this was just his introduction. His name was Maor. He was from Israel and he was also traveling alone. Coincidentally, he would be on the same three flights to Cusco.
I didn't even want to think about men. But after meeting him, it was all I could do.
We hit it off instantly. He was intelligent, charming, funny, and incredibly handsome, with big brown eyes, dark brown skin, thick black hair, and a smile that could melt glaciers. After we got our tickets, we sat together waiting to board our plane and talked about everything from family and his work in the military to my spirituality and photography. Our conversation did not miss a beat so I agreed to get lunch with him in the Lima airport when we landed. The whole plane ride I tried to concentrate on my book but could not stop thinking about this handsome stranger who had stimulated my mind. Having ended a relationship recently, I didn't even want to think about men. But after meeting him, it was all I could do. Suddenly, my declaration that this journey was only about spirituality was shifting.
We met in the airport and this time the conversation became even more flirtatious. His humor so similar to mine, I could not help but be drawn in. When he jokingly touched my leg for the first time, butterflies fluttered. I knew Peru would not be what I had planned. We changed our seats to sit next to each other on the next flight and he cuddled me into his chest gently stroking my hair. Then somewhere in the air between Lima and Guayaquil, he kissed me. My first mile high kiss and the kind that makes you sail away into ecstasy.
He showed me that a man can be a masculine free spirit and a compassionate romantic at the same time, a combination I only thought existed in movies.
We checked our bags at the airport lockers and grabbed a cab to get dinner in the city. We talked of our childhood and music interests and he invited me to visit him in Israel for desert walks and ocean swims.
Once back in the airport, we took turns washing up and watching our bags. This turned out to be a major benefit that you aren't granted when traveling alone. Then we found a spot to sleep with other backpackers waiting for morning flights. I felt so much safer and warmer cuddled in his arms among the dozens of unknown travelers and knew at that moment he must be sent from above. After another romantic flight we made it to Cusco and to my surprise and delight, Maor asked if he could join me to Písac. Though it wasn't on his list of must-see towns, he told me he could not leave me and melted my heart.
The next few weeks were some of the best in my life. We talked all night long about things I've never shared with anyone and went salsa dancing in a reggae club. We did the Cusco walking tour, which is a must, and listened to live music with the tour guides. We ate delicious Peruvian food and, even better, nitrogen frozen yogurt. We even went waterfall rappelling and did the Tarzan swing over a 150-meter ravine.
He showed me that a man can be a masculine free spirit and a compassionate romantic at the same time. A combination I only thought existed in movies, but here he was, in the flesh. The only drawback was that we live on different ends of the Earth and the love we had found, like almost all travel romances, had an expiration date.
Love is in the Air: Meeting the Man of My Dreams on a Flight to Peru.
We tried not to think of it and lived every day to the fullest. Many people choose to avoid these types of relationships because of the pain it can bring at the departure, but they don't have any idea what they are missing out on. Nothing in life is guaranteed and at the end of my life, it is the moments that took my breath away that will flash before me.
Maor taught me so many things, like you have to let go and just flow. When you are too focused of an agenda, the world throws you a curve ball and flowing with the tide may be the greatest spiritual lesson travel gave me. You receive from the universe exactly what your soul is meant to gain but you can only receive it if you do not resist and open yourself to every blessed moment.
He taught me that there are masculine, strong men who are patient, generous, romantic, and emotionally available: who knew? And most importantly, Maor blessed me with mutual love, the kind of love written in the stars where you stay up all night telling each other your deepest secrets and it only brings you closer. When you travel, let your soul be free and heart open to all life wants to bless you with, and the most amazing gifts may be found in the unexpected moments.