Visiting Cozumel: A Conversation With Sara Roccisano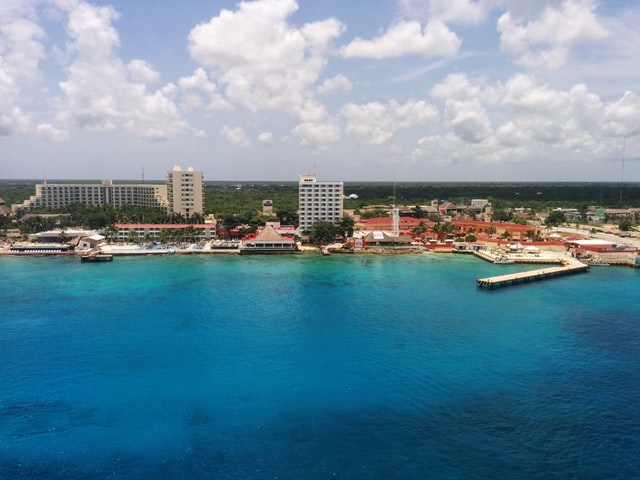 This month, we're interviewing women from all over the world and asking them about their travels to the Caribbean. We had the privilege of speaking with Sara Roccisano about her experiences traveling to Cozumel. Here's a glimpse into our conversation.
Tell us about yourself! What do you do when you're not traveling the world? Where do you live? What made you decide to go to your most recent destination?
I'm Sara Roccisano. I am a passionate, world-traveling, scuba-diving, former Wall Street New Yorker who is now running the Embolden Adventures traveling website. In 2009 after the financial crisis, I became scuba certified. I went on one dive trip and fell in love with the underwater. Since then, I have been embarking on adventures around the world from the depths of the ocean to the heights of the mountains and beyond. So far I have visited 35 countries and 30 US States and territories, most of which I visited after leaving my desk job and going on dive trips.
I have scuba dived with great white sharks, whale sharks, schools of hammerhead sharks, dolphins, manta rays, sea lions, and other exotic sea creatures. One of my most favorite, incredible ocean experiences has been snorkeling up close with the whale sharks in Caribbean Sea off the coast of Isla Mujeres, near Cancun, Mexico. The whale shark is the largest fish in the ocean, reaching average lengths of 40 feet and weighing more than 40 tons. They are filter feeders, siphoning krill, fish eggs, and plankton from the ocean water like baleen whales do. Whale sharks are gentile giants and are completely harmless to humans since they have no teeth! I was motivated to swim with the whale sharks, and this Mexican trip to see the whale sharks was a dream of a lifetime!
How long did you go for? How did you spend your time?
I went to Cozumel, Mexico to go scuba diving for a full week. In this trip, I spent a few days diving off the healthy reefs along the coast of Cozumel, explored off-the-beaten path areas in Cozumel, took the ferry from Cozumel to visit Playa del Carmen, and then headed up north to Cancun and Isla Mujeres to snorkel with the whale sharks for the day. In my past dive trips to Cozumel, I spent a day visiting the famous, ancient Mayan site, Chichen Itza.
Another day, I went scuba diving around the Tulum area. Afterwards, our divemaster took us to a private, remote turquoise beach for lunch – we drank cold Sol cerveza beers and ate fresh lobster and shrimp ceviche with Mexican tortilla chips in a shady area under a bunch of palm treas. It was just wonderful.
What were your most memorable experiences? What were the biggest disappointments?
Snorkeling in the open ocean with so many huge whale sharks is unforgettable. The whale sharks are all around you trying to gulp large mouthfuls of sea water to feed. They come from every direction – you see whale shark mouths everywhere you turn. It is a unique experience unlike anything else. The whale sharks are three or four times longer than you and have eyes the size of quarters that look at you as they glide by. It's such a cool thing. You will love the ocean so much more after swimming with these amazing creatures. After the snorkel, we headed back to the Isla Mujeres beach and waded in the shallow, turquoise waters drinking cold beers and eating chips and salsa next to the boat.
Many of the speedboats were parked in the area, so it felt like a bit of a spring break party. The biggest disappointment, however, had to be how small and uncomfortable the speedboats were. It took about 45 minutes to get to the whale sharks by speedboat and the seas were very choppy. The boat hit the swells hard and it was unpleasant. My friend got so seasick, she couldn't enjoy the whale sharks.
What do you wish you knew before you went?
If you are prone to seasickness, be sure to come prepared with your remedies when you trek out to see the whale sharks. The whole experience takes about 3 or 4 hours so it will be miserable to you if you are sick the whole time.
Any favorite restaurants/hotels/hostels/sites you'd like to recommend? Tell us what made them great!
I liked eating at the restaurants off the main, touristy streets in Cozumel. Walk a few blocks in the opposite direction from the water. Get lost in the area and pick a few of those "hole in the wall" restaurants to check out. Here, I had the best burritos and other local Mexican food. The chicken is savory and the soft queso asadero cheese is just delicious, especially with a cold Mexican beer on a hot day after scuba diving. I still crave that Mexican food.
Visiting Cozumel: A Conversation With Sara Roccisano.
Is there anything that women specifically should know before they travel to your destination?
Of the many times I have visited Mexico, both in the Cozumel, Cancun, Tulum areas and in the Cabo areas, I have felt safe as a foreign, female traveler. Obviously be aware of your surroundings and be smart anywhere you go as a tourist. It is easy to book mini trips around the area and be escorted safely by these tour companies. I encourage you all to explore what Caribbean Mexico can offer and BE SURE TO SEE THOSE BEAUTIFUL WHALE SHARKS.
Photo by Unsplash.