Traveling in Montego Bay: A Conversation With Jakia Muhammad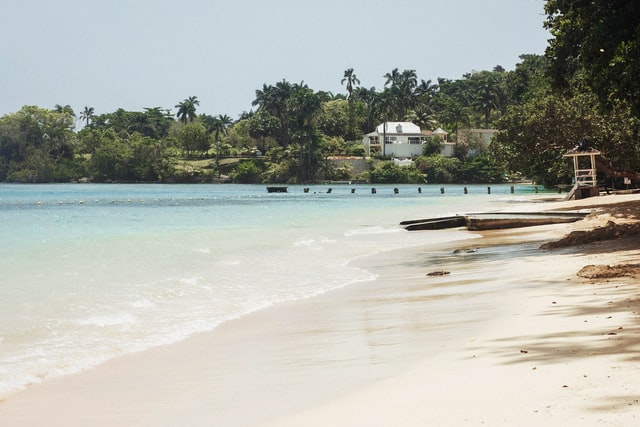 This month, we're interviewing women from all over the world and asking them about their travels to the Caribbean. We had the privilege of speaking with Jakia Muhammad about her trip to Montego Bay. Here's a glimpse into our conversation.
Tell us about yourself! What do you do when you're not traveling the world? Where do you live? What made you decide to go to your most recent destination?
Traveling literally makes my soul happy! When I travel, I make it a point to leave behind all my troubles and stressors back at home so that I can kick back and relax! When I'm not traveling, I work full-time. I have a business called SoleOrganizer that specializes in restoring organizational solutions to spaces within a home and providing virtual consulting services. Along with traveling, organizing is also a passion of mine and as I grow older, I like to live a minimalistic lifestyle. I'm even organized when I'm travelling.
I have a blog and recently shared some helpful, organizing tips that will show you how to prepare for a trip. I live in Maryland – right in between Baltimore and Washington, DC. Recently, I traveled to Montego Bay, Jamaica in January and the crazy thing about it is that I just was there in September! My friend was celebrating her 30th birthday so we decided on Jamaica. Jamaica is so full of life and has so much culture that you literally feel the positive vibes as soon as your feet touch the ground!
Traveling in Montego Bay: A Conversation With Jakia Muhammad.
How long did you go for? How did you spend your time?
My friends and I were there for four days and spent our days by the pool, on the beach, playing volleyball, and enjoying the Montego Bay nightlife. There was never a dull moment and not a lot of sleep but that's okay when you're creating priceless and invaluable memories.
We went to Margaritaville which is a restaurant/bar during the day and at night turns into a nightclub. We also had a driver who took us off of the resort and showed us the disparities that Jamaica faces – homes that cost $500K U.S.D and then communities hit with poverty. However, despite those unfortunate arrangements, we still saw people smiling and laughing when we drove by. It honestly just puts a lot into perspective and makes you appreciate the little things in life.
What were your most memorable experiences? What were the biggest disappointments?
I honestly, don't have a disappointing moment from my trip to Jamaica. If anything the most disappointing moment was when it was time to come home. Of course, I have many memorable experiences, I just have to decide which ones are appropriate to share *smiles*. I will say that going out one night to Margaritaville was so much fun. I had never seen people dance for so long without taking a break.
I was selected to be in a dance contest at the Riu resort and dancing on the beach at night. I loved writing my name in the sand, laying around on the beach only to be offered a fresh coconut straight from the tree. I mean these are just experiences I will never forget and as I type this, the images just flash back to me instantaneously. I have yet to go to another Caribbean island that can Jamaica's spot but I still have some more traveling to do!
What do you wish you knew before you went?
I wish that I had learned a little bit more about various restaurants or food places to dine. I love to eat and being in Jamaica you want to know who has the best beef patties, plantains and rice & peas – staple meals of the country. So, make sure you do your research on specific things that pique your interest. If you like culture, research historic sites and museums. If you love the beach then research the best beach or river to visit. Jamaica has many beautiful, quaint beaches and rivers so you don't have to worry about them being crowded. You are the captain of your trip so set the foundation!
Traveling in Montego Bay: A Conversation With Jakia Muhammad.
Any favorite restaurants/hotels/hostels/sites you'd like to recommend? Tell us what made them great!
I have stayed at the Riu resort in Jamaica and I have used Airbnb. They both offer a different experience. The staff at the resort really went above and beyond to meet all of our needs and made our stay enjoyable. The food was delicious and we had four restaurants to choose from. Now, the real treat was the authentic jerk chicken that was prepared in front of you on the beach and served to you inside a little hut. The resort provided taxi services for us which allowed us to tour parts of Montego Bay and learn a little bit more about Jamaica. Also, I had the opportunity to visit the Blue Hole – a natural river in Ocho Rios that I would recommend seeing!
Is there anything that women specifically should know before they travel to your destination?
I think women should always be smart and just be aware of their surroundings whenever they travel to any destination. I've been to other islands and have felt pressured to participate in timeshare presentations or purchase merchandise that people were selling and not once have I ever been hassled when I traveled to Jamaica. I believe the reason being is because their culture is very laid back and the people truly make you feel like you're at home. I think women should also know how to be great negotiators when traveling. Jamaica thrives off of tourism and the taxi drivers we used were responsible and easy to access when we were ready to be picked up. Be sure to tip because they really do take care of you! One of our drivers advised us to use the ATM in Ocho Rios instead of another part of Jamaica because he didn't want us to be victims of theft. And honestly, that can happen anywhere but I really appreciated him sharing that tip.
However, one word of advice, when traveling – please be sure to travel with a group of like-minded individuals. Make sure that everyone is on the same page to go to a specific place, try new things, willing to step out of their comfort zone and most importantly, have a positive attitude about being in a new place and taking full advantage of the opportunity to explore, grow, and learn as a person. It would be devastating to go to a beautiful country and not enjoy it because of the company around you.
Photo by Unsplash.