A Treasure Hunter's Guide to Chinatown Kuala Lumpur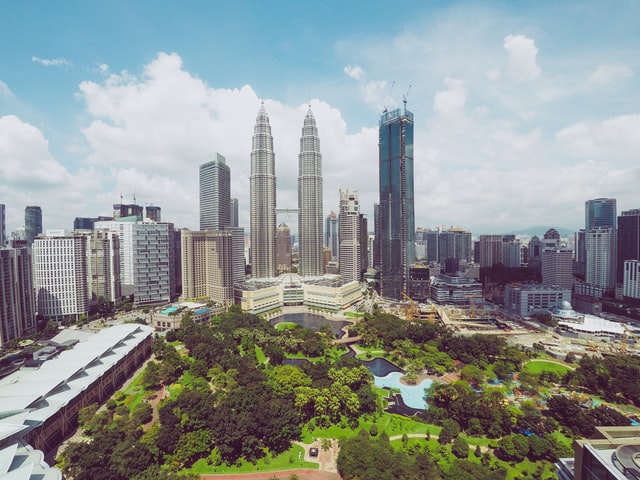 Chinatown Kuala Lumpur can be a loud, busy place that overwhelms you. Or, it can be a highlight of a visit to Kuala Lumpur, throwing new surprises at you with every step. You just have to know where to look. In this historic part of Kuala Lumpur, it seems that everyone is playing a game, hiding the best places behind secret doors. So here is your treasure hunter's guide for a perfect day in China Town.
A Treasure Hunter's Guide to Chinatown Kuala Lumpur
Temples
One of the first things you'll notice are Hindu and Buddhist temples along Tun H S Lee Street (Jalan Tun H S Lee). Malaysia blends three different cultures into a unique mix. Kuala Lumpur's name translates from Bahasa Melayu as "muddy confluence" – a great metaphor for the cultural blend you'll find on these streets.
Sri Mahamariamman – the oldest Hindu temple in the city – is squeezed in between two historical Chinese buildings in the heart of Chinatown. Entrance is free, and you have to enter barefoot. After visiting the first temple, continue down the street. You'll notice a red building on your right, guarded by dragons and warrior sculptures. Guan Di Chinese Temple cannot be mistaken for anything else.
Burning incense, the sounds of a gong – smells, sounds and colours are all set to maximum intensity here. Walk to the altar at the far side of the temple. You might see people kneeling and shaking wooden tubes filled with bamboo sticks. This is Kau Cim, a fortune-telling practice that you can also try, if you feel like it. Just kneel down in front of the altar, take the tube with sticks in between your palms, and think of a question. Shake the tube until one stick falls out. A number on the stick will correspond to your answer. Ask for a book with answers in English, which can be provided for a small fee.
Shopping
There is a hidden place in Kuala Lumpur that you absolutely must visit if the idea of unique souvenirs designed and produced locally excites you. It's conveniently located across the street from the Guan Di Temple.
The Peter Hoe Evolution and Beyond design store can't be seen from the street, so you'll need to walk into an unattractive office building and go up to the second floor. You can recognise designer Peter Hoe's personal style in every piece: he loves to refresh traditional Malaysian patterns in modern-looking interior accessories.
Eating and drinking
Purple Cane Tea Restaurant is just 5 minutes' walk from the Peter Hoe shop. A quiet restaurant is located on the third floor of the tea shop. Every meal is infused with tea. You can try tea noodles, tea rice or even have a traditional Chinese soup served in a clay teapot.
After lunch, if you haven't had enough tea yet, take a look around the shop downstairs. If you are lucky, the sales assistants will offer you the chance to try some teas. While setting up a simplified Chinese ceremony, they will tell you about the harvesting of the leaves, the plantations where they grow, and how to brew each particular type of tea to enjoy its finest flavor. Chinese tea is very strong, so a couple of tiny cups will make you feel like you have had an afternoon espresso.
But… if you are still craving an actual espresso, head to Aku Cafe (also an art gallery) which is hidden on the second floor of an old building and is hard to notice from the street. All you'll see from the ground level is a tiny little sign with a minimalist logo. Your second sign are the little ants printed right on the stairs. "Aku" means "ant", so follow the ants to find the "Aku cafe". Exhibitions here feature local artists, and match the minimalist feel of the place.
A day spent in this historic part of KL deserves a historic dinner. At the end of Petaling Street, turn right. You are looking for a bivalve wooden gate that looks a bit like a Wild West saloon door. Behind it you will find a real gem. Old China Cafe is decorated like a traditional Chinese house from the early 1900s. My Malaysian Chinese friend always says that the place looks just like his grandma's house. What a setting in which to enjoy a delicious dinner!
A mix of Malaysian and Chinese cultures, called Nyonya, originated from Malacca, a small town south of Kuala Lumpur. In Old China Cafe you can try Nyonya cuisine. Dishes are made of Chinese ingredients but cooked with Malay spices and cooking techniques.
A Treasure Hunter's Guide to Chinatown Kuala Lumpur.
If you fancy staying up a bit later, ask around for PS150, Chinatown's new, mysterious cocktail bar. Cocktails are mixed by KL's famous barista, Angel Ng. Every three month she comes up with a new menu, just to keep the spark alive.
Sipping on an Asian cocktail, you'll realize thatvery few places in Chinatown are inside what they appear to be from the outside. You'll have to knock on doors, go deeper, leave aside your expectations and be open for every surprise city place offers.
Photo for A Treasure Hunter's Guide to Chinatown Kuala Lumpur by Unsplash.