School of Shine: A Conversation With School of Shine Founder Zo Flamenbaum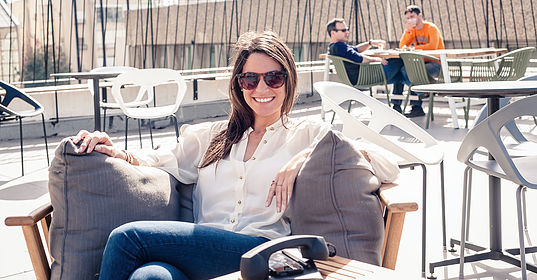 With its catchy tagline "Happily Ever Now," School of Shine is grabbing the attention of women of all ages and backgrounds. Known for creative events and fun opportunities to create happier days, I was intrigued to find out what all the talk was about.
I first met Zo, School of Shine's founder, last August at a writing workshop, and I recently had the chance to speak with her and all things School of Shine. In this interview, we speak about the inspiration behind it, the challenges of running a women's community, what it was like to turn a passion project into a business and so much more. Here's a glimpse into our conversation.
A Conversation With School of Shine Founder, Zo Flamenbaum
I understand you started School of Shine as passion project about a year ago. What inspired you to create the community?
I had been in Tel Aviv for 3 years and was in a pretty low place. My friends were leaving, I felt miserable in my job, and I had just broken up with my boyfriend. I was really tired of feeling sad and I woke up the fact that I actually had a choice in the matter.
I could continue crying on street corners of
Tel Aviv
, or I could take responsibility for myself and my happiness. From there, I dove into the science of happiness, positive psychology, and personal development – and knew I needed to share all of it with other women in Tel Aviv and beyond. From there, SOS was born 🙂
School of Shine hosts a range of events and workshops for all things women. We were intrigued to find out about it's monthly "Coffee, Kegels, and Conversation" events. Would you share a bit about it and some of the other events School of Shine hosts?
Sure! I'm not a morning person but CKC is my favorite morning ever. The goal of these mornings is to talk about things that matter, discover new perspectives, and learn practical ways to infuse healthier habits into our daily lives. And of course, share and meet awesome women. Some topics are Gratitude, Choice, Release, etc. We host it in our cozy living room and offer all you can drink coffee, tea & homemade goodies.
All of our events are focused on both personal and community development. We host everything from workshops to happy hours to fundraisers to the eye contact experience. We recently planned our first large-scale festival for International Women's Day in Tel Aviv. Everything we do is aimed to increase self awareness, self appreciation and to inspire action.

What has been most challenging about creating and running a woman's community?
It's hard to choose just one! I would say the top challenging aspect for me is to practice what I preach. I always talk about how important it is to put yourself first, and how happiness starts with you. I find myself easily caught up in my next project, fueled by my passion but with no time for myself and burning out. It's then that I realize, just like most women, I'm focusing on everyone else but myself – and that we MUST take a pause before truly being able to move forward.
What advice would you give to anyone thinking about starting a community for women?
DO IT! If you're called to it, then take action to make it happen, and no need for perfection either. If there is one thing I discovered, by simply providing a welcoming space for women to be themselves, connect and share, so many positive effects have resulted. Truly incredible things happen when women gather, and the more we inspire and empower one another, the better off our world will be.
School of Shine: A Conversation With School of Shine Founder Zo Flamenbaum
Tell us about yourself! What do you do when you're not running School of Shine?
When I'm not working on something for SOS, I work part time as a social media strategist and digital storyteller for a startup. For fun, I spend as much time as I can outside, welcome new women to Tel Aviv, read books, shake booty, do arts & crafts, visit my family up in Northern Israel, and explore this wondrous city however I can.

We understand you're quite the writer. What motivates you to write?
To me, writing is the best way to collect my most genuine thoughts and ideas in one place, and then share them with the world if I so choose. I believe the words we use are crucial to how we live, and depending on how we choose to use them, they can open new doors and perspectives to create a truly positive impact in people's lives.
What's coming up next for you?
Right now, School of Shine is hosting our newest worldwide adventure called the
TREAT YOSELF
challenge. The next one starts on June 1 and everyone is welcome to join our 21 Days of Delight. We have a few upcoming Tel Aviv events as well, all aimed to get your mind right for summertime. Feel free to check it out through our
Facebook events