3 Months in Ecuador: In Conversation with Caitlin Pyle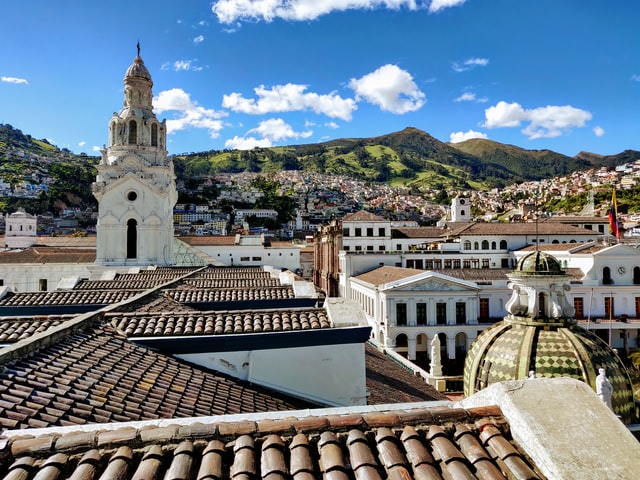 Caitlin knew in Ecuador that my income could support us both, so we thought, "Why not?!" Why not do it while we can, why wait?
Tell us about yourself! What do you do when you're not traveling the world? Where do you live? What made you decide to go to Ecuador?
I'm based in Orlando, Florida with my husband Ben. We've been traveling since July 2015 and are planning to head home in July of this year (2016). We decided to go because we could, mainly — Ben had quit his job to start a business and I was a location-independent proofreader who could work from anywhere. We knew in Ecuador that my income could support us both, so we thought, "Why not?!" Why not do it while we can; why wait?
How long did you go for? How did you spend your time?
We originally planned to be in Ecuador for an entire year, but we ended up changing it to three months because of visa issues AND because the list of places we wanted to go after Ecuador kept getting longer and longer. So we said, "Let's go to all the places we want to go in South America first, then if we want to return to Ecuador later, we can!" We were in the center of Cuenca, Ecuador for three months. It was a great location with excellent restaurants — which for me is the best part about traveling! We worked while we lived there, but we still had plenty of free time to try out what the city had to offer and meet with friends.
What were your most memorable experiences? What were the biggest disappointments?
I loved going to the zoo in Cuenca. To this day I think it's the best zoo on the planet. The animals aren't caged but safely enclosed in a very natural, large habitat. They aren't suffering as in many other zoos. The food was also quite good, although because of import taxes, many of the things I was used to eating in the US are not available here, and if they are available, they're very expensive.
We also took a trip with another couple to the jungle near Baños where we stayed in a "treehouse" overnight and sloshed through the jungle in rainboots. No electricity, no Wi-Fi, mosquitoes… it was interesting to experience life the way millions of people worldwide do on a regular basis.
What do you wish you knew before you went?
I wish I knew that things were not very clean. It sounds silly, but when you're used to the States being relatively clean — especially restrooms — and then go travel to South America where there's no toilet seat, no toilet paper, and no soap in pretty much any of the public restrooms (and many of the restaurants' restrooms!!)… it's a bit of a shock, ha!
Things like toilet paper or shampoo are generally more expensive in Ecuador. You can go to farmers' markets and get food items dirt cheap, but anything remotely "luxury" or even "convenient" and you're going to pay for it. I paid $32 for an electric space heater that would've cost $14.99 back home.
Any favorite restaurants/hotels/hostels/sites you'd like to recommend? Tell us what made them great!
We loved Moliendo Cafe and a little restaurant called Julius Caesar. Both are on Honorato Vasquez in Cuenca. Moliendo Cafe is Colombian food — you get a huge plate of food plus soup and juice for just $2.50! Julius Caesar has the best homemade pasta I've ever had — also incredibly inexpensive. My favorite lunch spot was an all-vegan place called Good Affinity. $2.50 for a nice plate of Asian-style lunch. An extra $0.25 got you some great lemonade. I could barely finish it all.
The Waffles de Belgica cafe in the Pumapungo ruins area had incredible waffles. I dream about them sometimes.
Definitely go to the Cuenca Zoo; it's called Amaru. I also really liked the tour of the Todosantos Church on Calle Larga. You can climb up to the top to see the five-foot tall, rather cartoonish Jesus figure they've got up there. And you get a great view of the city. It was memorable!
Is there anything that women specifically should know before they travel to your destination?
It's always safer to travel in pairs — especially at night. Cuenca was VERY safe, but in other smaller cities in Ecuador, I never went anywhere alone.
Photo for 3 Months in Ecuador: In Conversation with Caitlin Pyle by Unsplash.