Traveling in Ecuador: A Conversation with Maggie Espinosa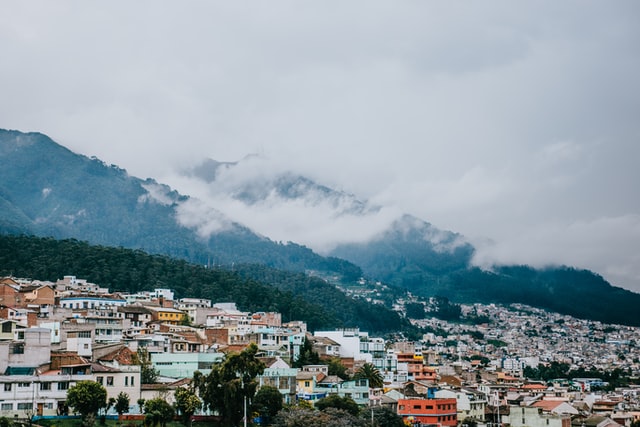 Get the real deal on traveling in Ecuador with travel journalist Maggie Espinosa.
Tell us about yourself! What do you do when you're not traveling the world? Where do you live? What made you decide to go to Ecuador?
I live in American's Finest City, more commonly known as San Diego. The sun shines 365 days a year and surfs up 24/7. I'm extremely fortunate to have a career as a travel journalist. This has taken me all over the world…one of the places being Ecuador. But, work wasn't the impetus to visit this beautiful South American country. My nephew was. Upon college graduation, I take each of my nephews to a country of their choice. Pete, the first to graduate, chose Ecuador/Galapagos Islands.
How long did you go for? How did you spend your time?
Pete and I spent seven days in Ecuador. The first two were in Quito, sightseeing. We then boarded the M/V Galapagos Explorer II for a five day cruise around the islands. Each day was a different experience as we jumped from nature preserve to nature preserve. The Blue-Footed Boobies were my favorite, as well as the male Frigate Bird with its bright red chest that inflates like a balloon during display to the ladies. Pete enjoyed the Marine Iguanas which are the only sea-going lizard in the world. We both LOVED the Galapagos Tortoise.
What were your most memorable experiences? What were the biggest disappointments?
Sometimes the kitschiest events are the most memorable, like the equator line at latitude 00 00′ 00″. But, it goes without saying, seeing the wildlife and swimming with sea turtles in the Galapagos Islands was amazing. Plus, the day tour with our friendly taxi driver.
We didn't have any disappointments. When traveling one must go with the flow.
What do you wish you knew before you went?
Both Pete and I did our homework before embarking on the trip, so we were able to see and do what we planned.
Any favorite restaurants/hotels/hostels/sites you'd like to recommend? Tell us what made them great!
We stayed at a wonderful boutique hotel —Hotel Patio Andaluz —in Quito. It is a restored colonial house from the 1700's. The dining room is indoors, on the ground floor of a two story atrium with guest rooms around the perimeter. Sun filled the space as we ate breakfast. Straw napkin rings with plaster figures depicting locals sat at each place setting. I loved them so much I purchased six to bring home.
Pete and I hired a cab driver to chauffeur us round the outskirts of Quito one day. He was a man in his 60s who spoke English impeccably. Our hotel front desk clerk helped us find the guide. We went to the equator line, a rose growing farm, lunch in a small village, shopping at an outdoor market, and over hill and dale to see the countryside. It was a lot of fun. Highly recommended.
Is there anything that women specifically should know before they travel to your destination?
As with any destination, women traveling solo should be wise and not go to sparsely populated areas; not hail a cab, but have the hotel call for a cab; not walk around at night alone; not take a drink from a stranger; should vet any tours for legitimacy; and have pepper spray in her purse/backpack.