One Month in Laos: A Conversation with Michelle Stansbury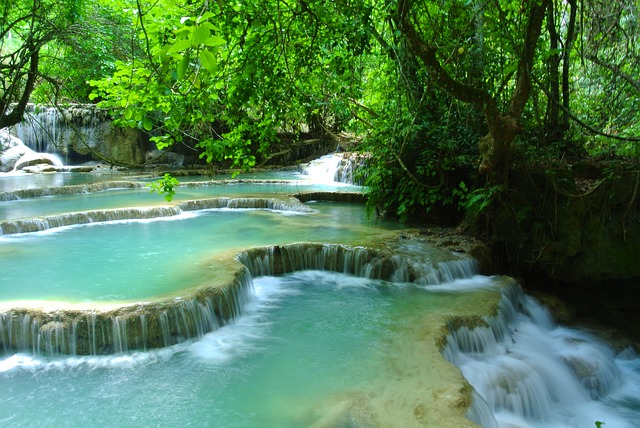 Despite heavy rain and abandonment by her boatman, Michelle had a wonderful one month in Laos. Get the real deal on Laos here.
Tell us about yourself! What do you do when you're not traveling the world? Where do you live? What made you decide to go to Laos?
I am CEO of Little Penguin PR, a boutique Public Relations consulting company based in San Diego, California. I went to Laos when I was traveling around Southeast Asia.
How long did you go for? How did you spend your time?
I spent about a month in Laos. I traveled in by land and boat from Chiang Rai, Thailand, in a two-day journey across the Mekong River.
What were your most memorable experiences? What were the biggest disappointments?
I began my trip in Luang Prabang, which was one of my favorite spots in Laos. Luang Prabang is an amazing and relaxed small city with plenty to do and very little inclination to do anything at all. In Luang Prabang itself I most enjoyed going to Kuang Si waterfall, the most stunningly beautiful waterfall I've ever seen. It is a multi-tiered waterfall with pale aqua water colored by the limestone.
My favorite part of Luang Prabang was the delicious street food – my favorites of which included bamboo spring rolls, fresh summer rolls, lettuce wraps, and pineapple mint lime fruit shakes. Perhaps not as traditional as the laap and other Lao specialties, but definitely fantastic in their own right!
I took the full day boat journey to and from Muong Ngoi Neua via Nong Khiaow. Unfortunately we got to spent very little time in either small town but just the boat ride was stunningly beautiful and very peaceful (except when we ran out of gas and were then abandoned by our boat driver without a word – by the time he came back with more gas 2 hours later I had learned the Lao word for "help" is pronounced shoe-eye and tried unsuccessfully to bribe the fishermen to pause their naps to take us to shore.)
The biggest disappointment was the nonstop rain in Don Det, islands where there is very little to do when it is raining!
What do you wish you knew before you went?
I should have researched the weather, I would have known to avoid Don Det during that time!
Any favorite restaurants/hotels/hostels/sites you'd like to recommend? Tell us what made them great!
In Vientiene, a not for profit restaurant called Makphet which serves incredible modern Lao food and who's objective was to train at-risk or troubled youth to work in the restaurant business so they would have the experience to get a legal job and keep them off the streets. All additional profit the restaurant earns goes back into the community, mostly to help families with small children to prevent the children from becoming beggars.
Is there anything that women specifically should know before they travel to your destination?
The local women swim in their clothes instead of bathing suits, so if you want to blend in with the locals, shorts and a t-shirt for swimming will help you fit in. Almost all female tourists where bathing suits, though, so its your choice completely on how you feel most comfortable!