Traveling to Luang Prabang Laos: A Conversation with Ashley C.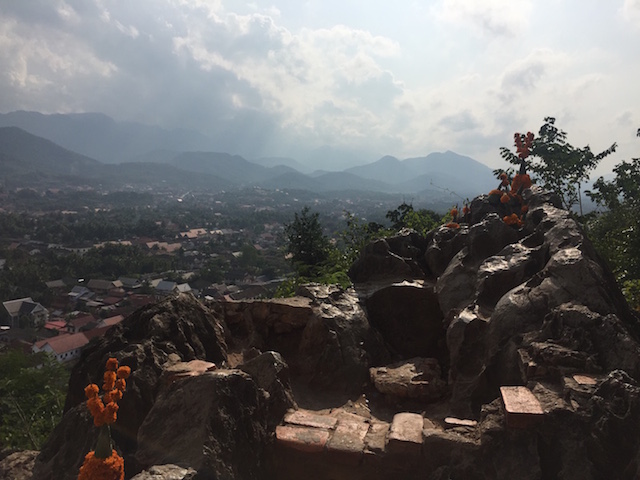 This month we're interviewing women from all over the world and asking them about their experiences traveling to Laos. We had the privilege of speaking with Ashley C about her experience traveling through Luang Prabang Laos. Here's a glimpse into our conversation.
Tell us about yourself! What do you do when you're not traveling the world? Where do you live? What made you decide to go to your most recent destination?
I grew up in a small town in Illinois, and am currently taking Chicago by storm. From 2010-2012, I lived in Hong Kong working as an elementary school teacher. There began my love of travel and blogging. In those two years, I traveled to 10 different countries and have since more than doubled that number since I returned.
I am a yoga instructor, avid reader, happy hour pro, and volunteer extraordinaire. In December 2015, I went to Luang Prabang, Laos, during a three-week Southeast Asia trip. Everything I read about the city made it sound idyllic and I'd always wanted to go to Laos!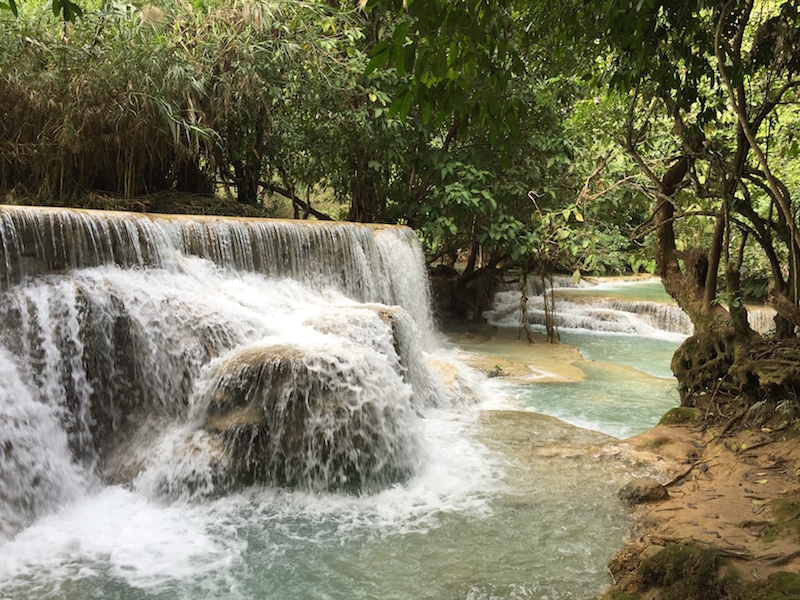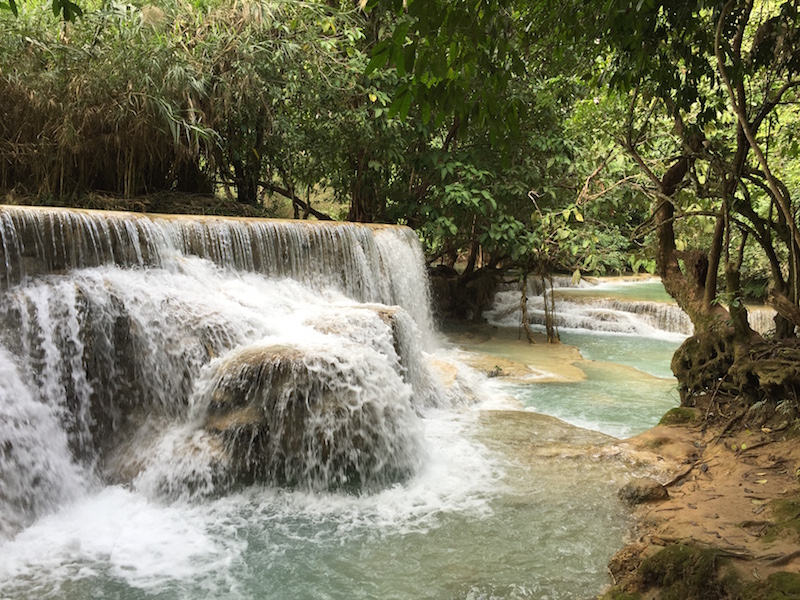 How long did you go for? How did you spend your time?
I was in Luang Prabang for five days. We did a lot of sightseeing while we were there, including a trek to the Kuang Si waterfalls, a hike up Mt. Phu Si, and a boat ride to the Pak Ou caves. There are a lot of temples to check out, too.
One day, we also did a cooking class with Tamarind Cooking School—it was awesome! The city is part of a former French occupation, so the French culture still exists with cute cafes featuring pain au chocolat and cafe au lait.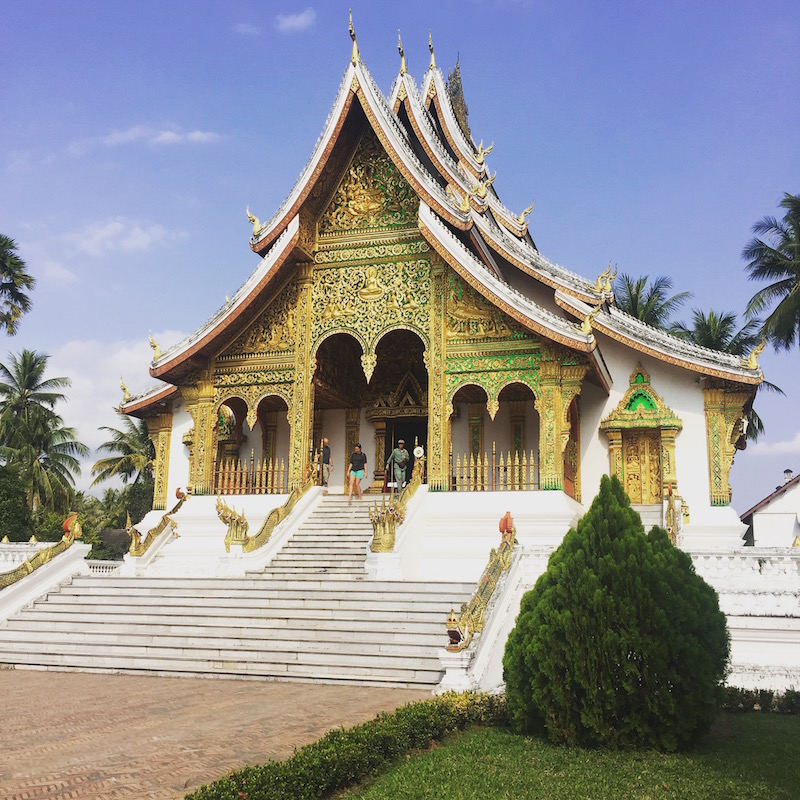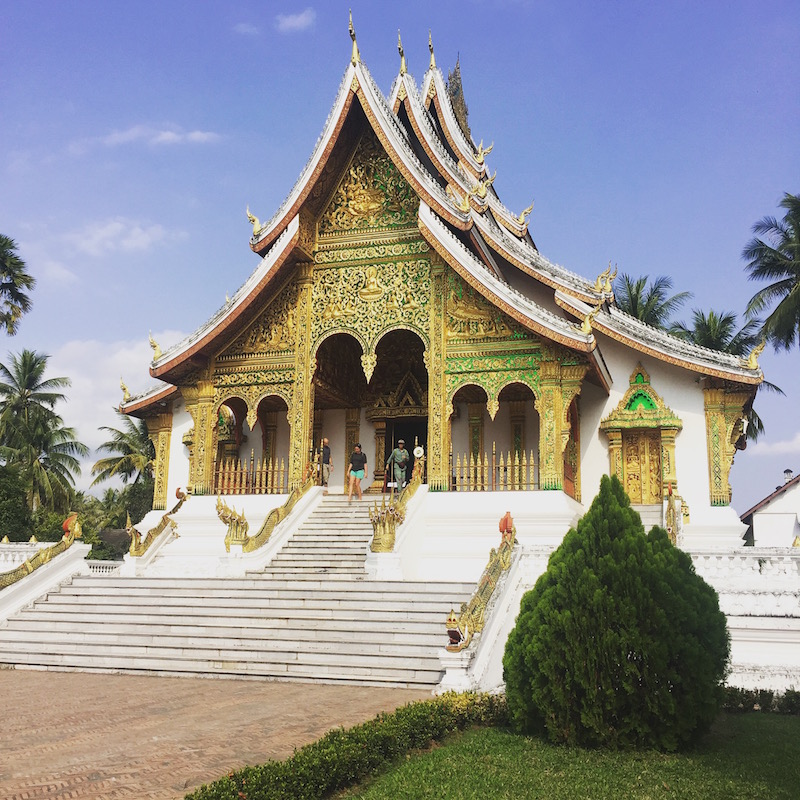 What were your most memorable experiences? What were the biggest disappointments?
Of all the waterfalls I've seen in my life, Kuang Si is the absolute most breathtaking. Turquoise water cascades from one large fall into layers upon layers of smaller waterfalls. For an all-day experience, we chose to trek there with a guide that we commissioned from a travel agent.
Another one of my favorite things in Luang Prabang was walking across the bamboo bridge. The lazy river passes beneath and monk students traipse across on their way to one of the city's many temples. The $1 USD entrance fee covers the cost of the bridge being taken down each year during rainy season so it doesn't get washed away and put back up again after the rain rolls out.
Honestly, I didn't leave disappointed. The costs of some things were more expensive than in most Southeast Asian cities, but overall it didn't break the bank.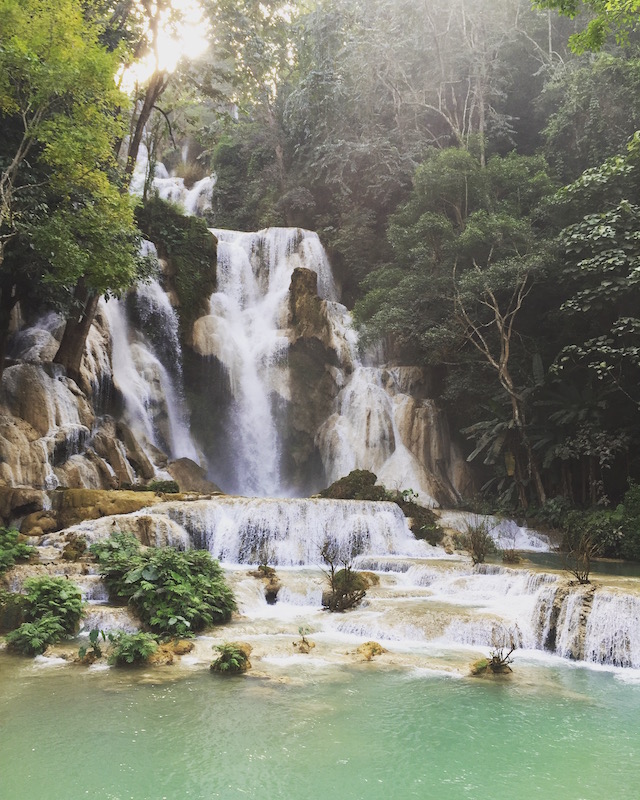 What do you wish you knew before you went?
We were there in December and it was chilly! I was expecting it to be as hot as Cambodia where I was for the rest of my trip. I would've brought warmer clothing! Also, I think I would've only spent three to four days in Luang Prabang instead of five. Maybe I would've gone to another city in Laos, like Vientiane or Vang Vieng, both of which didn't have as great of reviews but would have provided a change of pace.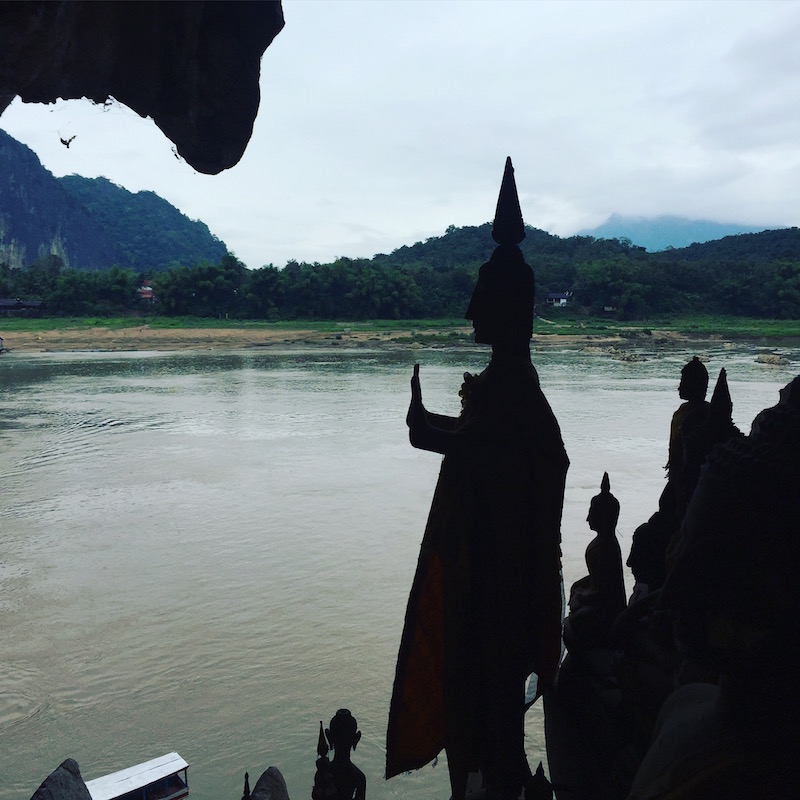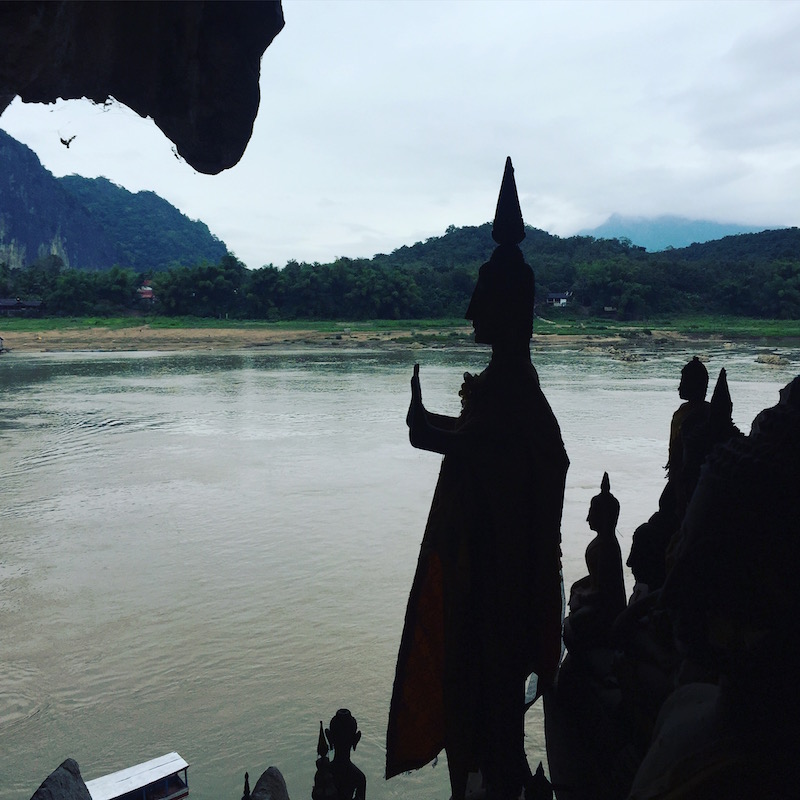 Traveling to Luang Prabang Laos: A Conversation with Ashley C.
Any favorite restaurants/hotels/hostels/sites you'd like to recommend? Tell us what made them great!
An expat utopia in the middle of Luang Prabang, Utopia bar is amazing. Looking over the river, there are places to lounge, dance, play volleyball, go bowling, and chat with the bartenders.
Every night for dinner, we ate at the night market's food buffet. There are multiple stalls that line the small alleyway selling all sorts of delicious fare. Make your way to the back of the market for a food buffet costing $1.25 USD. Yes, that's right: fill a bowl with all sorts of vegetarian options for just over a dollar! It was delicious and money-saving!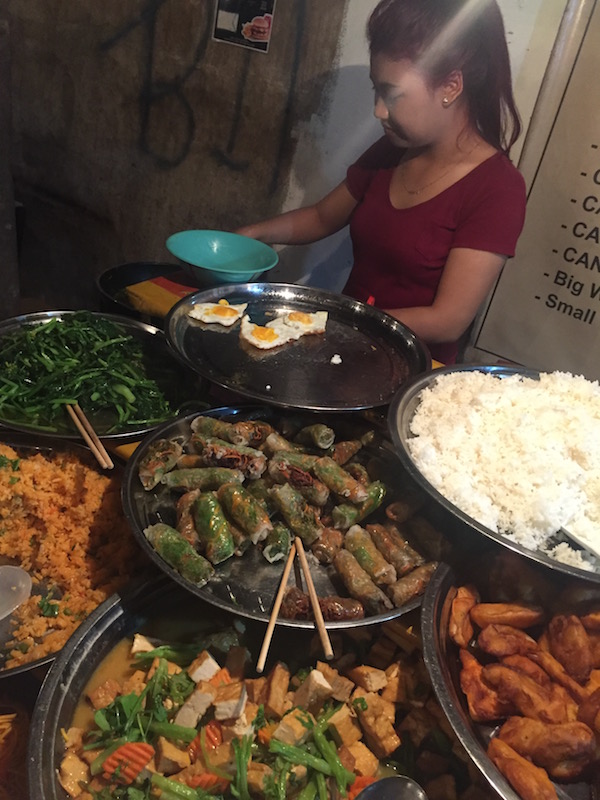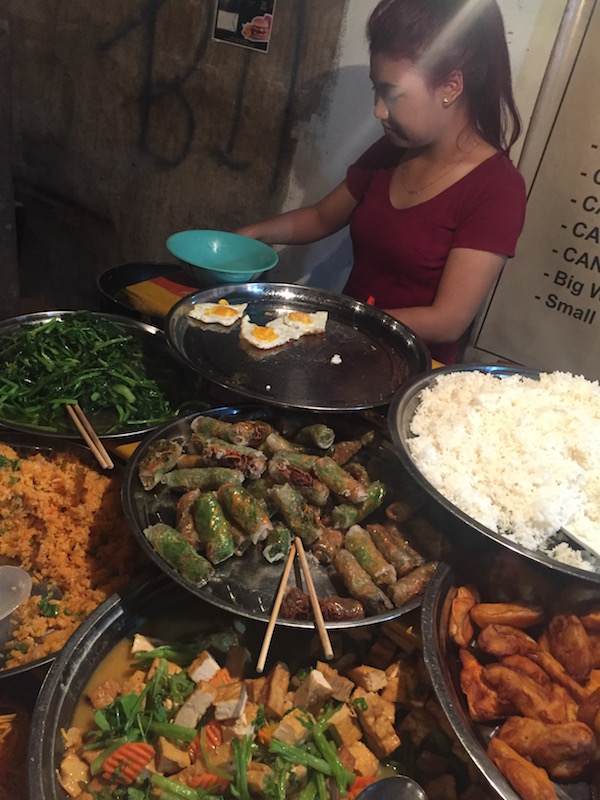 Is there anything that women specifically should know before they travel to your destination?
Luang Prabang is pretty romantic, so it would be lovely to be there with a partner, and if you don't have one of those, go with a friend! You can certainly tackle it alone, but I think it'd be more fun with other people. The city is really safe, but always keep your safety in mind when in big groups like at the night market.