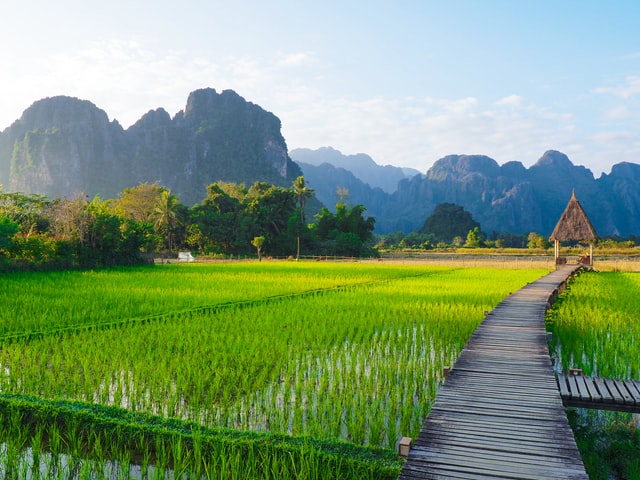 Have you ever gone on a vacation and thought to yourself, "I'm leaving after two weeks and just started to get to know this place?" This is precisely how I felt after my first experience in Laos. I had spent three weeks in Laos, which was originally meant to be one week. But I couldn't fight Laos' magnetism, or the way the place and the people inspired me. Arriving in Laos I felt a massive energy shift; time slowed down, and I felt more relaxed.
I had traveled by bus from central Vietnam on a visa run to Vientiane, the capital city of Laos. I knew I had at least five days to wait for paperwork to be processed, so I headed north to Luang Prabang. I was in search of true culture and the less developed regions of Laos. I wanted to see the ethnic minority villages and meet people from the local tribes, such as the H'mong. But, as I learned, you need time and patience while traveling in Laos. This approach was essential to my experience. The awe and inspiration I felt in Laos led me to return just eight weeks later, and I ended up living here for what has now been ten months.
The north of Laos should not be missed. The mountains, waterfalls, people, and culture are simply fascinating. There, you can see the less developed parts of Laos. It's possible to interact with tribal people and visit ethnic minority villages, but be sure to go with a guide, especially if you decide to do an overnight trek. You will need a local guide to ensure your safety, speak the language, and handle any situations regarding wildlife.
To get to the north, you have a few options. You can fly directly into Luang Prabang, then travel onwards from there to the south. There is also the option to take a slow boat if you're coming from Thailand, or you can take a bus or minivan from Vietnam, the south of Laos, or Thailand. Border crossings can be more difficult coming from China or Myanmar, although they can be quite simple if you've done your research and follow the steps. I recommend that wherever crossing a border you have two passport photos and US dollars, as there will be an extra fee for local currencies, if they are even accepted.
Typically, visas for passport holders of Western countries range from $30-$40. If you cross into Vientiane from Thailand by bus, I recommend taking a local bus to the city center to save money, or wait for a few other people to take a songthaew or tuk tuk. Using local transport is fun and will save you money, but remember that you will need to have time and patience. The roads in Laos are not great and the infrastructure is still being developed.
The north of Laos should not be missed. There, you can see the less developed parts of Laos. It's possible to interact with tribal people and visit ethnic minority villages, but be sure to go with a guide, especially if you decide to do an overnight trek.
Specific places to visit in northern Laos include the Kuang Si waterfall just outside Luang Prabang, the Pak Ov holy caves (one of Laos most ancient and holy places, 25 kilometres from Luang Prabang on the Mekong River), and Luang Prabang itself. The city is wonderful as it's peaceful, clean, quiet, and a UNESCO World Heritage site. You can visit beautiful temples, wake up before sunrise to give 'alms' to the monks, volunteer to teach English at the local library, and enjoy sunset by the river. From Luang Prabang you can head further north to Phongsaly Province and Luangnamtha. These areas are exceptional for culture and landscape.
If time allows, you should also visit southern Laos. You can fly directly to Vientiane or go by bus or minivan. Common tourists stop-offs include Vang Vieng, known now for its party atmosphere and tubing, but in reality with much more to offer. It is an outdoor capitals of Laos, offering excellent rock climbing, caving, and kayaking. The capital, Vientiane, is a nice place to stop off if you're craving city life, but it's a quiet and unique city. You can find excellent local and foreign food, visit beautiful temples, and plan the next phase of your trip in comfort.
If you happen to find yourself in Vientiane on a Saturday, I recommend visiting Wat Sok Pha Luang. At 2:30pm, you can join an open Vipasana meditation session. This is a wonderful and truly unique experience if you are interested in Buddhism and meditation. The session begins with a discussion on monastic life and meditation, with an English-speaking monk, which takes about one hour. Then, you will be guided through a twenty minute seated meditation, a twenty minute walking meditation, and a debrief. As someone interested in Buddhist philosophy, meditation and yoga, I found this experience to be truly unique.
After Vientiane, you can head south to Thakek, Pakse, the Bolaven Plateau, and 4,000 islands. These areas are known for their landscape, natural beauty, coffee and tea plantations, waterfalls, and interesting local life. If you're short on time head straight to the Bolaven Plateau and 4,000 islands, where you'll need at least three to four days in each place, exploring the natural sites and local culture.
And of course, wherever you go in Laos, don't forget to have a Laos coffee or a Beer Laos with the locals!
Photo by Unsplash.