Laos Travel: A Conversation with Kena Cataneso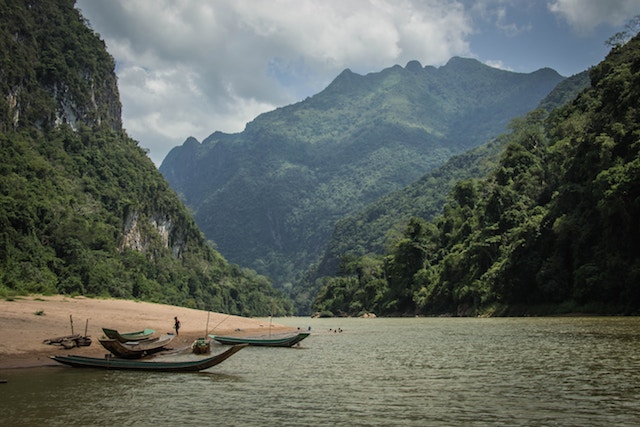 Kena Cataneso shares Laos travel tips from her 12-day journey to examine tours and hotels for travel company Journeys Within.
Tell us about yourself! What do you do when you're not traveling the world? Where do you live? What made you decide to go to your most recent destination?
I work in marketing and tour bookings in the travel industry, so when I'm not traveling I spread the word about great tours and help others plan their own adventures! I live in Lake Tahoe, California. The area is populated by adventurous people who travel in the shoulder seasons of our tourist economy, so I owe my inspiration to travel, in part, to those people. My most recent destination was Laos for my employer, Journeys Within, to inspect tours and the hotels we use for quality control.
How long did you go for? How did you spend your time?
I was in Laos for 12 days and during that time I visited Luang Prabang, Phonesavanh, Vientiane, and Pakse. I went on a riverboat cruise for two days, visited numerous temples, museums, villages and nature walks, participated in Buddhist ceremonies, and explored the Bolaven Plateau and the famous archaeological site, the Plain of Jars.
What were your most memorable experiences? What were the biggest disappointments?
The most memorable experiences were opportunities where I was able to interact with people. I participated in a Buddhist Baci ceremony where villagers and their village chief offered prayers and good intentions for my well being. They concluded the ceremony by tying strings around my wrists that represent the completeness of my souls, as Buddhist believe that the body is comprised of 32 souls.
I also gave morning alms to the monks of Luang Prabang. Monks have traditionally broken their fast by walking through town and accepting alms from the townspeople. I find these type of experiences to be the most meaningful. My biggest disappointment is that I could not have stayed longer.
What do you wish you knew before you went?
I luckily had a support group of colleagues and friends who gave me all sorts of Laos travel advice. What I learned is that some of the most important aspects of traveling is being properly dressed, well prepared, and responsible. For example, dressing for the weather and modestly at temple sites, bringing along sunscreen, insect repellent, and medication, and touring and shopping responsibly. Responsible tourism includes educating oneself about behaviors that will not harm the people who live in the places you visit.
This means things like avoiding tourist scams and choosing to buy local goods instead of imported goods. I liked having access to guides so I had a point of reference for what goods to buy how much things should cost. I purchased some souvenirs without advice and I ended up overspending on fake items.
Any favorite restaurants/hotels/hostels/sites you'd like to recommend? Tell us what made them great!
La Belle Epoque located at Luang Say Residence in Luang Prabang is a fantastic dining option. They offer a sophisticated and delicious international menu and the steps of service from the staff are impeccable. Even the breakfast included in my stay was coursed and beautiful. Luang Say Residence also offers luxurious guest rooms and staying there made me feel pampered.
The Governor's Grill steakhouse and restaurant located at Sofitel Luang Prabang offers haute traditional Lao cuisine and Western fare. People who dine there can count on enjoying perfectly prepared and executed meals, in fact, I ate one of the best steaks of my life. My arrival experience at Sofitel was the most unique to date. Guests are provided welcome drinks, a five minute foot massage, an opportunity to make an offering to the ground's spirit house, and more refreshments were delivered after my arrival to my room.
La Signature located at Ansara Hotel in Vientiane serves some of the finest French cuisine in the city. Guests may dine indoors or al fresco. High end meal choices are available, but there are also incredible pre fixe menu selections for great prices. Ansara Hotel is conveniently located near the night market, shops, other restaurants, the Mekong River, and the city's points of interest.
Is there anything that women specifically should know before they travel to your destination?
While destinations throughout Laos can be hot during parts of the summer, it's important for women to remember to dress appropriately. Lao people are modest in culture and though you may see some women wearing hot shorts, baring their midriff, or even walking around in bikini tops, they get a lot of stares from local people and with good reason.
It's best to avoid attracting that sort of attention and to show respect for the people who live in the places you visit. Temple sites are cracking down on not allowing people in who bare too much skin. Some of my guides went as far as thanking me for covering my legs and shoulders.