10 Things to Do with Kids in the Canadian Rockies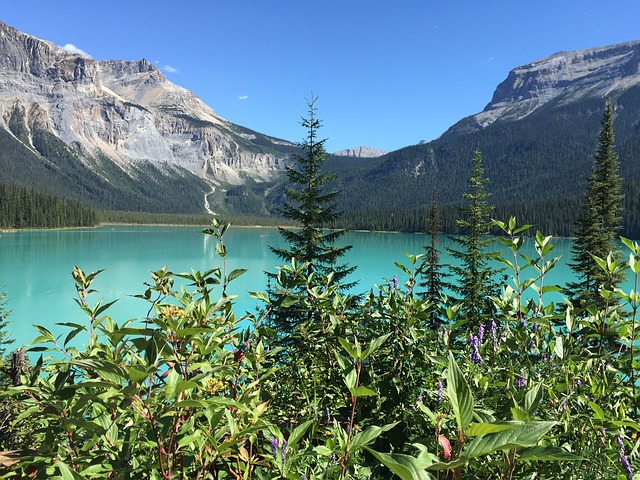 I'm not a parent, so needless to say, I rarely travel with kids. But last summer I met up with family in the Canadian Rockies, including three kids below the age of 10. Inevitably, there were some tantrums. But on the whole there was plenty to keep them entertained, without resorting to activities unappealing to the adults of the group. We were based in the town of Banff, so most of the things we did were in the Banff National Park, although we did briefly cross into Jasper and Yoho Parks, too.
Here are 10 things you can do with kids in the Canadian Rockies that will keep them entertained, exercised and educated.
10 Things to Do with Kids in the Canadian Rockies
1. Gondola at Banff, and walk to the lookout
The Gondola is pricey, at $39 for a return trip for adults (less for kids), but unless you're going to hike to the lookout atop Sulphur Mountain, it's a must-do. On the way up, you can make a game out of looking down into the pine forest for bears (we didn't see any, just plenty of humans hiking to the top). The walkway at the top, towards a lookout spot over Banff, takes about half an hour at a slow amble, and although there are some steps, it's not very strenuous. Along the way, kids can enjoy…
2. Wildlife spotting
Master 8 was especially excited by this, throughout the trip. Along the Sulphur Mountain walkway we saw chipmunks and marmots, and at other times we saw deer, elk, squirrels and pika (another kind of rodent). For kids from New Zealand who aren't even used to seeing squirrels, the chipmunks were super exciting.
Unfortunately (or maybe fortunately?) I didn't see any bears, although on a drive one day, one car in our two-car convoy did spot a black bear briefly. Black bears aren't too scary, as they're only aggressive if provoked, or separated from their young. Grizzlies are the ones to be afraid of, and although the kids really wanted to see one, I'm not sure I would've known what to do if we had.
Bear spray is available all over Banff, but I don't think I'd want to be in a situation in which I had to use it!
3. Canoeing
This is popular at the unmissable Lake Louise and Moraine Lake, with their impossibly-hued waters, but at these places it costs a revolting amount ($80 per hour at Moraine Lake!) Miss 9, Master 8 and Miss 4, as well as their parents, went at Emerald Lake instead, where it was half the price.
Emerald Lake is in Yoho National Park, on the other side of the mountains to Banff, and actually in British Columbia rather than Alberta.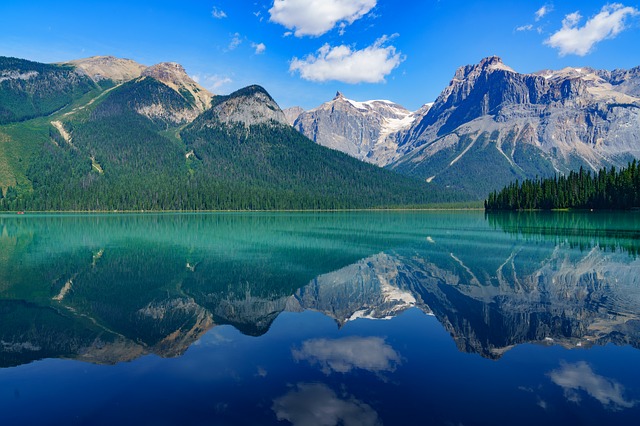 4. Astonishingly-coloured waters
Every river and lake in Banff is a different shade of blue, green or a combination of the two, and completely dazzling. Lake Louise, Moraine Lake, Emerald Lake, Bow Lake, Peyto Lake… They get their opaque, almost-milky quality from the rock 'flour' that gets into the water from the glaciers. Even Miss 4 was impressed by the colours (although she did nonchalantly tell me that the sea near her house in New Zealand is a similar colour!)
5. Buffalo Nations Luxton Museum
This Native American/First Nations museum in Banff is an old-school museum, to put it mildly. It's a bit unsatisfying for adults, because the gorgeous exhibits (beaded clothing, 19th century photographs etc) are not explained very well, and are decontextualised.
With very little prior knowledge of Indigenous peoples in this part of the world, I didn't know whether what I was looking at was from the cultures of the region, or somewhere else–I came to the conclusion that it was the latter, but this museum missed an opportunity to educate visitors about North American First Nations cultures.
Having said all that, the kids loved the displays, which included pretty everyday objects, such as beaded clothing, as well as stuffed animals and recreated scenes from daily life (although the giant bison heads mounted in the walls were a bit too much for Miss 4).
6. Short walks
The lakes and rivers are the setting for numerous short walks, of a couple of kilometres or less, aside from the boardwalks and main tracks to lookout points. The walkway around Lake Louise is particularly accessible as it is flat. Master 8 was more adventurous, so walked with a few of us adults on the South Ridge walk up Sulphur Mountain. The terrain is a bit more rugged than the boardwalk to the main lookout, but for an adventurous kid, this can feel more like a 'real' hike, as there aren't the crowds of other people to contend with.
The Johnston Canyon walk–which is very popular, so go early–is a bit longer, needing a couple of hours if you amble at a slow pace. It's very varied, with woodland, rivers and waterfalls, but isn't too challenging for little legs.
7. Fairmont Banff Springs Hotel
Unless you're loaded, it's unlikely you'd want to stay at this fancy hotel in Banff with kids. However, it looks a lot like a European castle, so the promise of a trip to the fairy castle can be enticing for kids. One way of walking there from central Banff takes you on a path along the Bow River. It's worth peeking inside at the opulent lobby, too. A harpist was playing when we stuck our heads in.
8. Banff Hot Springs
This isn't a big complex, so don't expect a Japanese or Turkish-style public bathing experience. However, it's one of the few reasonably-priced activities in Banff ($7 for adults, less for children) and it was a relaxing place to spend an hour at the end of a week of walking and looking at the view. The view of the mountains from the outdoor baths itself is pretty good. The water isn't too hot–just like a freshly-run bath, but no hotter. The springs are at the foot of Sulphur Mountain, by the start of the gondola, although with a different car park.
(And don't mind the rather 'adult' tone of the website, there were plenty of kids there!)
9. Athabasca Glacier
The big river of ice was unlike anything the kids had seen, and it was especially interesting for Master 8, who is old enough to understand and be interested in the scientific explanations of the geology. The Icefields Centre itself was a disappointment, as it was just a sales point for tours of the glacier, but the walk to the foot of the glacier (almost) is dotted with information boards.
10. Restaurants in Banff
Everything in Banff is pricey, including food, but many restaurants are kid-friendly. The menus aren't exactly gourmet, but the ubiquitous burgers, pizzas and fries suit everyone.
This article originally appeared on the author's blog, Wilderness Metropolis.