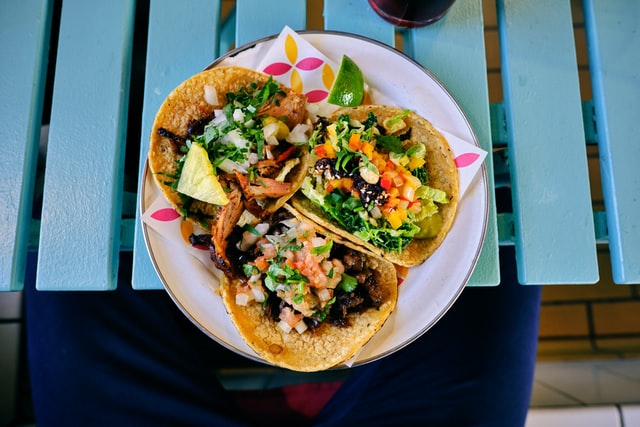 "Ugh, I hate Mexican food," said no one, ever.
Mexico has some of the greatest food in the world (in my opinion at least). No countries rival Mexico for fantastic cuisine and delightfully greasy street food. If you think you get good tacos in the US, you might want to try going south of the border, and if you think TexMex is an appropriate substitute for real Mexican cooking then absolutely think again.
As with most places I visit, the food was a highlight of my time in Mexico and these are the dishes you cannot miss next time you find yourself in La República Mexicana. While I'm sure there are a hundred and one dishes I've inevitably missed off, I had to draw the line somewhere…
Let's get the basics out of the way first; tacos reign supreme in Mexico, and streets across the country and lined with taco stands selling these greasy, moreish snacks any time of the day or night. Try tacos al pastor, which include pineapple for added sweetness, barbacoa, or just classic bistek (beef) and definitely top with cebollita y cilantro (onion and coriander), plus as many spicy sauces or guacs as you can handle. They must be served in corn tortillas.
Must-Try Mexican Cuisine.
Quesadillas are another stalwart of Mexican cuisine and can be pan- or deep-fried. Deep-fried versions come topped with salsas and crema more often than not. If you're eating at home, make them with flour tortillas and cook them on the hob. Be warned that if you're not using stringy queso Oaxaca (Oaxacan cheese) you are missing out. And never forget the golden rule of Mexico City quesadillas: you must specify that you want cheese in them!
Chilaquiles and enchiladas should also be tried when in Mexico, mainly because they differ so much from normal TexMex versions. Choose between red or green salsas and accompany with frijoles y pollo (beans and chicken) for the former, and lettuce and crema for the latter.
Finally, if you're sick, you need pozole or sopa Azteca (Aztec soup, sometimes also known as tortilla soup). Pozole is usually a pork stew/soup which has a specific type of corn included in the broth and is topped with radish, chile and lime juice. Sopa Azteca is a watery broth with strips of crispy tortilla, panela cheese (similar to the Indian cheese paneer), crema and avocado and it is the best hangover cure known to mankind.
Mexico City
In Mexico City, try the gorditas (stuffed corn tortillas) with any combination of fillings, but also the tortas (sandwiches) with one very specific filling: tamal (corn dough plain or mixed with herbs and vegatables, wrapped in banana or corn leaves and cooked).
Oaxaca
While we're on the topic of tamales, you should try your hardest to sample the best tamales Mexico has to offer, which can be found in Oaxaca. These come wrapped in banana leaves and filled with chicken mole or rajas con queso (chillies with cheese), and will make for an unforgettable eating experience.
Oaxaca is also famed for its mole. A thick and classically spicy, chocolatey sauce is served with chicken, seasoned rice and topped with sesame seeds. An acquired taste at first, it's one you won't regret picking up. There are over forty different varieties of mole and much superstition surrounding the process of making it correctly.
Jalisco
Jalisco is where I spent the majority of my time when in Mexico and they have a reputation for some of the country's best food. A state specialty is the torta ahogada (literally, drowned sandwich), another renowned hangover fix made from a specific type of bread; birote. Similar to the French baguette, it's unique to Jalisco. This sandwich may be one of the messiest eating experiences you have, given that it is literally bathed in super spicy tomato sauce, so come prepared and don't be afraid to get a little down and dirty.
Yucatán
Finally, the Yucatán. This region has some truly delicious food which is often quite different to other foods throughout the rest of the country. One meat it's known for in particular is cochinita pibil, a type of slow roasted pork, which is mouthwateringly tender – particularly when it's served in the form of a panucho. Panuchos are refried, greasy (read: divine) tortillas, stuffed with refried beans and topped with cochinita pibil (or any other meat) and red onion. Toppings sometimes vary but the message remains the same; these things are delicious.
If those of you with a sweet tooth are feeling a little left out of my Mexican food must-haves then hang around the Yucatán and try a marquesita. These are crispy crepes topped with Nutella and grated cheese, which are rolled up and served hot and melty. They objectively sound pretty disgusting, but they are unexpectedly amazing. Plus, watching the men and women who make them is a mesmerising event in itself.
If cheesy chocolate isn't your thing though, head to Puebla for dulces de camote (sweet potato sweets). Either way, there are some amazing sweet options all over Mexico – one of the classics is mazapán de La Rosa (a small peanutty, marzipanny treat), although handle with care as they often crumble into dust before you can get them in your mouth.
So, what are you waiting for? Go try some real Mexican cuisine!
Photo for Must-Try Mexican Cuisine by Unsplash.