How I Kicked Vegetarianism and Dove into Thai Street Food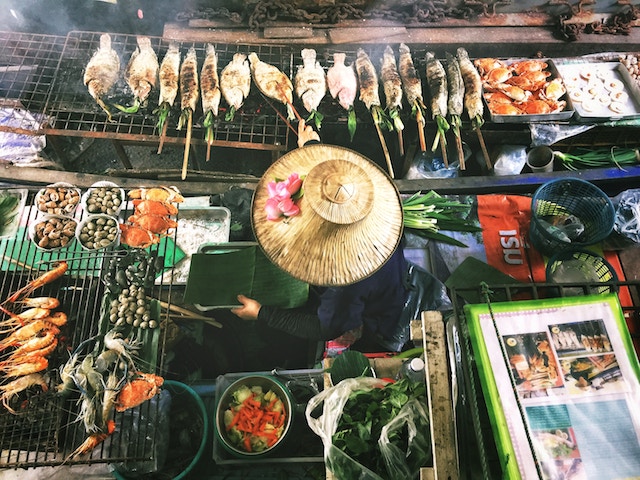 I walked into a travel clinic expecting to get a few quick shots and be out of there. Instead, I was handed pamphlets and papers with more do-nots than dos. Scanning the information I looked up briefly in shock and politely asked if there was anything I could do. The woman ignored me and the warnings kept coming:
Don't eat chicken
Don't drink the water
Don't even brush your teeth with the water
Don't get within 20 feet of a dog or you will get rabies
Don't get bitten by a mosquito
Don't eat Thai street food EVER
Don't use ice
I left the clinic shocked, stunned and more nervous than ever. After hearing all of these warnings. I didn't expect to eat at all in Thailand–let alone eat meat.
You see, I first became a vegetarian one Saturday afternoon. My mom put my usual cut up hotdogs on the tray of my high chair and I not so politely refused to eat them. She tried over and over again to feed me different types of meat and each time, I rejected it. After that came countless doctor visits and lots of food zooming my way disguised as an airplane. Eventually my mom gave up trying to feed me meat and I became a vegetarian at the age of three.
After hearing all of these warnings. I didn't expect to eat at all in Thailand–let alone eat meat.
I was a vegetarian when it wasn't cool to be a vegetarian. I was bullied by my brother, embarrassed at dinners out and known as the super picky one. I was always self-conscious about it.
My journey back to eating meat was much less traumatic. The reason I did not eat meat or fish or anything that wasn't carbs or a Caesar salad had to do more with having a mental block than a resistance to meat consumption because of animal rights or a health issue.
Then, right before I left, I stopped being a vegetarian. It started with a taste of a hamburger, a Chicago-style hotdog at a Cub's game, a pushy Italian boyfriend feeding me prosciutto and officially with free lunches at my school in Bangkok. Suddenly, I was a meat eater again.
But why would I choose to throw my vegetarian habits out the window and eat meat in Thailand–where meat is left out in the sun for hours, flies are free to fly and land on your food, vendors maneuver their carts around the streets of Bangkok with their meat skewers still cooking, and dishes are washed in a bucket on the side of the road?
If, after 22 years, I can start eating meat, what can't I do?
Though those things happen frequently, not every place is unsanitary or unsafe. When eating street food in Bangkok, I always follow these rules: I check where they clean the dishes, I see if the meat is kept covered, I scope out how many other people are eating there, I see how clean the work area is, and I check if the food is freshly prepared. If something doesn't look right, I'll find another place to eat. There is never a shortage of street vendors in Bangkok, and so far, my stomach has cooperated with my choices.
I am still no meat lover; I'll always choose cheese over meat. But I am trying–branching out, enjoying this new phase of my life, being brave, and eating panang curry, satay, fried chicken, grilled fish, chicken fried rice and pork wontons. Thailand is the land of street food and I would not feel right if I didn't just dive right in. With this new taste comes new adventure. And if, after 22 years, I can start eating meat, what can't I do?