Things to Love About German Christmas Markets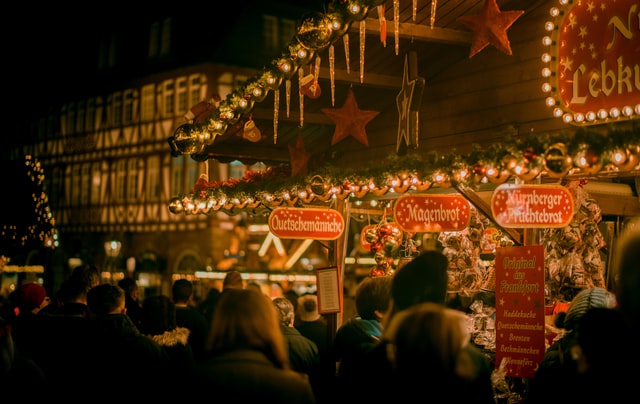 The earliest memory I have is of eating a delicious hot potato cake at an authentic German Christmas market when I was four years old. Delicate snowflakes fell all around me. After moving to the UK, the markets were something I missed. I have just returned from my year abroad, part of which was spent in Germany, and during December I made the most of the German Christmas Markets. The atmosphere definitely gets you in the Christmas spirit, and even though the markets get crowded in the evenings, everyone is infected with the festive feeling.
For those wishing to spend the Christmas season in Germany, I would definitely recommend going to a German Christmas market. Christmas is a large part of German culture, and I felt that I learned more about it as I walked around the markets during my year abroad. Every city and town will have one, and in some there will be several. In Heidelberg, there is one in the main town square but also on the castle grounds, which is absolutely beautiful. Here are a few of my favourite things about German Christmas markets!
Things to Love About German Christmas Markets
1.
Glühwein
No German Christmas Market visit would be complete without a mug of Glühwein (mulled wine) or punch. The warmth and spices are the perfect thing to warm you on a cold evening. The mulled wine sold at the Christmas Markets is definitely better than the supermarket versions, so the slightly higher price is worth it.
2. Sweet treats
There are many sweet treats to tempt you at the markets, and because it is Christmas time it is only right to indulge a little. Stalls carry desserts ranging from crepes, waffles, marshmallows and fruit covered in chocolate, to the typical ginger biscuits iced with different designs. Plus, an assortment of sweets and handmade chocolates.
3.
Bratwursts
There is no way you can go to a German Christmas Market without trying a proper bratwurst in a hot roll. There are a large range of sausages with different spices on offer, to suit every taste! Of course, for the vegetarians among you there are delicious options like hot potato cakes, hot roasted chestnuts and other tasty dishes.
4. Handmade delights
Alongside all the tempting food at a German Christmas Market, there are also stalls filled with handmade German Christmas decorations, toys and beautiful trinkets. Not only can you take home unusual Christmas decorations for your home, but they are a great place to pick up some last-minute Christmas presents. However, as with any market of this kind, be prepared for slightly higher prices.
5. Entertainment
German Christmas Markets often offer live Christmas music performed by local bands and choirs. They are wonderful places for children, with many rides and attractions to keep them entertained day and night.
6. German beer!
Germans are well known for their consumption of beer, and you can find all the traditional beers at a Christmas Market. It was lovely to see large groups clutching steins and singing along to Christmas anthems.
Photo for Things to Love About German Christmas Markets by Unsplash.