4 Extraordinary Days in Puerto Vallarta, Mexico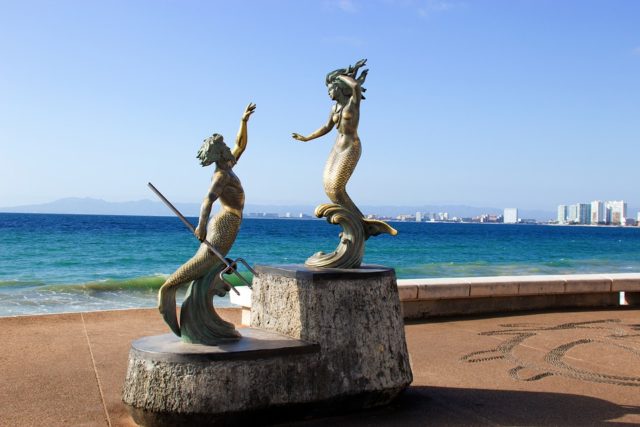 The first time I visited Puerto Vallarta, Mexico, I was 14 years old. I come from a family of seven siblings and all brothers, and I was thrilled when my mother offered a mother/daughter trip to Hawaii for Easter week which was fully booked. I had read about Puerto Vallarta in a fashion magazine, and suggested this paradise to my mom.
Through trips later–which included meeting my first boyfriend (a local Vallartense) as well as living here briefly in the 80s–Vallarta became my second home after Los Angeles. Having been blessed to work in fashion, which enabled me to travel internationally for business and pleasure, Mexico stole my heart and soul. Now, my cities are reversed.
Puerto Vallarta, once a sleepy fishing village became famous when John Huston filmed, Night of the Iguana here in the early 60s. Vallarta is now a smallish city though it still retains its original charm, including cobblestone streets, the lush vegetation of the Sierra Madre Mountains, wondrous explosions of colors from palm trees, murals, and sculptures, as well as the friendliest people you will ever meet.
The first time I visited Puerto Vallarta, Mexico, I was 14 years old. I come from a family of seven siblings and all brothers, and I was thrilled when my mother offered a mother/daughter trip to Hawaii for Easter week which was fully booked.
November through April is high season with weather averaging in the 80s. Summer brings higher temperatures and humidity as well as lower prices and fewer crowds. Each is a great time to visit–just be prepared.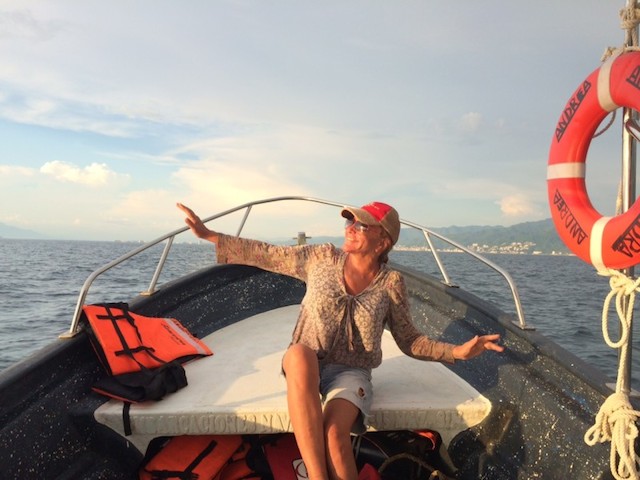 Puerto Vallarta, Mexico: Where to Stay
If you're traveling on a budget check into Hotel Yazmin on calle (street) Basilio Badillo, a block from our most popular beach Los Muertos. On the same street, you will also find a plethora of restaurants, art galleries and boutiques. Another more luxurious option is to rent an ocean front condo at La Palapa condominiums. Both are super close to bus stops and taxis are plentiful. I recommend using VRPV for vacation rentals.
4 Days in Puerto Vallarta Mexico
Day 1
After arriving at your choice of digs, take a walk down the malecon (boardwalk), breathing in the fresh salt air, and reveling in the beauty and local culture. Be sure to admire the main plaza and the church, Our Lady of Guadalupe. It is as iconic to Vallarta as the Eiffel Tower is to Paris. You will view locals dancing in the plaza during weekend evenings. Join in. All are welcome!
Continue walking on the malecon, admiring the sculptures by artists such Colunga and Bustamante. Dine at Dolce Vita for the best pizza or octopus carpaccio. While walking back to your hotel you will see numerous bustling dance clubs, called anthros, and bars. Have a night cap or get your boogie on until 5am.
4 Days in Puerto Vallarta Mexico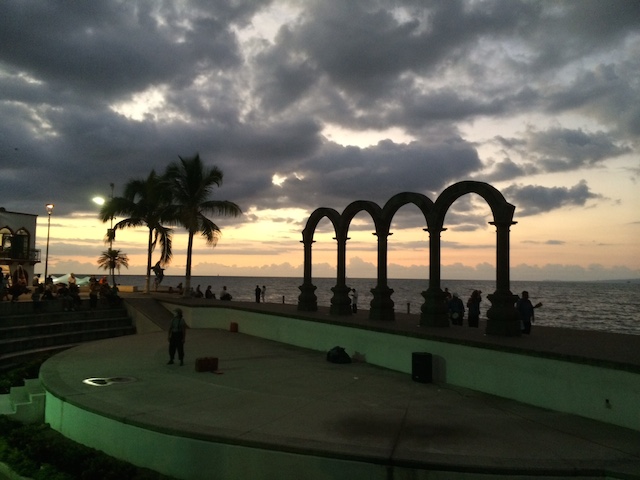 Day 2
At 8am, participate in a donation-based yoga class on an ocean front roof top terrace at Mahi Mahi beach Club. Bring your bathing suit and swim afterwards. Enjoy a green juice or chiliquiles, a traditional Mexican breakfast of fried tortillas in red tomato or green tomatillo sauce topped with eggs or chicken, and a touch of thick Mexican cream and cheese . Don't worry–you've earned it! Stay at the beach and parasail, paddleboard or jet ski.
Or just veg out, enjoying Banderas Bay, one of the largest bays in the world. You will be inundated by beach vendors and may be tempted to buy beautiful bed spreads from Puebla or silver jewelry. If not , a simple "no gracias " is sufficient.
4 Days in Puerto Vallarta Mexico
If the beach isn't your thing today, head out to the botanical gardens. Grab the orange El Tuito bus from V.Carranza and Aguacate streets. The bus ride includes beautiful scenery. The botanical garden does have an inspiring gift shop though the restaurant is pricey and the food isn't great. Bring water, a swimsuit, and mosquito repellant, and hang by the river or just stroll along the various enchanting walkways.
Grab a taxi for 60 pesos and have a sunset dinner on Playa Camarones (Shrimp Beach) at Barracuda, which is in the zone of fifth of December (my neighborhood). It's a casual and hip restaurant/bar with an eclectic menu. Kick off your sandals and wiggle your toes in the sand.
Day 3
Take a snorkeling trip to either Las Marietas or Los Arcos. There are private operators of panga boats you can negotiate with (approximately 500 pesos per hour) at the pier on Los Muertos beach or larger "party boats" with booze and music, which are also more economical.
After your exhilarating day swimming through caves, viewing tropical fish and maybe even viewing dolphins or humpback whales, you'll be hungry. Order tuna poke at Joe Jack's Fish Shack or Comida Mexicana (traditional Mexican food ) at Cafe de Olla.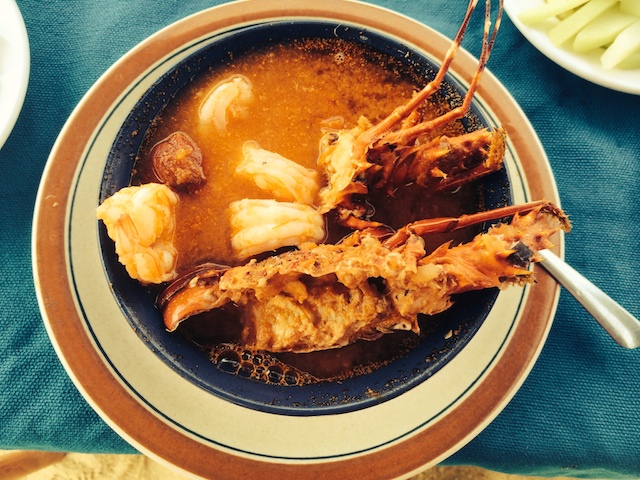 Day 4
Head to Sayulita, a bohohemian, upscale, hippie, surfing village. Take any green or blue bus marked Walmart. At the Walmart stop, change to the Sayulita bus. It's definitely worth the approximately 1-1/2 hour bus trip . The bus trip provides lovely scenery and a fun adventure!
Or rent a car and meander at your own speed, stopping on the roadside for fresh coconut water or souvenirs. Check out the cool boutiques, go for a swim and have a late breakfast or lunch at Choco Banana. Choco Banana is on the main square in Sayulita; ask anyone and they will happily point you in the right direction.
Once you leave, start planning your return as soon as possible because you still need to hike up River Cuale, go to Yelapa, visit Vallarta's cultural center on the Isla Cuale, visit our various farmers' markets, shop for Mexican handicrafts at the mercado municipal (city market), eat the best street tacos and so much more!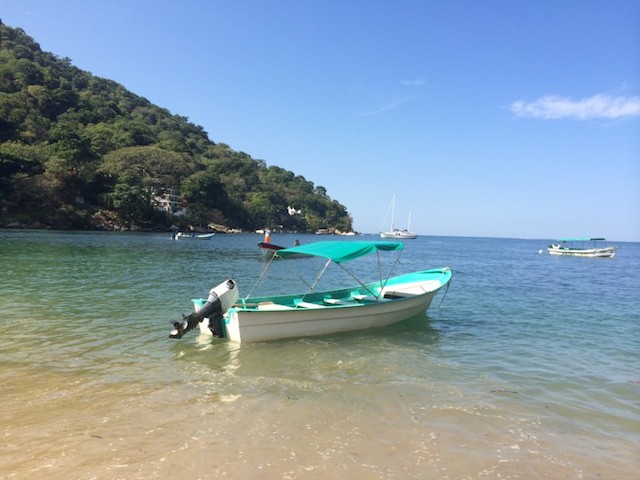 4 Days in Puerto Vallarta Mexico
Related Reading
Mexico Travel Tips: Jill's Take on Health, Safety and Romance
Have you traveled to Mexico? What were your impressions? Email us at [email protected]pinkpangea.com to share your experience and advice with the Pink Pangea community. We can't wait to hear from you.
4 Days in Puerto Vallarta Mexico photo credits: Heleen Mlynarski and Pixabay.