48 Hours in San Antonio, Texas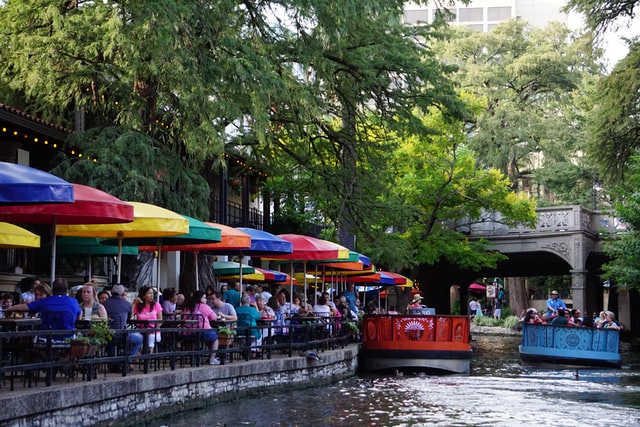 When you hear the name San Antonio, what is your first thought? For many people, it is the Alamo, the place of the epic battle between Mexican President Santa Anna and the defenders of the Alamo Mission, trying desperately to win their independence from Mexico. Davy Crockett may also ring a bell.
My main reason to visit to the area was my son's graduation from basic training at Lackland Air Force Base. Once graduation was complete, we could explore the surrounding area. Hence, my 48 hours in San Antonio. Here's what I recommend.
48 Hours in San Antonio, Texas
Day One
We headed into downtown and strolled the streets of the city, eventually finding our way to the Alamo. Here I experienced history, being transported back to February 1836 when a group of brave men and women fought the brutal onslaught of Santa Anna. Here you can feel the determination of those same people fighting for their lives. While the siege of the Alamo didn't result in a win for the Texans, not long after that, more brave souls fought under the battle cry of "Remember the Alamo!" at San Jacinto, and were victorious. Visiting the Alamo was a wonderful experience.
Later that same day
A personal favorite discovery of mine while in San Antonio was the Riverwalk. I was spellbound by its beauty and cleverness. In my mind, it is America's version of Venice. The Riverwalk is one story underneath the streets of San Antonio, with walkways along the banks of the San Antonio River.
I was able to stroll underneath the city for miles along paths that hold all manner of shops, restaurants, hotels, museums, and other attractions. I came upon street performers. The difference with other large cities: no automobile traffic. While we didn't use them as we preferred to walk along the banks, there are water taxis available.
Rambling for hours, we eventually arrived at Rivercenter Mall, which has over 100 retailers, along with an IMAX theater and a Marriott Hotel. I did a bit of shopping, enjoyed a frozen yogurt, and then once again headed to the Riverwalk in the opposite direction.
It was time to stop for a bite to eat. One of the best things about the Riverwalk is that there are many restaurants along the path, for every budget and occasion, from takeout to casual dining to fine dining – even riverboat dining.
Day Two
Being a family of animal lovers, our first stop this day was the San Antonio Zoo. Here we found a lovely family-friendly attraction with obviously well-cared-for animals. From the colorful flamingos prancing to the lions and tigers and bears – Oh my! One of my favorite exhibits was the Hixon Bird House. In this enclosed area I was able to experience an exciting array of birds from all over the world. The zoo was a fantastic place to spend a few hours on a picture-perfect Texas day.
Later that same day
Having enjoyed The Riverwalk so thoroughly the day before, we went back for a casual late lunch and sat near the river, simply enjoying the view.
There are several hotels which have direct access to the Riverwalk. On my next venture into San Antonio, this will be where I choose to stay. There would be nothing more convenient than being able to stay in a beautiful room, wander down to stroll along the banks of the river, at the same time choosing what other sites I wish to visit on that day in this extraordinary city.
Photo credit for 48 Hours in San Antonio, Texas by Unsplash.