A Big Sur Love Affair by Motorcycle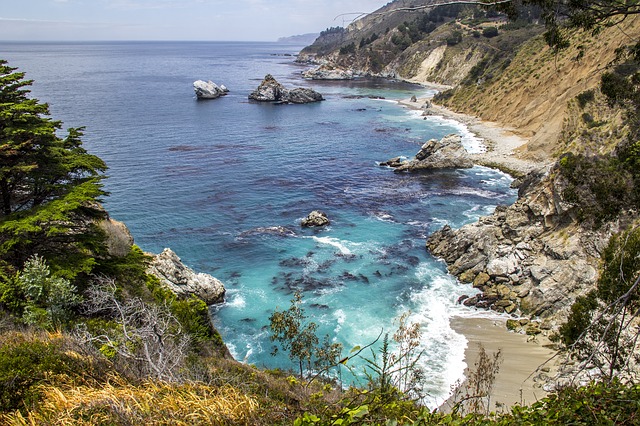 From a car, you can only watch the surrounding scenery like a TV; from the back of a motorcycle, it is literally within arm's reach. With barriers of steel, glass, and hurry to get from point A to point B removed, the journey becomes the purpose and a traveler becomes one with the environment. From this exchange of energies, a new appreciation of a place is born. Or, potentially, love.
For me, it was love at first sight. I was on the back on a motorcycle with my boyfriend. Little did I know, he would become my fiance the following day. Obviously, I was already in love.
We rode all the way from Sacramento grabbing crabs on the San Francisco Wharf along the way. It was the longest time I have ever spent on a motorcycle. The only other time was when someone gave me a 10-minute ride back in college. We had on helmets, jackets, boots, the whole package. We couldn't speak but we felt closer than ever. And then we entered Big Sur.
I've been to 28 countries. I've traveled on a night bus across Cambodia, explored Napoleon's posh prison on Italy's Elba Island, and ate Tajin in a single-street village in the Moroccan Atlas mountains. And yet, this time I couldn't peel my eyes off the most breathtaking symphony of sequoias, cliffs and the ocean. In my head, Kerouac uttered under his breath, "The road must eventually lead to the whole world." I sensed the air swishing around my helmet, my cheeks behind the visor burning to be kissed by it, to belong. It was, indeed, Big and Sur-real.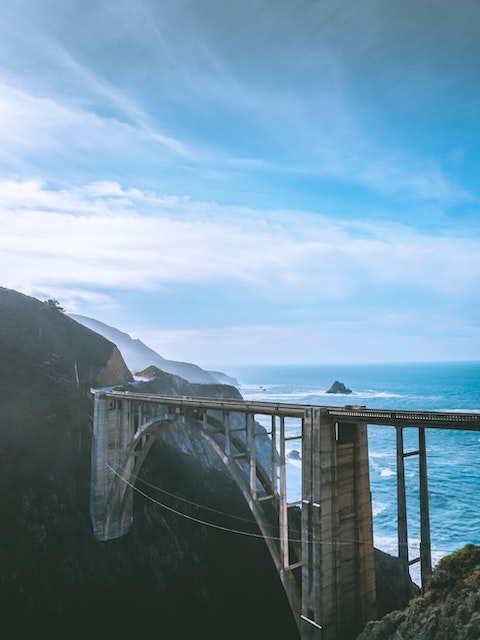 Herbert Gold in his 1984 essay for the New York Times captured the feeling with this delicious anecdote:
Big Sur demands little preparation or unriddling. It is overwhelming and marvelous at first sight. An architect friend from Detroit, whom I once drove there, said he felt seasick and acrophobic.

"From the height?" I asked. "From my driving?"

"From envy," he said. "Other people live here and I don't."
Besides a few dots on the map, the California Central Coast, flecked with its wineries and cozy beach towns, is largely underrated. So traversing Big Sur may seem like going nowhere, unless you are heading south or north to one of the two metropolises, Los Angeles or San Francisco. I've been to both and much more and yet, my California memories return to this stretch of rugged Highway 1.
After 400 miles on the motorcycle, we landed in Pismo Beach. The only downside to road tripping on a motorcycle is that you have to wear heavy boots and protective clothing everywhere you go, even if the ride is short. Goodbye flowing dresses and sandals! So, I was in my jeans and heavy boots when on the second night, my boyfriend took me to a cliff at Avila Beach. As the warm California sunset was hitting the rocks and turning the foaming swell down below to golden foam, he became my fiance. Our only witness was the ocean; our only record, our memories. In my mind, it's the way it was meant to be.
The second trip, this time northbound, took us first to the wineries of the Central Coast, where due to their remoteness one feels like a connoisseur for just being there. After that, we headed to Plaskett Creek Campground. Spending two nights underneath those very pines that stole my heart a year earlier and walking the weathered cliffs rising above the ocean, I felt small and eternal all at once. The feeling was only reinforced by the camaraderie we forged with the surfers who arrived late and disappeared early, and the squirrels who eagerly cleaned out our leftovers.
Spending two nights underneath those very pines that stole my heart a year earlier and walking the weathered cliffs rising above the ocean, I felt small and eternal all at once.
On the third trip, we got married. We were staying at a cozy Airbnb on Shell Beach. The preparations included putting on appropriately airy clothes (this time, we drove), writing our vows, remembering to take the rings, and picking up a bottle of champagne at a nearby liquor store. The decorations were handled by "the face of the earth as the Creator intended it to look," as author Henry Miller called the place. The only witnesses, besides a friendly local couple, were again the tranquil ocean far below and the setting sun. On that cliff for me, love came full circle.
Perhaps tinted by my natural pull towards the esoteric, art, and wordsmithing, the Big Sur of my imagination has always been a haven for artists, philosophers, seekers, and misfits. And it only fits that every time I've been there since that first two-wheeled trip was only passing through. The transient nature of my encounters with Big Sur only emphasizes its striking permanence: the vastness of the ocean that's deeper than all your worries; the untamed nature that is as part of the world as you are; the head-bending greatness of sequoias that are older than your family.
A Big Sur Love Affair by Motorcycle.
My small family has been scattered all over the globe for as long as I remember, supported by very little family history. This is why, perhaps, uncovering the permanence of Big Sur with someone I love has stricken the nerve. It showed me that something as vast, deep, and beautiful can truly exist — and last.
Photo credit for A Big Sur Love Affair by Motorcycle by Unsplash and Pixabay.