6 Things to Do in Bermuda That You Probably Never Considered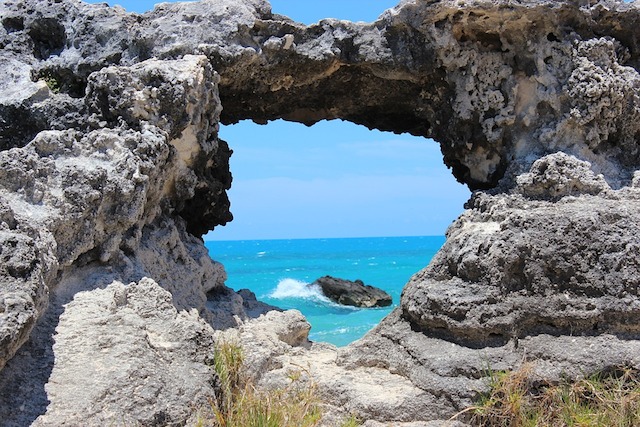 As a first-time traveler to the island of Bermuda, you may be tempted to park yourself in a beach chair, dig your toes in the sand, and stay put for an entire week. Don't get me wrong: this British Overseas Territory has certainly earned its reputation as a top vacation spot, with those pink sand beaches and clear turquoise waters beckoning.
But after visiting my brother, who studied abroad there, in October 2011, I can attest to the fact that there is so much more to Bermuda beyond its eponymous shorts and world-class golf courses. From spelunking to glow worm hunting, here are six can't-miss things to do in Bermuda that will have you feeling more like a local.
6 Things to Do in Bermuda That You Probably Never Considered
1. Swim in a cave.
Bermuda has just as much beauty below the Earth's surface as it does above: the island features one of the highest concentrations of limestone caves in the world. The refreshing caves at the Grotto Bay Beach Resort are technically only for resort guests, but when has that ever stopped me from having the experience of a lifetime?
Swimming in that cave was a true exercise in agility for me, as I nearly missed some of those slippery stairs while climbing down into the water. Due to a layer of cooler fresh water floating above the denser salt water in the cave, the top half of my body was freezing, while the bottom half was quite warm: an incredible sensation.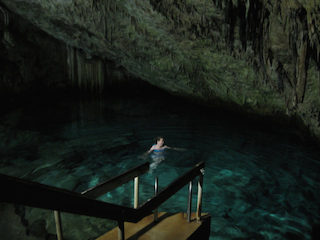 My brother, ever the spelunker, also checked out Admiral's Cave during his time on the island; beware that there are no lifeguards on duty. Prefer to stay dry? The Crystal and Fantasy Caves, discovered in 1907 by two teenage boys while they were searching for a lost cricket ball, are breathtaking in their own right. As an added bonus, these caves are a short walking distance from the Swizzle Inn (see #3 below).
2. Take a tour of the Bermuda Institute of Ocean Sciences (BIOS).
Founded in 1903 by a group of scientists from Harvard and New York University in conjunction with the Bermuda Natural History Society, BIOS is presently located on St. George's island.
While my brother set up camp at BIOS to study "copper cycling and toxicity in near shore waters." As he put it, the institute has a number of additional ongoing research projects, including studying sea urchins to develop anti-cancer treatments in humans and investigating corals to detect early effects of climate change.
Free tours are available to the public. During the tours, you can meet some of the BIOS scientists and hear about their groundbreaking work. Truthfully, I will always remember BIOS as the place where I learned that octopi are smart enough to climb from one tank to another. But alas, that's a story for another time…
3. Compete in a trivia contest at the Swizzle Inn.
Thursday nights in Bermuda mean one thing to me: an epic night of trivia replete with pitchers of rum swizzles—an addictive concoction of rum and exotic fruit juices. Head on over to the Swizzle Inn in Baileys Bay and prepare to be greeted by colorful messages scrawled all over the restaurant's ceiling and walls. The food here isn't half bad, either. Just make sure that the PhD team from BIOS isn't playing, or else you're in trouble!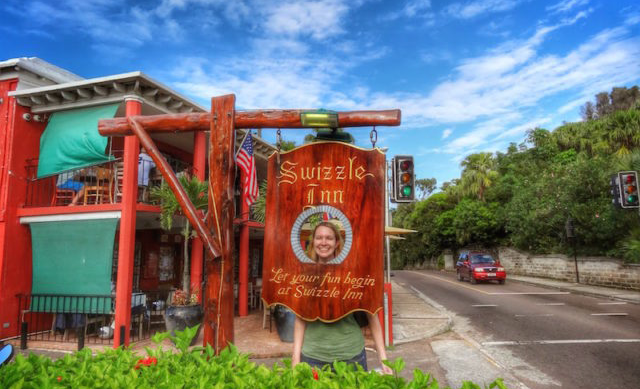 4. Indulge in some local Bermudian food and drink.
I couldn't write this list without any mention of my favorite drink of all time, the Dark 'N Stormy. This delectable drink—which also happens to be the national drink of Bermuda—is made with Gosling's black rum and ginger beer. I love Dark 'N Stormies so much that on my last trip to Bermuda in September 2014, I managed to have one with almost every meal. (What? I didn't eat breakfast.)
If you're looking for something to sop up that rum, try Bermuda's fish chowder, and be sure to add in some sherry peppers sauce; I recommend making the trip out to Black Horse Tavern on St. David's Island to get the best of the best. Want something more British? The Fairmont Hamilton Princess offers a mouth-watering array of treats during its afternoon tea service (though note that, due to renovations, it won't be available again until April 2015).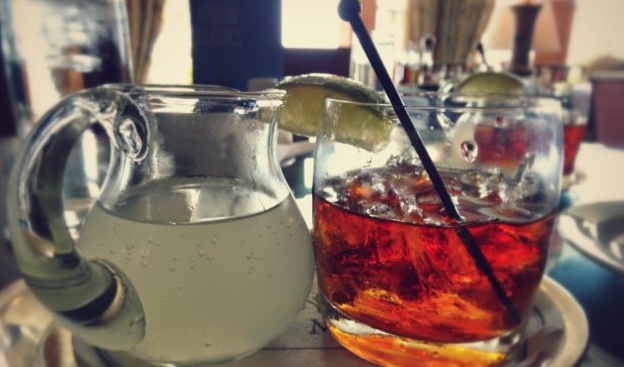 6 Things to Do in Bermuda That You Probably Never Considered
5. Get down with some glowworms.
My brother had to work pretty hard to convince our family to check out a glowworm mating ceremony on our first trip to Bermuda. How interesting could it be to stare at worms? I wondered to myself. Pretty fascinating, it turns out.
The 45-minute hike in the darkness to join a diverse crowd of glowworm enthusiasts observing these guys from a narrow concrete bridge was completely worth it; the water looked like exploding green fireworks in the dark due to the glowworms' bioluminescence. To catch this beautiful phenomenon, though, you had better be on time—the event always occurs three days after the full moon, at precisely 56 minutes after sunset, between the months of May and November.
6. Marvel at the architecture of the Unfinished Church.
While our family was exploring the town of St. George, a UNESCO world heritage site, my brother decided to take a detour up a fairly steep hill. Just when I thought we would see another string of pastel-colored cottages with stepped white roofs, an impressive church came into view.
This church, however, was different than anything I'd ever seen before in Europe or elsewhere. Construction on this church, which was intended to replace St. Peter's Church, began in 1874; however, conflicts in the congregation and storm damage prevented the structure from ever being completed. With the sky as its roof and grass as its pews, the unfinished church is quite a thought-provoking site to behold.
BONUS: If you've gazed at the glowworms, imbibed Dark 'N Stormies and rum swizzles galore, taken a dip in a cave and still have to get to the beach, just keep on walking past the Unfinished Church over to Tobacco Bay. It may not have the famous pink sand. But it will have you digging your toes in the sand and staying put for hours.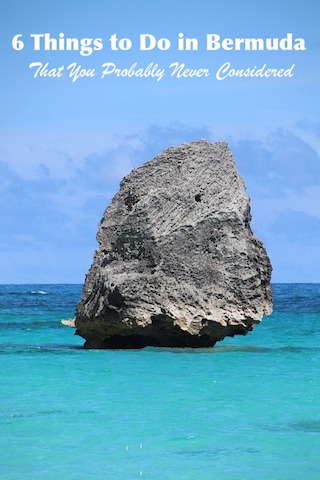 6 Things to Do in Bermuda That You Probably Never Considered
Related Reading
7 Reasons to Plan a Girls Getaway to Bermuda
Have you traveled to Bermuda? How was your trip? Email us at [email protected]pinkpangea.com for information about sharing your experience and advice with the Pink Pangea community. We can't wait to hear from you.
6 Things to Do in Bermuda That You Probably Never Considered photo credits Julianne Kanter and Pixabay.