An Architectural Wonder — St. Vitus Cathedral, Prague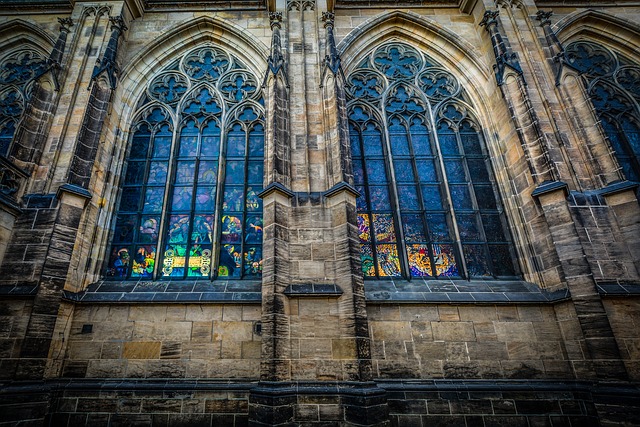 An Architectural Wonder — St. Vitus Cathedral, Prague
People who have been to Prague can think of several reasons why it's a destination worth visiting. Some will mention the nightlife and affordable beer, while others will talk about its lively art scene. But for an architecture major like me, there's only one: its enchanting buildings.
The capital city of the Czech Republic is filled with architectural gems that feature a variety of styles, from Gothic to Baroque, to Renaissance, to Art Nouveau, and finally, to Contemporary. For a city to house such an array of wonders, I can't help but agree with Ariela Rossberg, when she talked about how magical the city of Prague is.
While Prague has many beautiful structures worth noting, there is one particular building I instantly fell in love with and kept coming back to. I'm referring to the St. Vitus Cathedral, which is found within Prague Castle. For me, the country's largest and most important church is also the epitome of Prague's eclecticism. The Cathedral took several centuries to complete, which is why its architecture is quite unique compared to other cathedrals found across Europe.
St. Vitus is prominently Gothic, with its imposing steeples that can be seen even from a great distance. This is just one of the reasons why Prague is known as the City of a Thousand Spires. What also gives the Gothic influence away are the tall stained glass windows, flying buttresses, and the gargoyle statues that adorn the structure's edges.
An Architectural Wonder — St. Vitus Cathedral, Prague.
However, if you look close enough, you'll see that part of the Cathedral's exterior is a deviation from the Gothic style. The main tower on the southern facade has elements of the Renaissance period and is topped with a Baroque dome. You can spot the two distinct styles just by noting the hues. The dome is of a bright green color and right below it is the layer of light-colored bricks that indicate the Renaissance influence.
The interiors are just as convoluted and fascinating in terms of design. Typical Gothic interiors usually have a lack of color, but St. Vitus boasts bright colors and elaborate decorations all throughout its inner spaces. Many of the chapels are noticeably Baroque, with their intricate paintings and sculptures. The pipe organ in the north transept also features a Baroque design, represented by its adornment of golden statues. Meanwhile, you'll find traces of the Renaissance in some of the other paintings inside, particularly on the ceilings of the chapels. The central nave also features a few Renaissance statues.
The most eye-catching pieces on the inside, however, are the stained glass windows.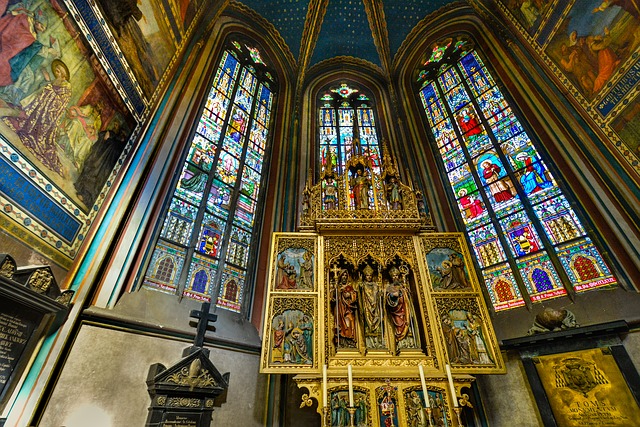 Of these, the Rose Window may be my favorite part of the St. Vitus Cathedral. From the outside, the circular window stands out among the exterior's many pointed arches. But you only get to see its real beauty once you enter the grand cathedral. From there, you'll see that the stained glass is lined with Latin inscriptions of the creation story as told in the Bible. The reason why the window takes a circular shape is because it is supposed to resemble an image of Earth from afar.
You can't ignore the majestic glass windows at the New Archbishop Chapel, though. They're hard to miss because of their saturated colors and sharp lines. Amid the Baroque and Renaissance decorations, this is one element of the Cathedral that represents the Art Nouveau style. The windows depict the lives of several saints, with the central pane portraying St. Wenceslas and St. Ludmila.
Without being here, it's hard to imagine how so many different styles and art movements can be represented in one immense structure without clashing or being too confusing. But St. Vitus Cathedral does that and more. Having been built from 1344 all the way to 1929 and passed on from one master builder to another, there's something to be said about how the cathedral is a testament to Prague's creativity and spirit.
An Architectural Wonder — St. Vitus Cathedral, Prague.
The complex surrounding the Cathedral also deserves a mention. Prague Castle was recently named the largest ancient castle in the world, covering an area of over 750,000 square feet. It looks straight out of a fairytale, with its beautiful castle gardens, grandiose old palaces, and charming little cottages lining the cobblestone street known as the Golden Lane. The complex itself houses many other buildings that are of different architectural styles, but it's hard to talk about all of them in one post.
However, I have to say that Prague Castle somehow reminds me of Windsor Castle, where Prince Harry and Meghan Markle recently tied the knot. Aside from the fact that they are both enchanting structures, Windsor also has different architectural elements. In essence, it's Georgian and Victorian, but also has a few Gothic characteristics. Such features make both castles unique in their own way. In terms of variety however, Prague Castle definitely wins in my book.
Overall, my tour of Prague was more than worthwhile. From visiting St. Vitus Cathedral and Prague Castle alone, I was able to test my knowledge on architecture styles from the past centuries. I'm not saying they're the only buildings worth checking out, though. If you're an architecture enthusiast like me, you'll know that there are many landmarks in Prague that deserve your attention. The whole city is worth discovering, and by studying the architecture, you can get a glimpse of this quaint city's people and past, too. The best part is, after a day of touring, you can have a taste of the nightlife and experience Prague in a whole new way.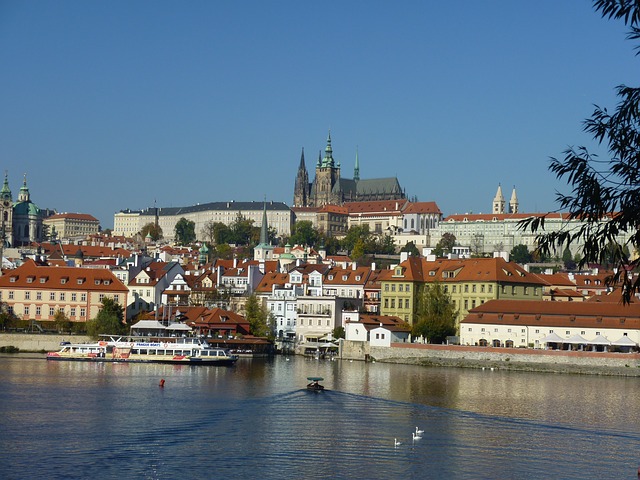 Photos for An Architectural Wonder — St. Vitus Cathedral, Prague by Pixabay.