A Lifelong Love of the Norwegian Fjords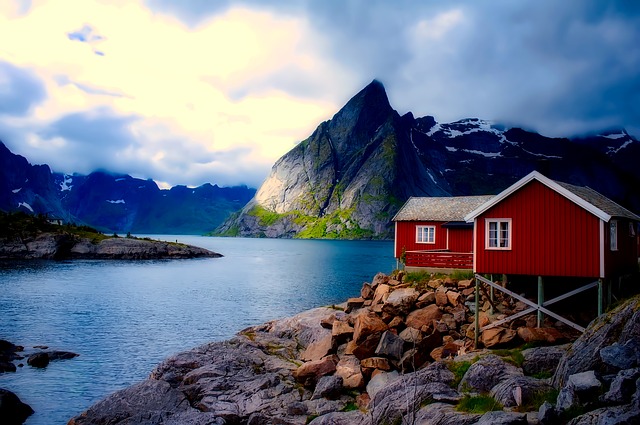 I was a seventh grader with an attitude and a difficult life at home. I sat half-heartedly in my geography class, feeling OK about the fact that I wasn't expecting to be captivated by today's lesson. We were learning about various geographical features in Scandinavia and I was writing a note to my friend on a piece of paper.
That night, we were assigned a chapter to read and some questions to answer. I opened the textbook and before I could do the usual assessment of how long the chapter was and whether I wanted to put in the effort, right there was my first glimpse of a Norwegian fjord. The photograph only took up half a page, but it sparked within me an ambition and desire that I'd never before felt. I ran my fingers over the photographs, relishing their drama, but never once having the precise thought: "I'm going to go there."
Fast forward many years, and that girl transformed into a woman with an education, some inspiring travel experiences, a career, and a family of her own. I married a man from Sweden, and it was only after eight or nine trips to Sweden to visit family that I'd remembered my youthful fascination with the Norwegian fjords, and only then did it register that each time we traveled to Sweden, I was less than two hours away by flight. With some encouragement from my husband, in spite of logistical issues, I bought tickets and planned a short trip with my sister-in-law.
I sat on the sofa and watched the sea claim the sun. I spend most of my life in a whirlwind of young kids and a demanding job, and this moment of peace and beauty was the perfect opening act for a few days of wonder and reflection.
I decided that for a short, three-day trip, Bergen was an ideal portal to the fjords. It was a gorgeous city in its own right. I arrived to the airport in Bergen sometime after 7pm on an evening in July; the sun, of course, still shining brightly. I found the bus to my Airbnb just outside the city center, which was a glorious building made entirely of wood. Its strong legs stood in the water, and looking out from the window I saw the glistening, healing waters of the sea. I'd heard that the view of the 10.30pm sunset from my window would be spectacular, so I headed out to buy some food and essentials.
On my first stroll in Bergen I walked through Bryggen, home to the iconic rows of wooden buildings, hundreds of years old and formerly frequented by sea merchants. The smell of the sea was potent; to my left, boats were docking for the evening and to my right were excited tourists like me, snapping photos of Bryggen, which was as lovely as we'd expected it to be.
The sun began to set just as I approached my building, and I snapped a photograph of a family in a paddle boat. With the backdrop of the late-night sunset, they looked like visitors from a fairytale about to come ashore. I sat on the sofa and watched the sea claim the sun. I spend most of my life in a whirlwind of young kids and a demanding job, and this moment of peace and beauty was the perfect opening act for a few days of wonder and reflection.
The next morning, I took the funicular up Mt. Floyen, at the top of which was a sobering view of Bergen and the surrounding villages. I joined an organized hike and we spent about three hours going up, down, and around Mt. Floyen. I'd never been one to adore hiking but Floyen delivered a high return on investment in terms of sights, sounds, and even tastes — the raspberries, in abundance on the edges of the hiking trails, were some of the best I've ever had.

Our guide, Rick, had moved to Bergen from Holland and along the trails, shared with us some of what he'd begun to understand about Norway. Something that stood out was the Norwegian value of having consistent access to nature, even from their urban centers. It's something that one can easily observe, how easy it is to move quickly and gracefully from mountains to shops, from the sea to restaurants. It makes sense on so many levels; Norway is an affluent country whose inhabitants don't have to make too many tough choices or sacrifices. Why choose urban life or nature, when nourishing oneself requires both? Bergen itself is a splendid testament to this conviction.
My sister-in-law, Ruth, flew in from Stockholm that afternoon. We spent the rest of the day wandering the city and we returned to Mt. Floyen so that she could also see those views. Instead of taking the funicular down, we walked back to the city on a clearly marked trail, which took about an hour. The reward for the stroll was a 15 minute walk through the residential areas on the side of the mountain. The wooden houses were like a page out of my son's coloring book. The colors, the height, the quaintness of that neighborhood, is so easily missed if you don't venture out of the city center, but is probably one of the most joyful experiences that Bergen offers.
I saw the fjords and I felt both tiny and infinite; I was overwhelmed by both my insignificance and boundless possibility.
With tired feet and full stomachs, we walked back to our Airbnb in time for the post-10pm sunset. The following day was to be the highlight: a full-day boat trip exploring the Hardangerfjord network, known for lovely villages with dramatic backdrops.
Due to work and other real-life considerations, Ruth and I only had one full day to spend in the fjords. There are countless touring options to see multiple fjord networks over the course of a few days, but we had to choose based partially on time limitations. We chose Hardangerfjord because it seemed among the most accessible from Bergen and because, as soon as I saw the photograph on our tour company's site, I knew that the first photo I'd seen of the Norwegian fjords in seventh grade was most definitely Hardangerfjord.
We boarded the boat at around 9am and already I was in a state of pure delight from the novelty of being at sea, and the freshness of the air. We stood on top of the boat for the best possible views and set off. It wasn't long before we caught our first glimpse of the fjords, and while I expected to be impressed, I wasn't at all prepared for everything I'd feel.
I saw the fjords and I felt both tiny and infinite; I was overwhelmed by both my insignificance and boundless possibility. I was in awe of nature and also felt immense gratitude for humanity and how we've managed to explore it.
We made several stops in small villages, and I imagined living there with my husband and kids. I imagined what our lives would be like if we lived as most people only daydream. The houses in the fjords are all at the foot of the mountains and accessible by boat. We're told that it's a harsh life during the winter, but on a summer day in July, you can't fathom anything other than softness.
The boat docked in Eidfjord, a small village in the heart of the Hardangerfjord. We skipped the option for an organized tour and Ruth led us to a lovely path alongside a river.  The summer of 2018 had been unusually dry, and while the river looked as thirsty as it was, it was flowing fast. We walked along the river until we came to a lake enshrined by the fjords. We sat and looked out into the distance, snapping one or two unsuccessful selfies.
The journey back to Bergen took a few hours, and I sat down in the cabin reflecting on what was now, hopefully, my first of many ventures into the Norwegian fjords. I was aware that I'd only scratched the surface and yet, I had been altered. I don't think anyone leaves the fjords of Norway unchanged. As for me, it was there, between the mountains and at the depths of the sea, that I found peace and awe, finally honoring my own journey.