How to Visit Amsterdam and Fall Completely in Love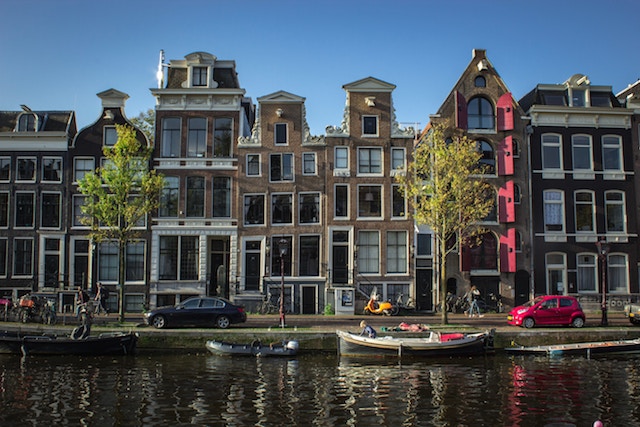 Amsterdam had been on my bucket list for as long as I can remember. Not for the Red Light District, nor the Coffee Shops. It was for the architecture, canals, and history. The history of the city and the history of my father, who was born in Holland and moved to Canada when he five years old. With only a few nights' accommodations booked, I was ready for an adventure–not to fall in love.
I thought I would rent a bike to get around while I was there, but with so much happening around me and not knowing where I was going, I decided just to walk. Keep in mind that there are the roads for cars, paths for bikes and scooters, and sidewalks for people walking–all next to each other and all busy. Once in the center, there are few cars and a lot of bicycles. With more than 881,000 bikes in Amsterdam, there are more than four times the number of cars. If I were to ride a bike, I would have to stay focused on the bike riding, while I wanted to be focused on the streets and buildings. I enjoyed walking down all the cobblestone streets–some pedestrian only–busy with people and many small shops, where I could find something to buy and eat at any moment.
The Museums
Some of the most famous museums in world can be found in the Museumplein. The Rijksmuseum, Stedelijk Museum, and Van Gogh Museum are all located there, and over 40 others can be found throughout the city. They are wonderful to visit on a cold or rainy day. With my limited time, I didn't want to be indoors. I did go to a few, but preferred to be outside among the tourists and locals feeling the daily vibe of the city.
The Canals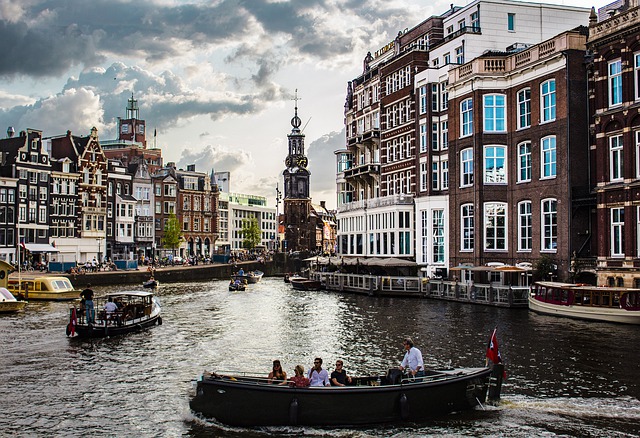 The beauty of Amsterdam is unrivaled by any other city. It is truly amazing knowing that the city is built on 11,000,000 wooden poles, has 165 canals, and 1,281 bridges–80 of which are located in the petite city center. Walking by these canals and over the bridges, I arrived at the most fragrant area in the city. The only floating flower market in the world is located on the Singel canal, between the Koningsplein and the Muntplein. I bought a variety of beautiful fresh flowers and brought them back to my room.
Canal Cruises
Boats are always moving throughout the canals, and from private to party, relaxing to racing. I spent most of one day on one of several canal boats, the Hop On Hop Off Canal Cruise. With three lines and 16 stops, I relaxed on board while viewing the beauty of the city and listening to stories about its rich history.
Day and Nightlife
Anytime during the day I could go for a walk and get the best prices on products at the Albert Cuypmarkt, one of six markets in the city, which has existed since 1904. Over 110 years later, it's thriving with over 300 stalls located on Albert Cuypstraat. Selling everything from cheese, fish, fruit, vegetables, and spices to clothes, cosmetics, bedding and books, I never left empty handed.
The nightlife is also not-to-be-missed. With an abundance of bars and cafés, it was difficult to choose which to go to. The bars do not start to get busy until around midnight. I went into a few different places, but didn't stay out until closing time as I was travelling by myself. I never felt uncomfortable or nervous in any of the establishments or walking around at night alone.
Accommodations
During my time in Amsterdam I stayed at The Weavery, which was built in the 1670s to serve as a home and workshop for a family of highly skilled Flemish silk weavers. You can still see the original exposed timber framing beams, 400-year old floor tiles, and the – 'steile trappen' (the traditional steep and skinny staircase) – all a small part of the fascinating history of this remarkable building. Keeping with history and tradition, you can now buy imported hand-made carpets from The Weavery.
I also stayed at Seven Bridges Hotel, is a 300-year-old authentic canal house. The entire place is furnished with exquisite and elegant authentic antiques with Baroque, Louis XV, Louis XVI, Empire, Biedermeier, and Art Deco styles. My room had a wonderful canal view and the furniture was from the Louis XV era.
Amsterdam is always romantic, day or night. The canals, bridges, architecture, flowers, and the people's friendliness all make it a one-of-a-kind city. I am proud to know that my father came from such a wonderful place. If you want to fall in love with a city, I highly recommend a visit to Amsterdam. It didn't take me long!
How to Visit Amsterdam and Fall in Love
Relate Reading
Have you traveled to Amsterdam? What were your impressions? Email us at [email protected]pinkpangea.com for information about sharing your experience and advice with the Pink Pangea community. We can't wait to hear from you.
How to Visit Amsterdam and Fall in Love top photo credit: unsplash.com