6 Dutch Foods You Need To Eat In Amsterdam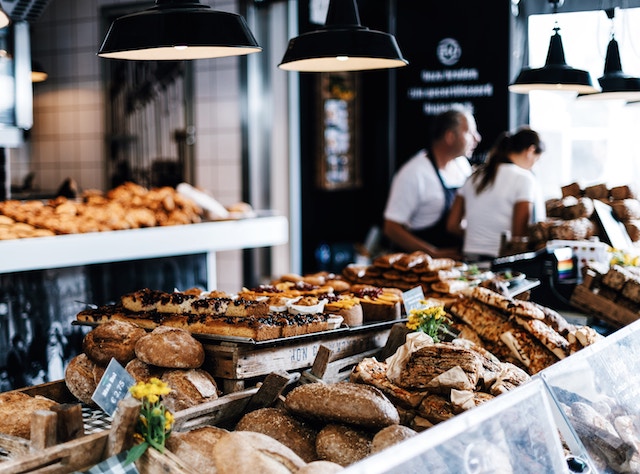 Otherwise known for less family-friendly consumption, Amsterdam is actually home to quite an enjoyable and eclectic selection of dishes. Within traditional Dutch foods there is a heavy Indonesian presence and a touch of Middle Eastern influence as well. Whether you're a meat-and-potatoes gal or a vegetarian, as long as you have an appetite and a little bit of a sweet tooth – and who doesn't? – you'll find plenty of food to love in Amsterdam. Here are 6 can't-miss dishes that will give you a tasty and accurate sampling of the cuisine in the Netherlands.
6 Dutch Foods You Need To Eat In Amsterdam
1. Stroopwafels from a street stand
Stroopwafels or "syrup waffles," are a traditional Dutch snack made from two thin doughy waffles joined together with a drizzling layer of caramel. This sweet treat is addicting in cookie form sold in packs in stores all over Amsterdam, but a larger fresh version can be found anywhere along the streets. There is a little stand outside the Van Gogh museum serving them up piping hot. Grab one to go and head over to the garden at the Rijksmuseum nearby.
2. Dutch Apple Pie from the café at the Anne Frank Huis
The Anne Frank Huis is a must-see museum in Amsterdam, and as a result there is always an extremely long wait. That being said, after standing in line for two hours and trudging through the historically-rich, yet narrow house, you will likely be in need of a snack when you reach the end. Luckily, there is a small café offering coffee, pastries and sandwiches on the top floor overlooking that long line you've already conquered. They are baked fresh all day long, and I caught the second pie of the day right as it was coming out of the oven. It features large chunks of apple under a traditional lattice-style crust with a sprinkling of powdered sugar on top – the dessert of champions.
6 Dutch Foods You Need To Eat In Amsterdam
3. Turkish Pizza from Mercan Patisserie
This small bakery on Raadhuisstraat draws you in with an enticing window display of baklava and other fresh pastries. I can attest to the sweet, flaky goodness of the pistachio baklava, but the real treasure is the Turkish pizza, or lahmacun, inside. Thin crispy dough with a layer of minced meat and cheese (or just cheese) is baked in a brick oven and then piled with shredded lettuce, garlic sauce and hot sauce, rolled up and cut in half for easy eating. A hearty snack or a light lunch, this pizza-wrap is sure to be a meal you won't forget soon.
4. Pancakes from Café de Oude Wester
There are two types of pancakes served in Amsterdam: poffertjes, which are bite-sized and covered in butter and powdered sugar, or a larger thin pancake that stretches the size of your plate. Both are worth a taste, but head to Café de Oude Wester for the latter. With an extensive menu of sweet and savory options, you're sure to find a flavor you like, but you can't go wrong with the spinach and melted goat cheese or the ultimate sweet-and-salty combo with apple and bacon cooked right in.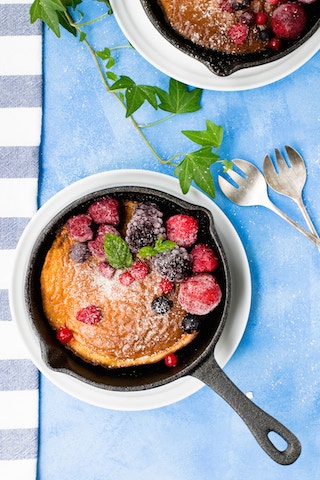 5. 'Frites' or 'Patats' from Manneken Pis
A hand-held cone-shaped pile of potatoes, frites are another Amsterdam street gem. The hot fries are piled high and then smothered in your choice of mayo, spicy mayo or "samurai sauce"—a spicy siracha of sorts for the brave souls out there who like a little kick. These cones are seemingly bottomless and make a great snack for sharing or for a late-night carb fix. Rumor has it the real patat professionals prefer a combination of mayonnaise, raw chopped onions and peanut sauce, also known as patatje oorlog ('fries at war').
6. FEBO
The wise people of Amsterdam have taken the idea of vending machines to an entirely new level, and after making my first purchase, I have to say they're onto something. FEBOs are scattered all over the city, and are essentially walk-in vending machines with drawers of everything from cold sandwiches to hot burgers and krokets – a fried roll with meat ragout inside. There is a visible cook in the back keeping the drawers full and providing that sense of freshness we all yearn in our vending machine snacks. Each grab-and-go bite is right around 2 euros, which makes FEBO a cheap and convenient stop any time day or night.
6 Dutch Foods You Need To Eat In Amsterdam
Other places worth a visit:
Stach – A neighborhood sandwich shop serving killer sandwiches as long as they have the fresh bread to make them with in-house. Try the meatball on a white roll with a mustard-mayo spread and arugula. They wrap it up so neatly, you'll want to eat it on the go.
Lombardo's – Go and get a burger. Any burger. You won't be disappointed.
PepperMango – A chocolate shop which also happens to serve delightfully creamy homemade macadamia nut ice cream. Stop by if you're lucky enough to have a hot sunny day in Amsterdam, or if you just really love ice cream.
Long Pura – Indonesian food is a big part of the cuisine in Amsterdam. In order to really delve into the culture there, it's worth spending one meal of your visit dining on a selection of satays and spicy vegetarian dishes.
DiVino Wine Bar ¬ Located on the ever-happening Boomstraat, this charming wine bar boasts an extensive Italian wine list and a menu of dishes that changes daily. Perfect for a relaxed date night or a long, boozy evening with the girls.
6 Dutch Foods You Need To Eat In Amsterdam photo by Unsplash.