Norwegian Adventure: The Real Deal with Lenore Hirsch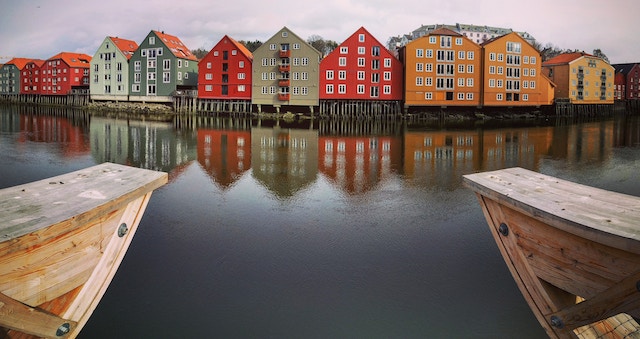 Lenore Hirsch took a European adventure through Norway, hitting sites in Oslo and Bergen. Here's her advice for you next trip.
Tell us about yourself! What do you do when you're not traveling the world? Where do you live? What made you decide to go to your most recent destination?
Since retiring from my career as a special education teacher and principal, I have been traveling and writing. My dog's memoir, My Leash on Life: Foxy's View of the World From a Foot Off the Ground, was published in 2013. I write a column in the Napa Valley Register, Foxy's blog, as well as poetry, memoir, food and travel pieces. I live in Napa Valley, California.
My husband first took me to Norway to meet his family. I have been back twice to see the relatives and experience this beautiful part of the world, including traveling through Denmark and Sweden.
How long did you go for? How did you spend your time?
My visits have varied from three weeks to a weekend on my way home from Europe. That last trip was an adventure because I was alone and my budget air fare had me fly to Oslo from Vienna with a layover of a few hours in Riga, Latvia. So I got to "see" Riga for an afternoon!
In Norway I have visited tourist sights in Oslo and Bergen, the mountains in between and I've been on islands on the west and east coasts of Norway. I've had a snowball fight in the summer, eaten reindeer, salted cod, hundreds of delicate waffles, and the yummy sour cream porridge called rommegrot. Everywhere you go there are opportunities for outdoor activities—hiking, skiing, boating.
What were your most memorable experiences? What were the biggest disappointments?
The Norway in a Nutshell day tour, which can be started in several locations, was a way to see all Norway has to offer. We started in Geilo, in the mountainous interior. It's a typical ski town, but we were there in July. We boarded the train for a beautiful ride through mountains and snow, then transferred to the Flambanen, which took us straight down a mountain with a stop for waterfalls, to Flam for a two hour boat trip on the Aurlandsfjord. Then a bus took us to Voss (home of the bottled water of the same name) where we boarded the train back to Geilo.
I loved Oslo's Vigeland Park, with its beautiful sculptures, the quaint waterfront and shops in Bergen, and visiting Grieg's home near Bergen, Troldhaugen. The serenity of the countryside—sheep, wildflowers, fields of brilliant yellow rapeseed, water everywhere—makes Norway a very special place to visit.
What do you wish you knew before you went?
Driving in Norway gives views of beautiful scenery, but it is treacherous. If you plan to drive from Bergen to Oslo, for example, you will be going through mountain tunnels that are often 5 miles long. Even on major roads, safe driving includes monitoring traffic coming towards you. There are many turnouts available for pulling to the side to allow wide vehicles that approach you to pass. Don't judge driving time by distance or you will severely underestimate what is needed.
Also be aware that when you are in Scandinavia you'll be taking ferries. They are fun and easy, but check the schedule!
Any favorite restaurants/hotels/hostels/sites you'd like to recommend? Tell us what made them great!
We stayed at the Gableshus Hotel in Frogner in Oslo, which is old with charming antiques and close to Vigeland Park. The Highland Hotel in Geilo was near the train station. We had delicious trout and a dessert with cloudberries at Halling-Stuene in Geilo. The Radisson at Gardermoen airport in Oslo is comfortable and convenient for weary travelers. The Fox Hotel in Copenhagen has tiny rooms, but each is decorated floor to ceiling by a different artist—a real adventure.
Is there anything that women specifically should know before they travel to your destination?
The Norwegian people are kind and gentle folks, who love the outdoors, walk everywhere and enjoy being in the water for a boat ride or a swim, year round. I felt safe there when I was on my own. I would want a companion for traveling from place to place, as trains aren't always available and driving can be a challenge.
My relatives in Norway rarely go to a restaurant because it is so expensive. You can take advantage of the midnight sun to be outside until 11 p.m. in the summer, but beware of limited daylight in the winter (worse the farther north you go). Given all of this, if I were to plan a trip to Norway today, I would want to take a tour or go with an adventurous travel partner.