An Oslo Getaway: A Conversation with Veronica James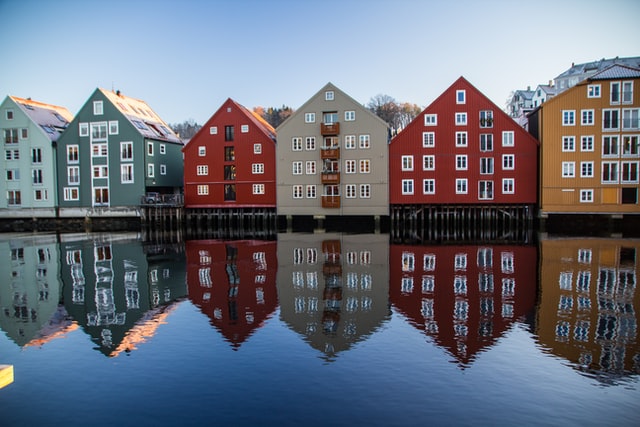 This month, we're interviewing women from all over the world and asking them about their experiences traveling to Norway. We had the privilege of speaking with Veronica James about her experience traveling through Oslo. Here's a glimpse into our conversation.
Tell us about yourself! What do you do when you're not traveling the world? Where do you live? What made you decide to Norway destination?
Seven years ago when faced with our empty nest, my husband David and I sold everything and hit the road. We discovered that we love the vagabond lifestyle and decided to keep on going. Along the way we rediscovered the couple who fell in love years ago, and we're chronicling our journey on our website GypsyNester and in our book Going Gypsy.
David's a crazy train nut and, when we decided to take a wintertime journey through Europe with Eurail, I started dreaming of a jaunt to sunny Spain. David, however, had other plans. He suggested Scandinavia. Right. Let's head north into the cold and dark. Why, pray tell?
Then David said two words: Northern Lights. That did it.
We decided to go as north as the trains could take us and one of our stops was Oslo—I was blown away.
How long did you go for? How did you spend your time?
We were only there a few days and there was so much to do, so we packed a lot in. Our first stop was the Nobel Peace Center at the bustling harbor, then in keeping with our winter theme, we boarded the tram to the Holmenkollbakken Olympic Ski Jump. It's incredibly high, and standing atop it gives you a new view of the sport (and spectacular views of the city!).
Norway's most renowned artist, Edvard Munch (of The Scream fame) is celebrated all over Oslo and we celebrated him as well by visiting the Munch Museum before having cocktails at the Magic Ice Bar. As the name implies, it is a bar made of ice…entirely of ice. The frozen recreations of Munch's art were a blast to interact with.
What were your most memorable experiences? What were the biggest disappointments?
Hopping on the ferry through the breathtaking Oslo Fjord was a must-do for our stay in Oslo and turned out to be the most scenic way to get to the Viking Ship Museum. Incredibly intact burial ships are housed at the museum—we spent hours gawking at the centuries-old artifacts that made the journey to the afterlife with the dead.
Our only disappointment was not being able to see the city in warmer weather—the parks we walked through would be gorgeous in the spring!
What do you wish you knew before you went?
It turned into a bit of a running gag as we traveled throughout Scandinavia; almost everyone we talked to asked us why we were there in November. Apparently, the locals feel it was the WORST time to be there.
But we're big proponents of traveling off-season. We spent less time waiting in lines and more time seeing the good stuff.
Any favorite restaurants/hotels/hostels/sites you'd like to recommend? Tell us what made them great!
I loved our night at the uber-sleek eatery Havsmak. We had played it safe by ordering the chef's special dinner of the evening and enjoyed it immensely. But the locals at the table next to us refused to let us leave Oslo without partaking in traditional winter favorites.
After introducing us to Aquavit to bolster our nerves, they dared me to try everything on their plates. They first tested me with rakfisk, which translates as "rotted fish"—more specifically trout which has been salted and fermented for weeks or even months. This is eaten on potato bread with onion, beets and sour cream.
When I didn't freak out, our new friends were forced to up the ante. So they brought on a bizarre form of reconstituted cod, lutefisk.
The description, which granted may have been less than clear due to language barriers, involved dried cod that has been rehydrated using what our new buddies referred to as caustic soda. When consumed with all of the accouterments it went down right nicely but, I'm not gonna lie, the texture was a bit tough to take.
We stayed at the Thon Hotel Rosenkrantz right in the heart of the city. Excellent location with easy access to Oslo's great public transportation and a crazy great breakfast buffet.
Is there anything that women specifically should know before they travel to your destination?
Yes, Oslo offers a city pass card. Get one. It's good for all public transportation and entry into dozens of museums and attractions – an incredible deal.
Also, don't drink too much Aquavit—a little goes a long way!