In Conversation with 'My Life's A Movie' Founder Alyssa Ramos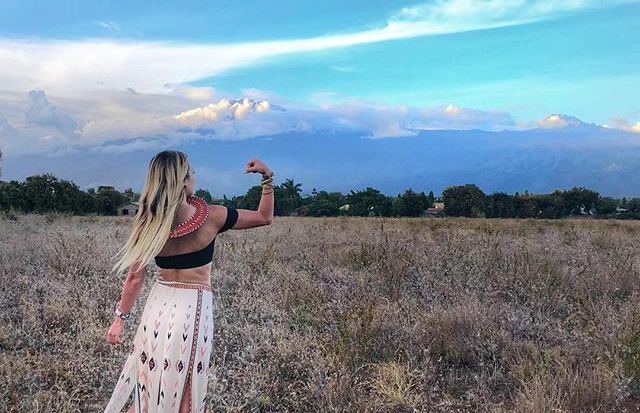 Many of us dream of traveling extensively one day, but sadly most of us will never have the guts to go for it. Alyssa Ramos had scratched off some major bucket list goals before she turned 30 in January. Alyssa has traveled to all 7 continents, all 7 World Wonders, all 7 Wonders of Nature, and 81 countries and counting!
In celebration of International Women's Day, Alyssa is hiking Africa's tallest mountain with an all-ladies group and to take a stand for women everywhere. We spoke with Alyssa about her decision to climb Mt Kilimanjaro, what it's like to travel for a living as a travel blogger, Heartsleeves (a charitable foundation she founded), and we also got some travel advice. Here's a glimpse into our conversation.
In Conversation with 'My Life's A Movie' Founder Alyssa Ramos
When did you start traveling solo? Tell us about your first big adventure.
I was a little late to the travel game, and actually my first solo trip was also my first big trip in general, at age 26. I didn't actually want to go alone, but none of my friends were up for a trip to South Africa, where I wanted to go volunteer. So, I grew some lady-cahones and just went by myself! From Africa I then went to Thailand and Australia on my own, and was hooked.
You are both a travel blogger and an inspirational social media influencer. How do you manage the balance between work and travel? What does your day-to-day work look like?
I always joke that my life is my work, and say how lucky I am to have figured out how to get paid for living a badass life doing what I love, but of course it's much more complicated than that. I've never worked so much or so hard in my life, and the added hurdle of constantly packing up and moving makes it even harder. But I've become used to it… my typical day (when I'm not moving to another location) starts with checking and responding to Instagram comments, and emails in case something is urgent.
I get booked for trips (paid business collaborations) at random and usually without much notice, so I have to always be on the lookout for those first. Then I keep working through breakfast, creating business proposals, writing blog posts, answering business emails, coordinating my next trips etc.
Then in the afternoons I go explore (unless I have a lot to do like yesterday, where I sat in one spot for 7 hours working to schedule everything for the 7 days I'll be hiking Kili), but even exploring is part of my work. I go out and gather content — photos, videos, information… I soak in the experience as much as possible because I know I'm going to post about it later.
In the evening I go back and finish checking more emails, responding, editing posts. Whenever I have more than ten minutes in a car, bus, or plane, I'm always editing my content so it's ready to go!
A Conversation with 'My Life's A Movie' Founder Alyssa Ramos
In celebration of International Women's Day on March 8, you will be hiking Mt Kilimanjaro with Whoa Travel (a women's only trekking company) to take a stand for women everywhere. Tell us about this decision.
It was such an honor when they asked me to do it. I've worked so hard to be a self-made, self-sufficient, successful female traveler and entrepreneur, and to show and inspire other women that they can be too. So, when the WHOA girls asked me to do the trek for International Women's Day, I automatically knew it would be a great opportunity for me to do just that, and to represent strong women everywhere!
Your Instagram is focused on solo travel and has great tips for everyone. As a woman traveler, have you found that sometimes you need to spend a little extra due to safety concerns? If so, when?
I've definitely splurged a couple of times to stay at a nicer place when I didn't feel comfortable in a cheaper place. But the most I'm really afraid of is getting something stolen… I won't even let housekeeping clean my room when I stay at hotels (also because I tend to immediately unpack everything). There have been a few places where I wasn't sure how it would be traveling solo so I've paid extra for a more expensive hotel closer to where I want to go, and also for a guide who doubles as a photo assistant and body guard.
I did that in Jordan, and stayed at the fancy hotel literally right outside Petra's gates, and then in Morocco is where I hired a private guide. In both situations I ended up not feeling unsafe at all and learned that the stereotypical things we fear are misconceptions. It's usually just someone trying to sell you something or tell you you're beautiful because you look different.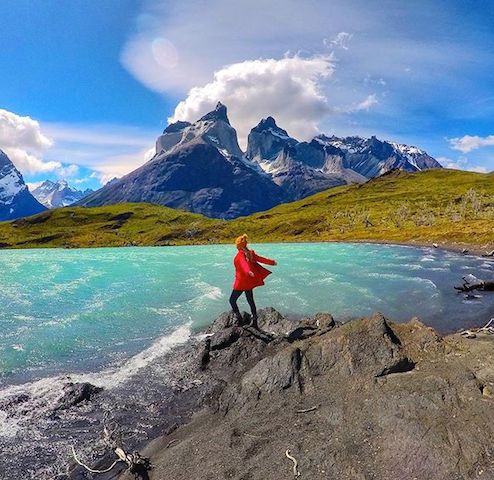 What's one piece of advice you would give to someone who's thinking about taking a solo trip but hasn't had the courage to take the leap yet?
Please do it. You're not alone and you never truly will be, in more ways than you think. For starters there are so many solo travelers now, especially with crazy people like me with a life mission to prove it's safe and awesome very publicly on social media. It's liberating and empowering, and it's a chance to truly get to know yourself, and figure out what makes you happy!
What's the biggest lesson you've learned through your extensive solo travel experience?
Personally I'd say I've learned that I can do anything I put my mind to (since I have to anyway, being a one-woman show!) On a bigger scale I'd say I've learned that all the people in the world are people at the end of the day, each with their own fascinating lives and stories, and that the stereotypes and misconceptions we learn from society are so beyond wrong.
That lesson has turned me into a very appreciative, curious, and open-minded person who sees all people for what they are — people.
We understand you started your own charitable foundation called Heartsleeves. Tell us about it!
Yes! After my very first solo trip where I was volunteering, I learned that most of the kids don't have T-shirts to wear under their school uniforms, and if they don't have one, they can't go out for recess and play. As soon as I got back to the U.S. I immediately set out to raise money to buy T-shirts for the entire school of about 300 kids, and I did, and thus HeartSleeves was born!
The way it works is that I sell T-shirts with the logo I had created (the world in the shape of a heart) on the sleeve for about $20, and with that money I'm able to buy 3-4 times as many shirts (or other items) for the people I'm trying to benefit.
A Conversation with 'My Life's A Movie' Founder Alyssa Ramos
Anything else–travel tips, inspiring quotation, etc–you'd like to share with the Pink Pangea community?
My favorite quote is "Dreams Don't Work Unless You Do", and it's what I always tell people when they say they want to travel. You can say you want to do it, you can complain you don't have money or are afraid, but just remember… I started from absolutely nothing, and I was afraid too. Instead of making excuses, I worked harder, spent less, and saved more. I never once expected or wanted anything to just be given to me, and am now living proof that it's possible to do it on your own!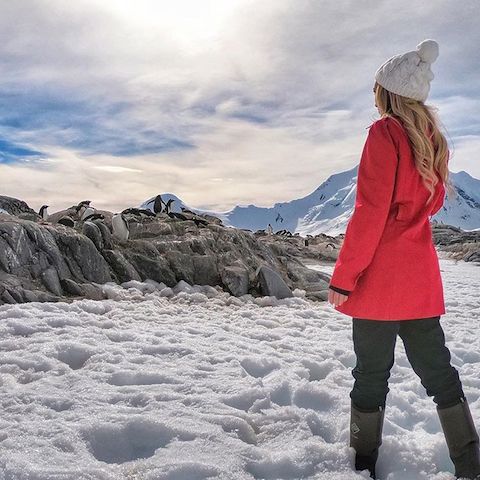 A Conversation with 'My Life's A Movie' Founder Alyssa Ramos
Related Reading
Beginners' Tips for Solo Travel
Feeling the Fear and Doing it Anyway: Traveling Solo
4 Empowering Tips for First-Time Solo Travelers
Why I Love Traveling Solo In Vietnam
Why Solo Women Should Travel to Norway
Have you traveled solo? How was your trip? Email us at [email protected]pinkpangea.com for information about sharing your experience and advice with the Pink Pangea community. We can't wait to hear from you.
For more about Alyssa Ramos follow her travels at mylifesatravelmovie.com and on Instagram.