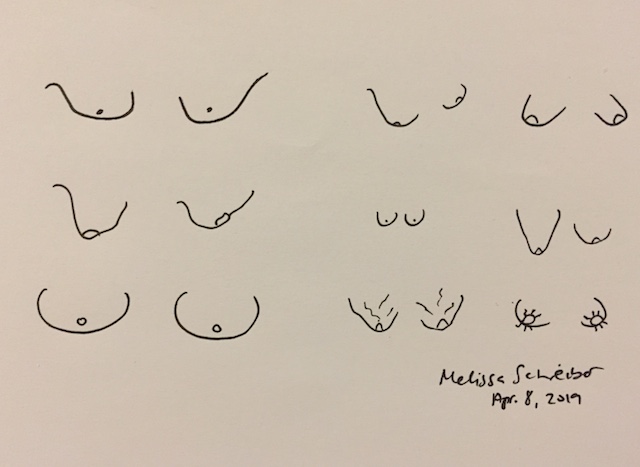 Boobs, boobs, everywhere
How can one help but stare?
Hanging this way, flopping that way
Nipples free, they seize the day
Some are heavy,
Reach the belly
Some stand high –
Why be shy?
Large ones, small ones, it's no matter
Teeny, tiny, or much fatter
Loose and saggy, perky, plastic
Unashamed, they're quite fantastic
Swinging like a pendulum
Symbolizing life begun
Naked, nurturing little ones
They're where all that milk comes from
Unassuming or confident
Drawing hungry eyes from gents
Mosquito bites or melons ripe
Bouncing left, landing right
Seductive and the source of life
Squeeze 'em, suck 'em, oh that's nice
They're our bodies, part of us
Like 'em, hate 'em, we give no fucks
Pointy nipples, juicy pink
Cracked and tired, providing drink
Unapologetically uneven
Seem inviting – may be deceiving!
Rounded, supple, taste delicious
Sharp like weapons, truly vicious
Maybe there's something to going bare
Perhaps we'll be treated with more care?
When they face the world head-on
They pronounce "I'm woman, strong!"
To stay hidden or to show all?
It's up to us – it's our call
Do they lose their sex appeal
Or do they become more real?
Not mere stuff of fantasy
More human now, some might say
Should this American learn from this
Might I be ready to be sun-kissed?
Just let's remember to proudly wear 'em
Whether we choose to clothe 'em or bare 'em
Bare Breasts of Sitges