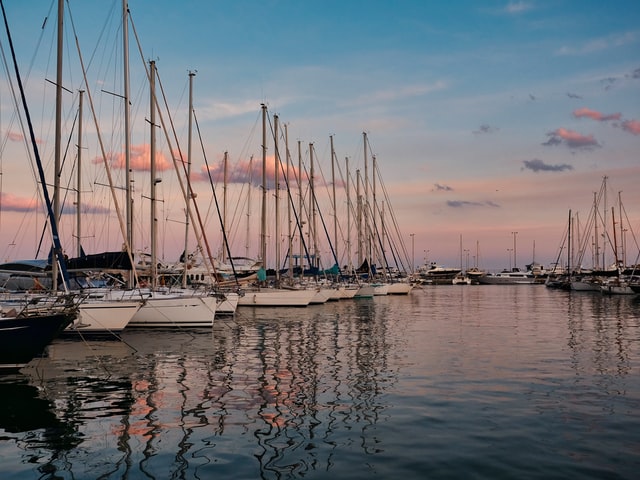 Alicante attracts over three million tourists per year, and is one of the reasons why the south-east coast of Spain has a good reputation. It is the capital of Alicante Province, and a vibrant tourism hub complete with a port and a major airport. Sadly, it tends to be overlooked and Alicante Airport is used instead as a way to get to other places on the Costa Blanca.
Alicante is in competition with Torrevieja, Benidorm and Calpe, to name a few popular places. The Costa Blanca boasts great weather, with temperatures in the high 20s during summer. Competition aside, Alicante has a lot of appeal. The Plaza de la Puerta del Mar (Square of the Sea Gate) is full of iconic fountains, and is situated across from the port area, where white yachts bob gracefully and bars and restaurants line up.
If you're looking to stretch your sea legs, boat excursions run from the marina to the Island of Tabarca. An hour's journey from Alicante, I found the Isla de Tabarca to be a quaint place with abundant charm. It is the only inhabited island in the community of Valencia, and its earliest inhabitants were Berber Pirates. It was found in the 18th century by King Charles III. The island wouldn't look out of place in a pirate story, with its cute coves, stone walls and pretty painted houses with iron balconies and wooden doors.
Awe at Alicante, Spain.
Head back to the Marina, which acts like a centre point. If you are a first-timer in Alicante, the best way to see it all is to jump abroad the Turibus, the tour bus that takes in the main sights of Alicante. It stops first at the iconic Castillo de Santa Barbara (Santa Barbara Castle). The bus traverses the winding road up to the summit of Mount Benacantil. From the hilltop castle enjoy magnificent views of Alicante from above. The castle dates back to the 9th century when the Moors ruled the peninsula, but was abandoned in 1963. A lift was constructed in 1963, making the castle more accessible to the public. The castle comes alive during summer evenings, when concerts are held in the courtyard.
The Castillo de Santa Barbara (the castle) is located right across from El Postiguet beach, which boasts golden sands and dreamy crystal blue waters. There's good accessibility for disabled people and children, with water play facilities. The beach runs parallel to a pretty seafront with tall palm trees and quirky tiles. The coastal views are breathtaking and make for good photos!
The bus next visits the city's shopping area, the Rambla de Mendez Nunez. Here you can stock up on leather jackets and belts to jewellery and shoes. You can also find Spain's only department store chain, El Corte Ingles. A few leisurely hours can be spent in this shopping area, so make sure you spare bags of time. This became one of my favourite parts of the holiday.
The island wouldn't look out of place in a pirate story, with its cute coves, stone walls and pretty painted houses with iron balconies and wooden doors.
Another useful form of transport within Alicante is the tram. My hotel receptionist advised that this is the best way to get to Benidorm from Alicante. The trip to bustling Benidorm take over an hour. There's an on-board ticket machine with many languages, and it costs 3.75 euros return to get to Benidorm.
Alicante sparkles with beautiful beaches, pretty promenades and historical connections. Compared to other parts of Spain I've been to, it wasn't as busy and its attractions where on a smaller scale. Alicante is a good choice if you're after a lovely quiet getaway with great weather and some retail therapy.
Photo for Awe at Alicante, Spain by Unsplash.