Time Out at the Arabic Hammam Bath Granada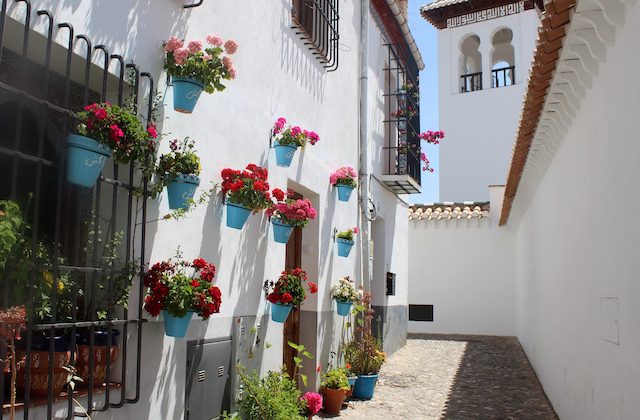 My feet were killing me, my back was aching, my calf and thigh muscles were tired. My phone told me I had just climbed the hills for six miles in Albaicin, Andalusia, searching for good photo spots and absorbing the culture, which was heavily influenced by the Moors who ruled the area from 711 to 1492.
Albaicin is built on a steep hill facing the magnificent Alhambra in Granada, southern Spain. The original fortress was built on Sabika Hill on top of Roman remains in 889 CE by the Moors. The palace we see today was built in the mid-13th century, initially by Mohammed I of the Nasrid Dynasty, then expanded and improved by Yousuf I, Sultan of Granada, in 1339. King Ferdinand of Aragon and Queen Isabella of Castille reclaimed the Iberian Peninsula for Christians in 1492, forcing many Muslims to be converted or expelled.
Multi-story, white-painted houses in Albaicin line narrow streets, some dating from the time of the Nasrid Dynasty. Sometimes alleys are so steep they have been converted into uneven steps, so walking is often climbing or (equally challenging for someone with knee problems!) descending several stories down to the next road.
I found the perfect antidote to my sore muscles and joints at the bottom of the hill: the Arabic Hammam Bath Granada. Five centuries after the original Arab baths were closed, archaeological excavations had discovered pools for water, and the 13th-century building was restored and opened as the Hammam Baths.
At the Arabic Hammam Bath Granada I chose my fragrance for the massage oil: rose, lavender, jasmine. All were heavenly scents.
There was just a small sign hanging outside the unassuming stone building. I had phoned for an appointment the previous day after my energetic six-mile walk to the Alhambra exploring its many courtyards, palaces, fortresses, gardens, and fountains. I knew I would be ready to be pampered before my flight back to the USA later the next day, so had carried my swimsuit in my backpack. There were several options for a steam "Turkish" bath and more extensive massages, but my time was limited, so I booked a minimal package.
After registering, I was given a robe, slippers and a key to a locker in the shower room, then taken through to a small alcove with cushioned seating. The girl told me to help myself to any of the green teas in multicolored Moorish ceramic pots with long spouts and elegant handles. Most of the corridors were brick-lined with half-moon Moorish-style arches.
The girl explained in hesitant English that the three  baths were different temperatures, and that I should probably start with the tepid one before trying the hot and hottest ones. Each was lined with beautiful ceramic tiles and had steps leading into the water, but unfortunately for me, no railings to assist getting out. A smaller one was slightly elevated and a young couple occupied it most of the time I was there. My favorite was the bath that appeared to have been constructed in a tunnel, with tiles over the roof of the tunnel as well as around the edges. This was the hottest, and just what my sore muscles needed to relax.
I was told my masseuse would call my name when it was my turn, providing a sheet to cover myself with, and take me into one of the cubicles open to a corridor. I should choose my fragrance for the massage oil: rose, lavender, jasmine. All were heavenly scents.
The masseuse called me as expected and I was treated to gentle then more vigorous kneading of my muscles. It was 30 minutes of relaxation for me and hard work for my masseuse. Afterwards, I felt healthier than before I had walked 12 miles in two days. I was ready to return home invigorated, after my time at the Arabic Hammam Bath Granada.