A Weekend Visit to Newport, Rhode Island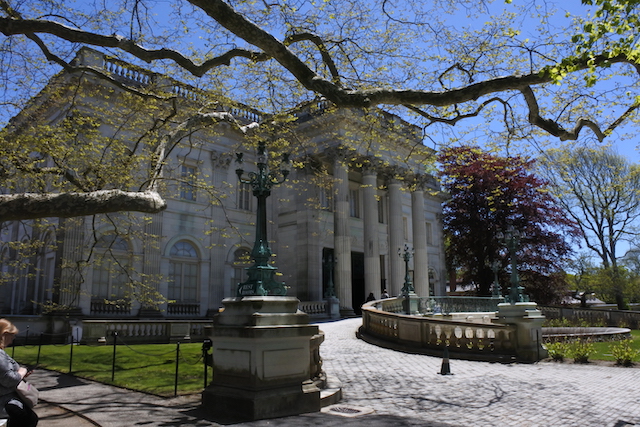 I drove over Narragansett Bay on the stunning 1969 Claiborne Pell Bridge wishing I could snap a photo of this gorgeous crossing. There were, of course, iconic sailboats floating on the azure water all around. I couldn't shoot a photo because my hands were locked at 10 and 2 on the wheel. This was a solo research jaunt, the first in a long time inspired by curiosity and exploration rather than a professional conference or obligation.
I was interested in learning more about the Gilded Age, a period of American history sandwiched roughly between the end of the Civil War and the beginning of the twentieth century. This is when titans of industry made millions and built mansions, many right here in Newport.
Newport, Rhode Island, features many mansions and mansion tours: The Breakers (1895) and Marble House (1892) are the two most famous. Both were built by branches of the Vanderbilt family who made their initial millions with the New York Central Railroad. These Newport mansions, along with Rosecliff, The Elms, Chateau-sur-Mer, Kingscote, and Belcourt, were the millionaires' summer cottages. Despite the lavishness of these homes, the families of these mansions spent only about six weeks in Newport each summer.
The front gate at the Breakers.
Mark Twain coined the term in his 1873 novel, The Gilded Age, and it was not a compliment.
I toured The Breakers and Marble House and yearned to wander through some of the other mansions. Belcourt is especially intriguing to me since it is now owned by the wealthy branch of a close friend's family. I had limited time, however, and decided on these two famous mansions, now administered by The Preservation Society of Newport County
I also toured "Beneath The Breakers," to see the mammoth boilers, electric panel installed by Edison's own team, the original elevator, and other mundane artifacts that would never be displayed upstairs. Upstairs in both mansions, there were many gilded surfaces: walls, decorative moulding, furniture, and statues. These are not the only reason the Gilded Age got its name.
The Breakers behind Margaret and ocean breakers in front of her.
Mark Twain coined the term in his 1873 novel, The Gilded Age, and it was not a compliment. Twain had noticed how the nouveau riche poured money into their multiple homes trying to outdo each other with fancy furniture, entrance halls, salons, and loggia, decorated with gold, platinum, silk, tapestry, art, marble, stained glass, and dark, rich paneling. (The Breakers features a small grotto underneath its grand marble staircase which I would have to make into a reading nook. It's the coziest spot in the grandiose house.)
While all of this one-up-manship was going on, much of the country was enduring tough times.
While all of this one-up-manship was going on, much of the country was enduring tough times. Especially in the cities where the industry titans' main properties were, many lived in poverty. Further west, farmers were having a tough time. There was a new kind racial strife now that freed men struggled to provide for their families. What Mark Twain meant with this 'Gilded Age' tag was this dichotomy: the famous millionaire lifestyle hid the reality of the unfortunates in cities, towns, and rural areas. While Vanderbilts, Astors, and Oelrichs threw lavish parties, many fellow Americans were struggling to exist. The 'fancy' of the rich put a shallow gilding on the American lifestyle.
Edith Wharton, a favorite writer of mine since my teens years, wrote about this conspicuous consumption. On my second reading of her novel, The House of Mirth, I realized the book is a scathing critique of the people involved in that gilded lifestyle between Newport and New York. The protagonist, Lily Bart, considers Lawrence Selden as a suitor and muses about what makes him interesting to her:
"[Selden] had preserved a certain social detachment, a happy air of viewing the show objectively, of having points of contact outside the great gilt cage in which they were all huddled for the mob to gape at. How alluring the world outside the cage appeared to Lily, as she heard its door clang on her! In reality, as she knew, the door never clanged: it stood always open; but most of the captives were like flies in a bottle, and having once flown in, could never regain their freedom. It was Selden's distinction that he had never forgotten the way out." – Edith Wharton, The House of Mirth
How much of Edith is in Lily's musing, I wonder.
How much of Edith is in Lily's musing, I wonder.
Knowing all this backstory, it's still fun to tour the mansions for a peek at these luxe lifestyles. Their residents threw expensive and often eccentric parties trying to outdo one another. There was a Dog's Dinner where Fido and Spot dined on foie gras, a Mother Goose costume ball, and a dinner where all food, furnishings, and clothing had to be white. The Breakers' many bathtubs each had four taps: hot and cold rainwater and hot and cold salt water, straight from the ocean. The mansions were heated all winter to keep pipes from freezing, so they had to have enormous coal and ash storage, multiple rooms each as big as my bedroom.
I can't brag about Newport being an ideal place for a solo weekend. I liked my room in the Melville House Inn well enough. It was tiny but sweet and plenty for one person named Margaret who only wished to sleep and write in it. I checked out the territory around the inn on my first evening and found it to be quaint and colonial. Wandering aimlessly, I stumbled upon the Museum of Newport History and Shop which was loaded with books and trinkets.
There was very little on the Gilded Age, so I asked about that. "We specialize in the colonial aspect of Newport," she said. I hadn't considered Newport's colonial identity because besides the manions I think of sailing, music, and Edith Wharton when I think of Newport. But consider: New England + convenient ocean port access = Colonial history.
But consider: New England + convenient ocean port access = Colonial history.
These shop employees seemed knowledgeable, so I took a stab at dinner recommendations. "Just walk up Broadway alongside Washington Square and there will be one place after another." This was true, but the 'places' were mostly closed or they were noisy, unwelcoming bars. I finally settled on a casual-looking corner café called the Corner Café, walked into the empty restaurant, and was asked if I had a reservation. It felt unnecessarily snooty to me, but in their defense, by the time I consumed my quesadillas and vacated my tiny table, the Corner Café was full.
The next evening, after visiting the mansions, I set out in the opposite direction armed with some crowd-sourced social media recommendations. Unfortunately, these places were bursting at the seams and the mean girl hostesses sighed but never looked me in the eye. Eventually I gave up on unique Newport cuisine and took refuge at Panera. This is where the screaming children brought their parents, but I persevered past the impatient order-taker and ate my microwaved tortellini making a mental note to have dinner reservations ahead of time for all subsequent trips to Newport.
Eventually I gave up on unique Newport cuisine and took refuge at Panera.
I brought a Panera cinnamon roll back to the inn for the next morning's breakfast, and as I entered, a young man came barreling down the steep, wooden, colonial steps and said, "Hi! I'm Jake!"
"Hi Jake," I said as I ascended in the direction of my room, acutely aware of the lack of doorman or security guard.
"Oh," Jake said, "I thought you were my Uber Eats delivery."
"No, this is MINE." I'm still wondering how hungry Jake was and how much I could have gotten for that cinnamon roll. Thanks for the tip, though, Jake. Uber Eats is a possibility for solo trips in crowded places.
Sunday morning, after consuming my cinnamon roll, I checked out of the Melville and headed for the Cliff Walk. I'd read about the gorgeous views of the rocky ocean and Gilded Age mansions from the Walk, and thought it would be a good way to get some exercise in before my long drive home. My Cliff Walk guide book divides the walk into three parts: Scenic, Mansion, and Adventure walks.
The Cliff Walk is a smooth sidewalk, at first.
I decided to walk the Mansion Walk so I could see the ocean-facing facades, patios, and expansive green lawns of these properties. I walk a lot and was intrigued by my book's description of the Adventure Walk.
I walk a lot and was intrigued by my book's description of the Adventure Walk.
"The path becomes increasingly hazardous unless you are a climber." (Ed Morris, A Guide to Newport's Cliff Walk: Tales of Seaside Mansions and The Guilded Age Elite. The History Press, 2009.) I'm not a climber and never could be because of my genetically-short legs, but I thought I might be able to tackle this "treacherous" walk. Edith Wharton's Lands' End cottage would be waiting at the southern end if I could do it.
I couldn't. I should have trusted Ed Morris's book. The blog post I composed afterwards was entitled, "Newport's Cliff Walk: I Didn't Have to be Rescued." The Mansion Walk segment was delightfully scenic as promised. I strolled past Ochre Court (built 1888-91), Vinland (1883-4), The Breakers, Anglesea (1880), Fairholm (1870), Midcliff (1886), Honeysuckle Lodge (1886), Marble House, underneath Marble House's clifftop Chinese Tea House, and past Beaulieu (1859). The path changed from paved sidewalk to flattened boulders, to rough gravel, to smooth, round, very large boulders with no footholds.
This is where I finally gave up, near the 1891 Tudor-style Rough Point mansion once owned by heiress Doris Duke. When you can't decide if an endeavor is brave or stupid, you have to go with the latter and turn back. What would a rescue look like? Would there be United States Coast Guard helicopters? Ropes? Stern lectures?
When you can't decide if an endeavor is brave or stupid, you have to go with the latter and turn back.
Treacherousness aside, the scenery was photogenic. The breakers crashed on the boulders in the ocean and the cliffs were strikingly vertical. The mansions were splendid, all different. (What if I had been born into this life?) Salve Regina University has taken over some of the mansions including the French-Gothic Ochre Court, and it was graduation day for those students. (What is it like to go to college here?) That part of the Mansion walk was very populated on my walk back, a striking contrast to the solitude of the "treacherous" part of the Adventure Walk.
I was energized by the Cliff Walk even though it beat me. I liked seeing the backs of the mansions and the ocean wayyyy down there. I enjoyed observing how my walking companions started as families with children and dogs, changed to adults with agile dogs only, and finally to athletic adults wearing proper footwear. A closer look at my guide book informed me that I could have had
The Cliff Walk, at least what I walked of it, felt like an accomplishment, I didn't injure myself, shot some great photos, and recovered while driving the seven hours home. Less than a week later, I had my injury, though. I broke my foot and sprained my wrist when I fell of the deck steps while gardening in my own backyard. A fall like that would have been catastrophic on those smooth, round boulders…
Photo credits for A Weekend Visit to Newport, Rhode Island by Margaret Montet.