africa
,
mali
— By
Jedgar
on January 6, 2011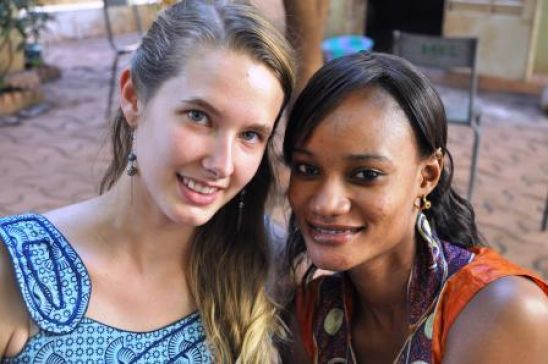 Anticipating my study abroad experience, I envisioned visiting Parisian museums and enjoying buttery French pastries. For years, my plan had been to spend a semester in Paris, swooning over the beauty of the architecture, the allure of the people, and of course, the fashion. But then my academic advisor told me the last thing I wanted hear: "Paris is easy," he had said. "I urge you to go somewhere that will challenge you."
And so, that is how I found myself in Bamako, Mali. I had no previous conceptions of the country, but upon first acquaintance with the capital city, I was offended by its crass and dirty personality, its busy and noisy streets, and its astoundingly unaesthetic qualities. Quite frankly, I was miserable and began to resent my decision to study abroad in Africa. Even though I knew how important difficult and uncomfortable situations are for growth and maturity, there were moments when I longed for Paris, or home, or rather, anywhere but Mali.
However, I was determined to have an educational and rewarding experience and, wanting to make the most of my circumstances, disallowed myself any excuse that would prevent me from becoming as close to a Malian as I could be. After all, that was the point of studying abroad, was it not? Wanting to get the most out of my semester abroad – whatever that meant – I attempted to eloquently assimilate into the cultural and social norms of Mali, but instead found myself clumsy, frustrated, and unsuccessful.
In one of the many lonely conversations I had with myself, I asked, "What am I doing wrong?" I was trying so earnestly to enjoy the customs, to assimilate into the culture, but instead I found myself to be more and more out of place.
What I began to realize, however, was that I had been forcing my experiences to be significant in an attempt to become the epitome of a cross-cultural learner. It was not until I learned to gently absorb Malian culture that I began to notice positive transformations.
When a Malian friend shared with me the proverb, "A log may remain ten years in water, but it will never become a crocodile," I smiled to myself and reflected on the simple wisdom that had taken me so long to realize. It was not until I became comfortable with myself in Mali that Mali began to be comfortable to me. Part of that process was allowing me to be who I am: a white, American woman who was visiting Mali for four months – I am a poor chameleon, an even poorer Malian, but staying true to myself was all that I could do in an attempt to learn and grow.
And then, I fell in love; I fell in love with all that I had once thought was un-loveable. The noisy city that rattled my senses soon became a soft hum that I could honestly describe as comforting. The relationship with my host-sisters went from challenging and awkward interactions to night-long conversations on womanhood, relationships and personal aspirations. As my happiness increased, so did my confidence and I found myself ready to converse with, and listen to, anyone who would talk to me. No one ever refused me a smile.
As I began to open my eyes, open my ears, and open my heart, I could finally see the beauty, finally hear the rhythm, and I could finally feel the love. It would have been impossible for me to force these occurrences, and instead, it was by giving up on my expectations for myself and for my study abroad experience that allowed me to gain an incredible understanding and closeness to the culture. But the most important lesson I learned while abroad was to never lose my identity in an attempt to learn and grow, but rather to stay true to who I am and where I come from. I do not think I would have learned that in Paris.
Tags: africa, barnako, challenge, culture, discomfort, love of travel, love to travel, malian-people, noisy-streets, paris, pink pangea, proverb, study abroad, transformation, travel abroad, travel picture, travel writing, wanderlust, womanhood, women love travel