Ga Go Na Mathata in Botswana!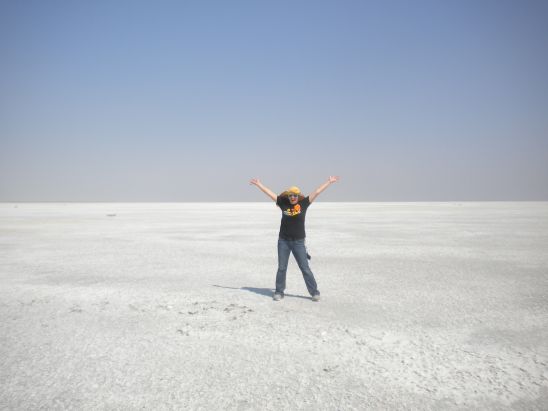 That means "no worries" in Setswana, the local language in Botswana. Having lived and gone to school here for two months so far, I've started to adopt that philosophy. Don't get me wrong; there are plenty of times when I start to worry.-like when I wake up and learn that all the dorms have run out of water. Or when my teachers routinely show up to class fifteen minutes late. I've learned how to not let things get me down, and luckily, there are so many amazing things in Botswana, as well!
Like the simple pleasure of eating lunch from the vendors stationed all over town. A delicious plate heaped full of chicken, rice, pumpkin squash, beet salad, and spicy carrots for about $2 USD is an easy and absolutely delicious cure for your worries.
Or just seeing some of the natural beauty that Botswana has to offer. I took a trip to the Makghadighadi Salt Pans (the world's largest pre-historic lake-where I'm located in the photo above) and it totally blew my mind. Victoria Falls, while technically just outside of Botswana, is also one of the most beautiful sites I have ever seen. Even the wildlife just outside of the city is amazing.
Being a Western woman makes life in Botswana a little more interesting. But here are a few tips to make the experience a little easier:
-Women from the US are portrayed (mostly by MTV) as easy, so Botswana men are very forward about asking for sex. Ignoring them or saying a very firm "no" usually gets them to leave you alone.
-Be prepared to be stared at shamelessly by pretty much everyone you pass on the street. When you make eye contact with them, they don't look away; they just stare right back. There's no way to make the staring stop, so you just have to get used to it!
-Stand up for yourself. Don't be afraid to bargain for prices with the street vendors. Taxi drivers set their own fares, which are not based on how long it takes to drive to your destination. So bargain with them too. They will overcharge you if you don't!
-Most importantly, just go with the flow! There are adventures waiting around every corner if you're open to them. And, ga go na mathata!