"Un Fortissimo Abbraccio": A Big Tuscan Hug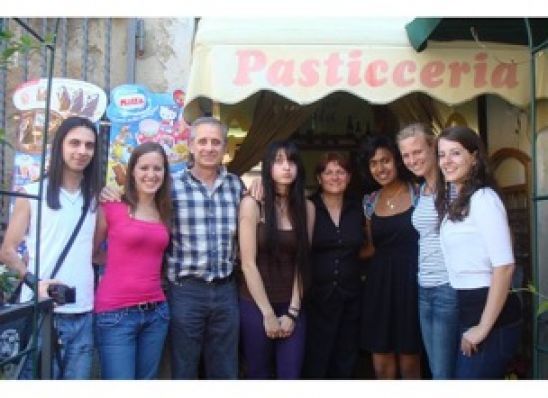 Most Americans have never heard of the small Italian town of Tuscania. More often than not, it's connected with Tuscany, the Italian province where Florence is located. Tuscania, however, has a population of 8,000 and is situated on the border between Lazio and Tuscany. Only an hour's drive from Rome, it is a quiet, idyllic town, offering many opportunities for immersion into Italian culture.
As a would-be traveler and international student, Tuscania stood out as the perfect destination for me. I studied abroad there through Academic Programs International (API) for five weeks during this past summer after finishing my junior year of college. Tuscania is the kind of small town where one can wander with no destination in mind, never getting lost but possibly-probably-meeting someone or something new. Tuscania and its people truly embraced me and satisfied my desire to learn about their culture. More than once I found myself the recipient of "un fortissimo abbraccio," which is Italian for a "big hug."
I received these "hugs" in many different ways. Though I lived in a beautiful apartment just outside of the historical center of Tuscania, many of my classmates were living with host families. My roommate and I quickly became the "adopted kids" of these host families. Whether it was an offer of a slice of ciambellone (an Italian cake), or an invitation to a neighborhood "block party" complete with pizza and gelato (an Italian form of ice cream), I was always surprised and touched by the lengths to which these people went to invite us into their homes and their lives. It didn't matter that my Italian language skills were almost nonexistent before I hopped on the plane to Italy. Communication often carried the most meaning when it came via a friendly smile or a hug exchanged with the people I began to think of as my family in Tuscania.
Another "hug" came from Neno, the elderly gentleman whose family had owned Bar Falleroni in Tuscania for several decades. My friends and I frequently visited him, ordering afternoon snacks of gelato and practicing the new vocabulary we had just learned in our beginning Italian class. By the last week of my time in Tuscania, I had gotten to know Neno and also about Neno's family: his wife, his children, and even the summer vacation they were planning.
To put it briefly, these stories are only a handful of anecdotes I like to share about the kindnesses I encountered in Tuscania. Though I had the opportunity to visit Rome, Florence, San Gimignano, Sorrento, Capri, Pompeii, and the island of Giglio while I was in Italy, the experiences and personal connections I made while I was in Tuscania are truly what have stuck with me the most. Tuscania's small size and ideal location make it a perfect destination for a traveler to have a chance to find a true "home away from home"-at the very least, you're likely to be the recipient of at least a hug or two while you're there.