How French Men Almost Ruined Our Trip to Paris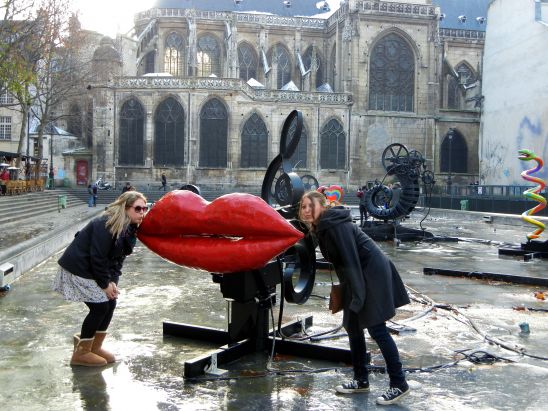 Sophie is studying French Language and Civilization in Paris through New York University and Jessica came to visit over winter break. Experiencing Paris during Christmastime is a must but there are a few drawbacks to keep in mind. Here is our pro/con list:
Pros:
1. Christmas markets: A French tradition (originally German) where every major city has at least one market set up on a boulevard or clustered on a square and they sell hot wine, waffles, crepes, and assorted crafts. They also have fun things for kids, like ice skating, ferris wheels, and bungee jumping on trampolines.
2. Christmas lights: Paris definitely lives up to its name, "The City of Light." Everything was lit up for Christmas and the trees were gorgeous. Galleries Lafayette (department store) had a five-story Christmas tree with sparkling lights.
3. Fountain: Everything was frozen, including the Stravinsky Fountain next to Centre Pompidou (Modern Art Museum). We got to explore the sculptures up close and personal by walking on the frozen fountain (see photo).
Cons:
1. Freezing: It was so cold in Paris, which made walking around slightly less enjoyable.
2. Crowds: Jessica visited Sophie during the holiday, and since everyone was out of school, museums and other sites were very crowded.
3. Snow removal: If you're lucky, you'll get to experience Paris in snow. However; since it's so rare, Europeans are not very efficient with snow removal. We caution against wearing nice shoes; Rain boots are a good alternative. Even if the snow is gone in Paris, in some outlying cities it might not have melted yet. If anyone's looking for something to do close by, we traveled to Versailles and Reims (champagne region). Both were wonderful trips and the travel time was under an hour.
Being here in the winter means you get to be here for New Year's Eve. While this was overall a great experience, we want to caution women about going to the Eiffel Tower at midnight. We traveled as a group of seven girls, and granted, we were attracting some attention with our noise blowers, over excitement, and good looks, but as we approached Champs de Mars (field in front of the Eiffel Tower) we were immediately harassed by groups of men saying "baise-moi" (kiss me). We're not sure if it's because we were the only ones with noise blowers or because we were the only group made up solely of women, but we were followed for the majority of the evening. Even when we told the police that we were being followed, we received the response, "Go away, you're scaring my horse". At one point Jessica was grabbed, but luckily "Get the f**k off me" is universal in any language.
Although it was still special to be at the Eiffel Tower for New Year's Eve, we suggest strength in numbers or just finding a bar to spend the evening in. Go somewhere where you think you'll have fun and feel comfortable; there isn't a Times-Square style countdown at the Eiffel Tower–there are some unofficial fireworks and the normal on-the-hour sparkle.
Another time things got a little physical was when we ventured to Sacre Coeur (amazing view of Paris). What takes the "fun" out of the funicular is being harassed to purchase bracelets of twisted string. It took several, "No thank yous" and a few more "F**k offs" to get rid of the persistent men. The view from Sacre Coeur was beautiful and maybe next time we'll just take the stairs.
Photo by Jessica Katz.