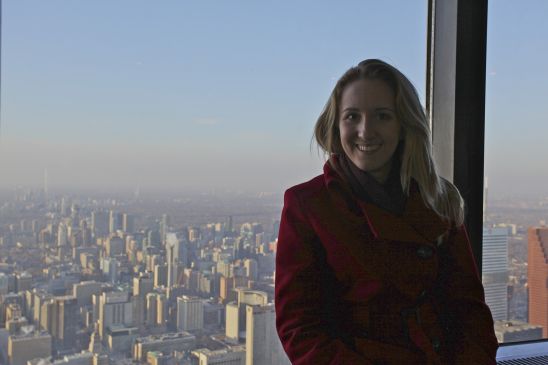 I've lived in upstate New York for more than half my life. Lucky to be living in the wine country between Lake Ontario and the Finger Lakes, going to Canada isn't an uncommon thing for my friends and me to do. Toronto is only a three-hour drive away (well, maybe two-and-a-half considering the speed with which those Ontario residents drive) but I had never visited before!
For us western upstate New Yorkers, Toronto isn't an exotic foreign destination because it's so close and because so many people go there every week. What finally brought me up to Toronto was a lucky visit from a good friend in Georgia. She desperately wanted to go to Canada, so we booked a hotel on Hotwire.com and made the trip up.
I really can't believe I haven't been to Toronto before this week! What an incredible city! Granted, the two of us only had the funds to stay for one night, so our to-do list had to be modified a bit. Nevertheless, we had a blast! Walking around the main downtown section of the city was worth the trip alone. But the opportunity to go to the top of the CN Tower and see The Art Gallery of Ontario put the icing on the cake. Chinatown, especially at night, is an awesome area to walk through as well. Not only do you see the typical Chinese shops and stands but there are also art galleries sprinkled throughout, creating a vibe that I honestly haven't seen in any other city I've been to before.
As two young women traveling (even though I tend to travel on the more adventurous, less-concerned side) I couldn't have felt any safer. We met some of the most friendly people while we wandered around in the dark and struck up conversations with loads of people we ran into on the streets, in stores, and in restaurants. Toronto could definitely be a great destination for a girls' trip of any size.
One of my favorite aspects of Toronto, aside from all of these wonderful experiences, is that it's a very green city. Trash bins are sectioned off for various methods of recycling. The buses are connected to an electric network so they don't give off emissions. The streets and parks are clean and there seems to be an all-around pleasant vibe being radiated everywhere from the subway channels to the top of the tallest buildings.
Really… go to Toronto… I couldn't recommend it more, even after only spending two days there.
Photo by Danielle.