How I Found My Indiana Jones while Living in Jordan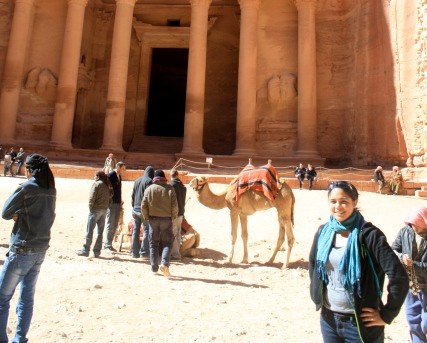 On January 21, I embarked on a 19-hour long trek to Amman, Jordan where I would be studying at the University of Jordan for the semester which would turn into one of the most amazing experiences of my life as a student, as a person, and as a woman.  I went on this journey knowing nothing about the Hashemite Kingdom of Jordan other than that I would have a chance to eat a lot of hummus and falafel and Petra was there. But I never realized just how amazingly beautiful Amman was in its' own urban way.
Like most Middle Eastern countries, women are often required to cover their legs, arms, and hair. Women walk around with a hijab (head covering) or an abaya, a long black robe that covers the body head to toe. However, in Amman, women tend to dress more westernized by wearing jeans, fashionable tops, sweaters, and jackets. Footwear is always interesting, Jordan is a naturally dusty area so be aware that your shoes will get dirty fast, but many Jordanian women wear flats, boots, and closed-toed heels.
As an American student, I stuck to wearing jeans, t-shirts, ¾-sleeve sweaters, jackets, suede boots, one pair of flats, Nikes and TOMS. The few times I wore heels they were no taller than 2-3 inches as the sidewalks in Amman are not suitable concrete. It's better to be covered up, and sticking to ¾-sleeve sweaters and shirts is always the best way to go. Don't try to get away with shorts, even if they are bermuda shorts- anything above the middle of your shin could be considered "ha-rahm" ('forbidden' in Arabic), so opt for jeans or linen pants. Also keep in mind that the weather in Jordan is rather odd. Fair warning: it snows in Jordan! From December to March, the weather is a bit chilly and rainy. April to August, the weather starts to warm up to "desert heat".
As part of my study abroad program, I was able to visit two gorgeous places, Wadi Rum and Petra. Wadi Rum is one of several desert reservations about 4 hours out of Amman, it is such an amazing site to be out in the middle of the desert riding 4×4 jeeps in the sand and climbing up sand dunes. Words and photos can't describe how peaceful it was to be out there, until you come to a stop in front of a herd of camels, waiting to take you to your Bedouin camp for the night. The camels, although a bit stubborn at times, are half the reason my friends I wanted to go on this trip. The Bedouin camps are quaint and have modern amenities such as bathrooms and showers and the food is delicious!
Petra came next. This amazing site is by far, the most beautiful place I have ever been to. You can channel your inner Indiana Jones as you walk down the dirt and stone road with mountains surrounding you until you get to the Treasury, which is featured in Indiana Jones. It was a highly touristy area around the Treasury.  Be mindful of the young children who try to sell you things, they are very persistent, some of them are just too cute and will sometimes try to befriend you. Many of the sellers speak English fairly well so haggling is not a problem.
What I didn't expect from Petra was the size of the entire city. That's right, past the Treasury, is an entire city made out of the stones and mountains. I was literally speechless the entire time we explored the stone abodes, climbed the 9,000 steps to the monastery (which was featured in the film Transformers 2) and saw more surrounding mountains, it was like I had stepped back in time and became an explorer discovering the wonders of nature for the first time.
Now back in Amman, the nature is not as vast or beautiful, but the people are just as lively and colorful. Rainbow Street is the most popular place for nightlife in Amman, there are many restaurants, hookah bars, cafes, and the infamous [email protected] [email protected] has a wide variety of food, a great bar, and excellent service. I actually worked at [email protected] as a bartender for the last month of my semester so I highly recommend visiting there for their amazing breakfasts or dinners!
Downtown Amman is the place to be for gifts, food, clothing, and trinkets of all kinds. Thursday afternoons and Fridays are the best times to downtown and find some great deals on scarves, jewelry, and other souvenirs. Jafra is one of the best restaurants in downtown Amman.  The appetizers and meat entrees are incredibly delicious and their hookah is the best. The open market is full of produce, yelling vendors and customers, and men.
The men in Jordan act like the men in America.  When they see a woman, they often will stare, but they tend to stare longer than normal and will attempt to talk to you. "Welcome to Jordan" is the number one phrase many foreign women will hear when they come to Jordan. Women who have blonde hair and fair skin are often ogled at more than women with black hair and tan skin like myself, but do not be deterred; the best thing you can do is keep your head up high, shoulders back, and look straight ahead.  Men will not bother you if you walk in this fashion, you'll look and feel more confident as you walk the streets.
Walking streets as a woman is another story as well. It's best to walk around Amman with either a male relative, your husband, or a group of friends. If you are with your boyfriend, it is better to tell locals that you are engaged or married- dating is not a common concept in the Middle East. It is common for Jordanian women to walk with their relatives or a group of friends and keep to themselves.
Jordan has been one of the most interesting and life-changing experiences I've had as a student and as a woman. I've gained so much more confidence in my Arabic language skills and in myself as a woman and traveler.