Travel Jordan: Jordanian Culture, Customs and Cuisine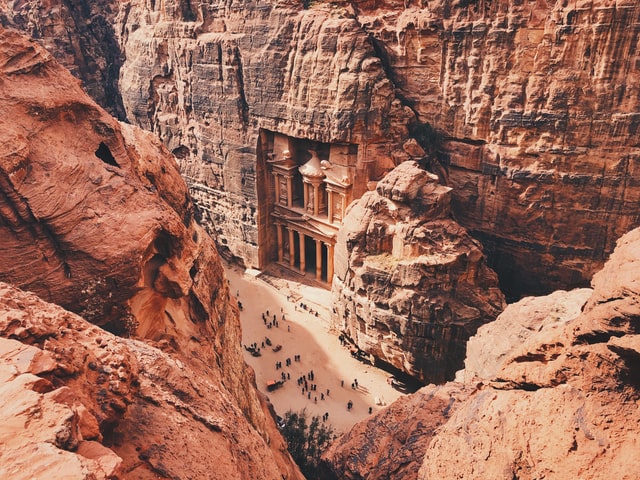 So, you've finally realized your life-long dream to float in the Dead Sea, raid the Treasury of Petra (Indiana Jones-style, naturally), and take in the breathtaking scenery of the Jordanian countryside and desert. Whether you're planning a week-long adventure or want to settle in Jordan long-term (which we highly recommend), experiencing a new country for the first time (especially as a woman) can be daunting. Check out our tips to make acclimating to Jordan culture as smooth as possible.

Travel Jordan: Jordanian Culture, Customs and Cuisine
Decide how to get around
If you're visiting Jordan, you'll have to get around somehow. Although buses are relatively safe and inexpensive, most of them don't use defined routes, so navigating Amman might be difficult. Yellow taxis are still fairly cheap and can get you where you need to go quickly and efficiently. However there is some taxi etiquette that's worth mentioning – as a woman, you are expected to sit in the back seat, while the front is reserved for men. Additionally, always make sure the meter ("adaad" in Arabic) is turned on before you begin your journey, or your driver may surcharge you.
If you need a cab late at night, try booking through Easy Taxi (available for both iOS and Android devices) or Mumayaz (dial 065799999 from any phone). For the most freedom, renting a car is the way to go (as long as you have reliable GPS). Rentals go for as little as 25JOD per day and can be a good way for you to get around the country on your own time.
Familiarize yourself with the customs
You probably won't get in trouble if you don't follow local customs, but it's always a good idea to keep them in mind during your travels. Jordan is largely a conservative country, so try to dress modestly (no shorts or short skirts or dresses and no low-cut blouses) in public.
Bikinis are fine in a hotel or private beaches, but again, public areas are reserved for more modest attire. Additionally, public displays of affection with the opposite sex are no-nos, though you'll commonly see men linking arms with each other and women holding each other's hands.
Alcohol can be found easily in bars, clubs, and liquor stores, but public drunkenness is against the law. Also, if your visit is during Ramadan, you might find that many restaurants are closed during the day and you are expected to avoid eating and drinking in public before sundown.
Don't worry too much about the language
Although Jordan's national language is Arabic, it is possible to get by without knowing a word of it as most Jordanians learn English in school. Don't be shy about asking for things in English–someone is bound to understand you. However, knowing some Arabic will definitely land you brownie points (and sometimes discounts) with staff and merchants.
Try new foods
One thing that often surprises first-time visitors to Jordan is the number of McDonald's joints that can be found throughout the country. While there are a few different options on the Jordanian McD menu (like the McArabia), it's just not the same as having traditional Jordanian food.
Jabri on Gardens Street in Amman offers Jordanian meals like mansaf (you'll either love it or hate it), as well as traditional Arabic desserts like kanafeh, the Arab version of cheesecake. For a very memorable breakfast, try Azkadenya, an Arabic restaurant that serves traditional dishes with a modern day twist – like pink hummus! Be sure to ask the waiter what the Arabic text on the dishes and napkins means.
Something you don't want to do on your quest for food is get too adventurous and eat from a street vendor. Food poisoning is no fun. If you're looking for a quick and cheap snack, grab a falafel sandwich for 30 piastres (about 50 cents) at Al Kalha, a popular falafel chain with numerous branches around Amman or try Hashem's hummus downtown.
Get cute souvenirs for everyone
Not everybody has mad haggling skills, but if you do, you can bring home your treasures very cheaply. Pretty much all streetside vendors and small souvenir shops expect haggling and mark up their prices because of it. If you think your skills aren't up to par, that's ok, too! There are plenty of shops with fixed prices. Try Al Afghani for little camel figures, sand bottles, and other traditional souvenirs, or head to Jo Bedu or Mlabbas for cool Arabic t-shirts and gear.
Stay safe
You always have to take precautions when traveling to an unfamiliar place, and Jordan is no exception. While the crime rate isn't high, it's still a good idea to have a phone with you at all times in case of an emergency. It's cheap and easy to buy a Jordanian SIM card along with prepaid credit – all the major telecom companies (Zain, Orange, and Umniah) have booths at the airport so you can conveniently purchase a line upon arrival.
Avoid walking alone at night, and be sure to have a secure ride ready if you have to leave late. If you have an emergency, call 911.
Have fun
There's a lot you can do in Jordan – you don't even need a tour guide much of the time. Try taking a walk through one of the oldest streets in Jordan, Shari'a Rainbow, a famous cobblestone road lined with a variety of shops and cafes in the heart of Amman. From there, you can catch a cab to the Amman Citadel and Roman Amphitheatre, both about 10 minutes away from Rainbow Street. For longer trips to places like the Dead Sea, Aqaba, and Petra, it's cheap and easy to take a tourist bus to your destination, and book your own hotel.
JETT bus schedules are available online, and you can buy your ticket the same day you head out. Call a day in advance to make sure buses are running on schedule, but in general, JETT is a reliable service. If you have enough time, try some less conventional activities, like an outdoorsy weekend with Wild Jordan or rock climbing in Fuheis with Adventure Pros. For a girls-only day, take a free women's self-defense class at SheFighter, or book a spa appointment for a Moroccan bath and Henna tattoo.
Travel Jordan: Jordanian Culture, Customs and Cuisine
Related Reading
5 Things that Surprised Me about Living in Amman
Dinner in the Desert: A Bedouin Zarb in the Wadi Rum, Jordan
Travel Jordan: The Real Deal with Jo Brown
Climbing Petra: The Scariest 15 Minutes of My Life
Have you traveled to Jordan? What were your impressions? Email us at editor@pinkpangea.com for information about sharing your experience and advice with the Pink Pangea community. We can't wait to hear from you! Photo by Unsplash.