8 Things to Know When Traveling to Amman, Jordan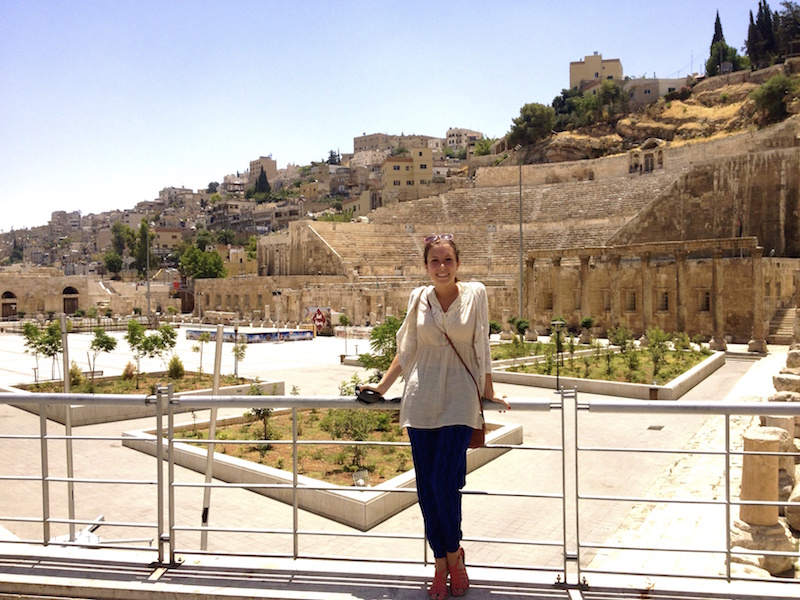 Many people who travel to Jordan head straight to one of the region's most impressive sites, the ancient city of Petra. The nation's capital, Amman, on the other hand, is a scorching hot desert city much less frequented by the typical tourist. I spent part of the summer of 2014 doing research in southern Israel. Since I knew an American friend traveling to Amman, Jordan, I decided to go there for a weekend trip, eager to have a fresh adventure and get a feel for daily life in an Arab country. While Amman is far from Eilat, Dubai, or Istanbul as far as a Middle Eastern travel destination, I stand my ground that the city is an overlooked gem.
With hospitable people, tasty food, and striking ancient ruins, Amman is perfect for a weekend trip, especially if you're traveling in the region and looking for something slightly off the beaten path.
Here are the top 8 travel tips for traveling to Amman, Jordan:
8 Things to Know When Traveling to Amman, Jordan
1. Getting in
Visitors traveling from Israel have the option of crossing over by land at one of the three crossing points. The Allenby/King Hussein border is perhaps the best option for traveling from Jerusalem to Amman, as it's about midway (half an hour) from each stop. However, unlike at the other two crossings, you must have a Jordanian visa already in your passport.
Though many travelers are able to successfully cross by land every day, there is a fair amount of risk involved with this option. The border security situation can change at any time, and crossings may be closed and/or visas unavailable for any number of reasons.
Most international travelers arrive in Amman at Queen Alia International Airport, where visas are available for purchase for approximately 55 US dollars. As I had limited time on my hands and even more limited experience traveling in the Middle East, I decided to book a flight from Tel Aviv to Amman. This option is by far the priciest; I paid over $400 for a 30-minute flight (yes, that's over $13 per minute). Though it's not the most budget-friendly, it's usually the fastest, safest, and most hassle-free option, especially if you don't already have a visa.
2. Arriving in Amman
Head to the Roman ruins! These were by far my favorite sights in the city. Amman is one of the oldest continuously inhabited cities in the world, evidenced by the numerous ancient sites dotting the city. The Citadel and the Roman Amphitheater (pictured above) are two of the biggest must-see sites.
3. Learning your ABCs and 1, 2, 3s
Before heading to Jordan, I brushed up on my Arabic letters. This didn't do me much good, given that I have essentially no command of the language, but I forgot to learn the barest basics: the numbers! Though we refer to the numbers we use as "Arabic numerals", the numbers used in the Arabic-speaking world are different than ours. A 4 looks like a backwards 3 (?) and a 6 looks like a 7. Money and street signs tend to be marked, but take the effort to learn these numbers!
4. Going over the rainbow
One of the hippest spots for expats and Jordanians alike is Rainbow Street, located near First Circle. Here you'll find a plethora of hookah bars, restaurants and trendy cafés, several of which are open during the day on Ramadan (try the Turtle Green Tea bar). Alcohol is legal in Jordan, but you may pay dearly for it. Unless you're ready to drop a ridiculous price for a beer, I'd suggest you sample the hookah.
5. Eating fast and cheap
Amman is a surprisingly expensive city (especially for a broke college kid), so don't expect to find cheap food just anywhere. My top pick for a fast, delicious and relatively inexpensive sampling of the local cuisine is Hashem on King Faisal Street. This cheap eatery with outdoor seating offers delicious falafel, hummus, pita and lamb with vegetables for around 5 JD ($7). The place is packed with locals, which is always a good sign.
Here are the top 8 travel tips for traveling to Amman, Jordan.
6. Sampling the juice stands
I didn't think anything in the Middle East could hold a candle to Brazilian juice stands, but I was wrong! Make sure to sample the local sugar cane juice from one of the numerous stands dotting the city. It costs around 1JD and is surprisingly refreshing on a scorching day. Signs near the juice stands list the numerous supposed health benefits of sugar cane juice: everything from "enhancing vision" to "preventing nervous tension". Hey, who knows?
7. Dressing appropriately
This may surprise you, but one of the most important pieces of advice here: wear comfortable shoes! Amman is a very hilly city, and if you plan on visiting the ancient sites sporting comfy shoes is a must. Those adorable strappy sandals that you picked out for a Middle Eastern adventure? Cute. That stifled wince you get when your blisters are killing you during your day of sight-seeing? Not so cute.
8. Leaving by plane
After experiencing the super-tight and lengthy security process at Ben Gurion airport, I made sure to leave myself nearly 3 hours when arriving at the airport in Amman. Don't do this! Honestly, there was about the same level of security at Queen Alia than there is at a typical Israeli train station. It took me less than 10 minutes to make it through, and I found myself waiting for hours near my gate. At least the airport has free WiFi!
These travel tips should help you make the most of your time in Amman Jordan. Adventure, explore, and stay safe!
8 Things to Know When Traveling to Amman, Jordan
Related Reading
5 Things that Surprised Me about Living in Amman
Have you traveled to Amman, Jordan? How was your trip? Email us at [email protected] for information about sharing your experience and advice with the Pink Pangea community. We can't wait to hear from you.
Photo credit 8 Things to Know When Traveling to Amman, Jordan by Mariana Irby