Travel Jordan & Egypt: ln Conversation with Kathy Gruver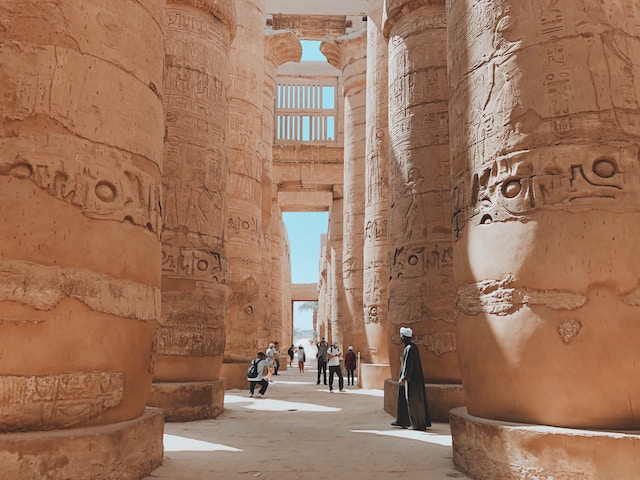 Ready to travel Jordan and Egypt? Here are the activities and sites that Kathy Gruver recommends for your next trip.
Tell us about yourself! What do you do when you're not traveling the world? Where do you live? What made you decide to go to your most recent destination?
I live in Santa Barbara California where I run a private practice of massage and hypnotherapy. I have written five books on health and wellness, I'm a frequent guest on radio and TV and have lectured worldwide–which actually brings me to why I was in Jordan and Egypt.
My proposal was accepted to do a talk in Jordan and I was absolutely thrilled. It was funny in that I actually didn't realize what part of the world that was in. My husband recommended I check a map and when I discovered it was located in the "Middle East," I decided I was going anyway.
I was disappointed that I wouldn't be able to get to Egypt too. Then a client reminded me that it was so close, so why wouldn't I just go? So, I booked that part of the trip too.
How long did you go for? How did you spend your time?
I was in Aqaba, Jordan for three days for the conference, two days in Amman for tourist sites, two-and-a-half days in Luxor and two-and-a-half days in Cairo. I think I managed to squeeze in about nine days of touring into those six days. It was nonstop go go go and what was a little bit intimidating was that I was going to be on nine flights during the trip. But I have to say, there was not one issue, one delay, one cancellation, or one lost bag. It was amazing.
What were your most memorable experiences? What were the biggest disappointments?
Standing in front of the great pyramid in Giza was by far one of the most amazing experiences of my life. I had written in my journal when I was about 18 that was that one of the things I wanted to do before I died. I photocopied that page of my journal and took it with me. It was truly a dream come true. I was also completely blown away by Jerash, the ancient Roman city in Amman. It was absolutely breathtaking and there was so much to see and experience. The food was incredible and I think I ate my way across both countries. The tour guides that I traveled with were also incredible.
There were no real disappointments per se but something that was not as impressive as I expected it to be was Petra. I'm sure that many people will be stunned to read that because it's high on a lot of people's bucket lists but honestly, I had never heard of it until I started to plan this trip.
Many people said, "Oh you're going to Petra, aren't you?" And up until then, I didn't even know what it was. It was certainly a stunning piece of history but I think because I had not heard of it and had no expectations, that it wasn't as exciting for me as the pyramids or the Roman ruins.
All of the temples I saw in Egypt were absolutely amazing. And there were so many differences among them! The Valley of the Kings was incredible; go into every tomb you can and pay extra to see King Tut's. It's stunning.
What do you wish you knew before you went?
A lot of people were incredibly nervous about me going on this trip, especially as a female traveling alone. I did have some hesitation but over time realized it wasn't going to be any less safe than traveling anywhere else. I wish I would've had more confidence before the trip to not stress about what everyone else was telling me. And I wish I would have listened less to the guidebooks that gave me the strict rules about how I should behave.
It was not nearly as restrictive as I thought it would be and I feel like I missed a lot of the jokes and humor because I was trying to be on my best behavior.
Travel Jordan & Egypt: ln Conversation with Kathy Gruver
Any favorite restaurants/hotels/hostels/sites you'd like to recommend? Tell us what made them great!
Yes, here they are:
Jordan Select Tours did an amazing job of coordinating everything for me in Amman. I had an excellent guide named Firas and a really great experience. He had a great sense of humor, and was flexible, accommodating, and incredibly knowledgeable.
Mena House Hotel, where I stayed while in Giza, was unbelievable, with views of the pyramids from my room. Also, great food with breakfast was included.
When I was in Luxor I stayed at a great B&B called, Mara House, that also arranged all my tours and drivers, and served great food, too. Marie Vaughn is the proprietress. She is awesome!
If you find yourself anywhere near the Red Sea, go! It is beautiful.
And be sure to try all of the local food–including the stuffed pigeon. It was unbelievable.
Is there anything that women specifically should know before they travel to your destination?
Don't be paranoid, but also be smart. Make sure you go with well-known and reputable guides and drivers. Don't go wandering off by yourself. Don't walk around with showy jewelry drawing attention to yourself. Just be smart and you'll be fine. Go into every temple and pyramid you can–even if the paths into them are small, narrow and steep.