Spain to Morocco: Three Days in Africa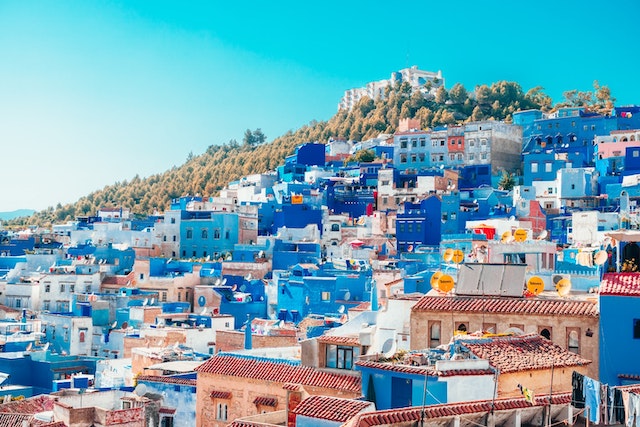 When I learned that the travel company "We Love Spain" had trips from Spain to Morocco, I knew I had to go. At the time, I was studying in Spain, and I found a long weekend that worked for me and eagerly awaited my departure to a new continent. My friends and I took a late-night bus to Seville to meet up with the group, and fought our exhaustion with excitement.
Spain to Morocco: Three Days in Africa
Day 1
Our first stop was Gibraltar, a British territory on the southern tip of Spain, which I had never considered visiting before my trip. We took a small van around the territory, which was beautiful. A friendly man with a British accent drove the van and told us different things about Gibraltar as we explored the peninsula. We stopped at a lookout point where we could see the tip of Africa—our next stop.
Before leaving, the van trekked up a huge mountain, the Rock of Gibraltar. This is where we got to see and play with the wild monkeys that Gibraltar is famous for. The monkeys were very used to human contact and did not hesitate to hang around near us.
Then, it was time to board the ferry to Morocco, which brought us to our first African destination, Tangier.
Day 2
In Tangier, we began our day with a camel ride on the beach. Besides being a bit slobbery, the camels were adorable. We then stopped at Cape Spartel, which was a beautiful lookout point. Outside of it, local people sold souvenirs and homemade gifts.
Our next stop was the mountain town of Chefchauen, also know as the Blue City. When I say everything was blue, I'm not exaggerating. In Moroccan culture, blue is a holy color. The buildings, streets and alleyways were all different shades of blue and it was beautiful. After eating a Moroccan lunch and touring the city, we were off to our next stop.
We arrived that evening in Tétuan and went to an Arabic palace for a dinner show. We ate, danced and ate some more while watching a wonderful performance. The Moroccan culture is so full of energy and happiness. It was amazing to be a part of it.
Day 3
In the morning, we toured Tétuan, which included seeing the king's palace and visiting a natural healer. He had an oil or potion for anything you could ever imagine.
Tétuan was one huge market, and it was hard not to get lost there. People sold everything–from random trinkets to food on every square inch of the city. Bargaining was essential. I ended up buying a real leather purse.
Although our journey was quick, I felt like I got to see a lot within a short period of time. Morocco is such a natural and beautiful country filled with so much culture and architecture. I'd love to return to see more of it someday.
Have you traveled from Spain to Morocco? How was your trip? Email us at [email protected] for information about sharing your experience and advice with the Pink Pangea community. We can't wait to hear from you. Photo credit by Unsplash.