On Feeling at Home in Spain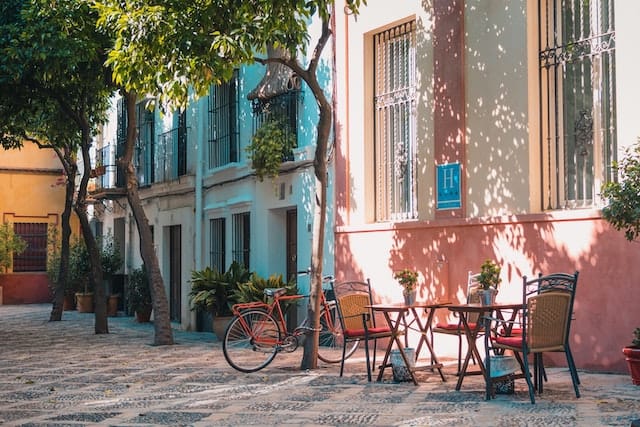 Over my lifetime of travel, I have felt welcomed by so many in so many places. There was my friend in France, who shared her flat in Paris so that I could explore the city, and her family in the south, who also shared their home on the Côte d'Azur. There were the many folks who nurtured me and my best friend as we traveled the U.S. for three months camping and roaming through big cities and small ones. And, more recently, there was the harbor master in the small oceanside village in Maine, who shared a secret camping spot at the marina with me and my family, making us feel like locals. Friends and family new and old have embraced me and those with me throughout most of my travels.
Yet, one adventure stands out more than any other, the affections of which resonated then and now, and that is in Spain. Spain is like a second home to me, a place that holds my heart and has for a long time. It was because of my time spent with a host family during my college days that my love of Spain grew, my trajectory in life, food and travel shaped forever by their generosity and love, and it is a place I will continue to visit for as long and as often as I can.
Winter was approaching, I didn't like the way I felt about school, about family, about sitting through my education when learning was happening out there, in the real world.
I didn't know that four years of high school Spanish would lead me to Spain. In fact, I'm not exactly sure why I took up Spanish in the first place; there is a strong French lineage in my family and fluency in French would have helped immensely while conversing with my great-grandmother.
But there I was, in Spanish class in the ninth grade in the Midwest. Throughout those four years, I had the same Spanish teacher three times. His background in Spanish was shaped by lots of time spent in Mexico, and his command of the language and Mexican vernacular was superb.
He was an efficient and effective teacher, and he felt that the knowledge of dialectical differences among various Spanish-speaking regions might come in handy someday for any of us students, so he emphasized the particulars of Spain's Spanish. I never expected to use it much, but memorized it all nonetheless, specifically la forma vosotros — the second-person plural form of verbs used in Spain — because I had a penchant for language, and I liked to conjugate verbs.
Like many of my fellow students, I entered college with advanced placement credits in my pocket — English, history and Spanish included — and used them to happily jump past many prerequisite classes. As a result, my first year in college was fun and intellectually inspiring because I had power to craft my education based on what I liked, or at least a level or two ahead of the game. Furthermore, the college I attended still functioned on trimesters, making room for more exploration of things that were of interest to me.
On Feeling at Home in Spain.
That all changed my sophomore year after my advanced placement credits ran dry and my university changed to semesters. Now I was faced with overwhelmingly banal and rote prerequisite courses for fifteen weeks rather than ten. Moreover, the credits I received in Spanish catapulted me into advanced ranks. Next on the list of required classes in Spanish at the university level was antiquated Spanish literature. I couldn't fathom how fifteen weeks of lessons in The Canterbury Tales or El Cid would benefit me in the long run. Adding to those insults were the beginnings of the unpacking of deep, personal family issues that were packaged up in my parents' divorce. I was nineteen, ambivalent, disinterested, uninspired, and very much depressed in only my second year of college. Things needed to change.
There was one thing that I did know: I was really good at languages, at Spanish in particular. Reading and writing was covered, but I had yet to obtain verbal fluency. Winter was approaching, I didn't like the way I felt about school, about family, about sitting through my education when learning was happening out there, in the real world.
My roommate at the time had visited Spain for six weeks while in high school. I had never considered Spain as part of my Spanish-speaking itinerary, but it just so happened that the university was gathering folks to go to Spain the following semester. So we attended a meeting, completed any necessary paperwork and supplied any fees required. Then, I packed up my dorm room, said goodbye to friends and campus and prepared myself to experience a completely different landscape.
Just like that, I was going to Spain.
I arrived in Cáceres (pronounced KA-the-res), Spain, the capital of the Extremadura Province, on January 12, 1993, and right into the open arms of my host mother and sister. After a long flight to Madrid, a three-hour train ride to Cáceres and a short bus ride into town, I was exhausted, travel-dirty and hungry. Thankfully, their piso was a short walk from where I was deposited by the bus. They welcomed me and helped me drag all of my pre-Internet-researched, overstuffed belongings to their flat.
Waiting for me were two more siblings — a brother and another sister. All four of us were around the same age and all attending the University of Extremadura. There was also a little barking dog with a severe underbite, who wasn't quite sure what to make of me and let me know all about it. They asked me questions that I understood but couldn't answer yet, for I suffered from the curse of adult foreign language speakers: I wasn't comfortable speaking imperfect Spanish freely or unabashedly. I felt tongue-tied and needed a little time to adjust.
It's pretty easy to live in a native environment and not partake in it. Cultural immersion is a choice.
But time isn't the only thing that builds fluency in a language. To truly obtain fluency in another language, one must be immersed in it and its culture. It's pretty easy to live in a native environment and not partake in it. Cultural immersion is a choice. I witnessed that firsthand as many of the students who came with me on the journey to Spain remained with like-minds — other Americans who spoke only English, never really mingling, like expats in foreign lands, who want to be somewhere else, but not be like someone else.
It also can help to have a little bit of luck, which, I felt, was on my side while in Spain: I had a personal interest in resembling Spaniards, and I lived with people who were very interested in sharing their culture with me. Most students were part of a long line of boarders set up to stay with people who open their homes for the sake of income. Intimate interaction with the families that house them isn't that customary. In my case, it was my first time living with a family other than my own, and I was the first student to share space with this family. It was destiny. And there is more.
Shortly before I arrived in Spain, my host mother's husband died suddenly from a heart attack.
Shortly before I arrived in Spain, my host mother's husband died suddenly from a heart attack. He earned an ample living outside the home, while my host mother tended to things inside of it. Although they seemed to have done well, his income was all that they had. The stipend that remained for the living at that time in Spain only covered spouses. My host mother, with three children attending university, needed to earn some money. As a widow, she also needed some diversion, someone to care for, to take her mind off of things. Why not take in a student from abroad? It was I who won the opportunity to stay with this woman, and, in turn, perhaps I could help ease her burden and her grief.
So there I was, a new student in a flat in Spain with people who willingly shared their time, space and insight with me. I, with an empathetic heart and a keen interest in culture, shared time, space and insight with them.
My host mother, older sister and I spent a lot of time together. We watched the news and a comedy series called, Farmacia de Guardia that helped me immensely with comprehension. We walked arm-in-arm often, as Spaniards do daily, sometimes for paseo, sometimes for café con leche or sometimes to mass. We discussed her grief; I answered questions about America's obsession with cheeseburgers. We talked politics, the Franco dictatorship in particular and the love/hate relationship the culture has with him and it. We told jokes and more stories, and, after about a month, I was fluent, so much so that locals thought that I was a norteña –— a blond-haired woman from northern Spain. I could not have been happier.
An incredible seamstress, my host mother made me dresses.
An incredible seamstress, my host mother made me dresses. She also was a skilled and talented cook. Her empanadillas de atún (tuna pies), croquetas de jamón (ham croquettes), sopas and fish dishes won me over immediately, and allowed me to grasp fundamentals of Spanish cooking in real time in a real Spanish kitchen. We attended family feasts, ate egg sandwiches in the evenings and talked long after comida had ended. When I wasn't in class or off on a weekend excursion, I was with my host family for most of my five months abroad. As a result, I became fluent in Spanish and very close with this Spanish family, and it changed my life.
The evening before I left for further adventures in Europe, the moms — my host mother and my real mom in the U.S. — spoke on the phone. Although one spoke only Spanish and the other only English, there was very little I needed to interpret between two loving mothers who cared for the same young woman. There were a lot of thanks and laughter and tears. Gratitude all around. I was always close with my own mother, and now there was another mother in my life who further enhanced my life as a woman, my world view, my values, as well as my life as foodie, poet, and traveler. I really and truly could not have dreamt of a more unique and fruitful situation. It was maravillosa.
On Feeling at Home in Spain.
There are details I think about more carefully now that I didn't quite gather then, especially as a mother myself, and having experienced my own mother's grieving of her husband not that long ago. In her mourning, my host mother dressed in black every single day. It wasn't until a visit with her years later that I saw her wearing a different color.
I have tried to imagine the energy needed to make it through the often challenging, sometimes crippling, times of grief, while trying to ensure that your kids are tended to and with a new person taking up space. With four of us around, there were things to keep her going. Still, mourning takes time. Sometimes one just wants to go some place and hide for awhile. I rarely saw her cry, and she never complained.
Also, her role as mom-at-home offered me a contrasting perspective from that of my upbringing. The women in my life — all but one — had careers. I suppose it was expected of me, too, or at least assumed. But a constant person at home offered stability and consistency. There wasn't really much stress. She was a strong woman confident in her role. Part of my choosing to be at home with my daughter, for my daughter — and for my husband, too — was influenced by my host mother's presence. I think of her often when I make tasty treats for my family. Food feeds the soul and is a sign of love. I looked forward to returning to the piso for empanadillas.
Part of my choosing to be at home with my daughter, for my daughter — and for my husband, too — was influenced by my host mother's presence.
And so, Spain it was, and Spain it is. I have visited a few times since my semester abroad many years ago. I walk through Madrid, San Lorenzo del Escorial, the Atocha train station and Cáceres like they're old friends. I feel at home there, and it all began with a tall Andalucian woman in a black dress — and her family — who probably needed to do more than just grieve, and with my lost self, who wanted more than to read ancient literature in a classroom.
Travel. It will open up your world more than you could ever imagine. ¡Viva España!
Forever at Home in Spain; Top Photo By Unsplash.com.